Discover 4 Thrilling Outdoor Trips Near NoVA
Posted by Katie Wedge on Wednesday, August 30, 2023 at 4:05:54 PM
By Katie Wedge / August 30, 2023
Comment
Discover 4 Thrilling Outdoor Trips Near NoVA
From white-water rafting to peaceful camping retreats, these exhilarating adventures will satisfy your craving for outdoor excitement.
Immerse yourself in nature and embrace the summer sunshine by embarking on an unforgettable outdoor journey. With countless parks, rivers, and campsites, Northern Virginia offers an abundance of opportunities for outdoor exploration. Whether you seek serenity in a tranquil camping getaway or seek adrenaline in a thrilling ride through rushing waters, these nearby outdoor destinations will fulfill your adventurous spirit.
Experience Water Thrills in Harpers Ferry
Just a 1-hour drive from Dulles, head to Harpers Ferry in West Virginia for an exciting family-friendly aquatic adventure down the Shenandoah or Potomac rivers.
River & Trail Outfitters in Harpers Ferry is your go-to destination for all outdoor activities. They offer a range of options including mellow inner tubing, white-water tubing, white-water rafting, kayaking, and canoeing.
If you prefer a leisurely day on the water, choose mellow tubing. Trips can last between one and three hours, and you can decide whether to float down the Shenandoah or Potomac for a more relaxing experience.
For a slightly more adventurous day, try white-water tubing. This thrilling trip takes you through rushing waters, ripples, and waves. Expect a one-to-two-hour journey where you'll use your arms to navigate around rocks. Take breaks at rocks or sandy shores along the way to rest and catch your breath.
For true adventurers, the white-water rafting option is a must. Embark on a 6.5-mile watercourse through the Blue Ridge Mountains, spanning three states: Maryland, West Virginia, and Virginia. This exhilarating trip lasts three to four hours.
There are four check-in locations, so double-check your booking for the correct address. Age and weight requirements for children vary depending on the chosen course.
While in Harpers Ferry, be sure to visit the Brunswick Family Campground. With 11 acres of land and a riverside location on the Potomac River and C&O Canal, it offers RV and tent sites, as well as cabins. Rent bikes, canoes, and kayaks to fully enjoy the beautiful outdoors of the Mountain State. Multiple locations available. Tubing prices range from $32 to $53, while rafting prices range from $64 to $89.
Enjoy Camping Paradise at Belle Isle State Park
Just a 3-hour drive from Dulles, escape to Belle Isle State Park on the Rappahannock River in the Northern Neck for a picturesque camping trip. With 7 miles of shoreline and 892 acres of natural beauty, it's the perfect place to relax and explore Virginia's stunning landscapes.
The park offers both full-service and primitive camping sites. Full-service sites provide a structured camping experience with access to facilities like bathhouses, fire ring grills, and electric and water hookups. Each site can accommodate two vehicles.
If you prefer a more rustic camping experience, opt for the primitive tent camping sites. Accessible only by boat or hiking a 1.5-mile trail from the nearest parking lot, these sites offer picnic tables and fire pits but no electricity. Remember to bring your own water.
For a touch of luxury, consider staying at the Bel Air House or Bel Air Guest House, elegant indoor lodging options within historic buildings.
While at the park, make the most of your time by renting a canoe or kayak and exploring the park's 10 miles of trails. Don't miss the fishing opportunities on the pier and from the banks for a chance to reel in a catch. Keep an eye out for the diverse wildlife, including white-tailed deer, groundhogs, reptiles, amphibians, and various bird species such as blue herons, ospreys, hawks, and bald eagles. Entrance to the park is $5, and lodging and rental prices vary. Visit 1632 Belle Isle Rd., Lancaster, Virginia to discover this natural gem.
Feel the Thrill of Adventure at Go Ape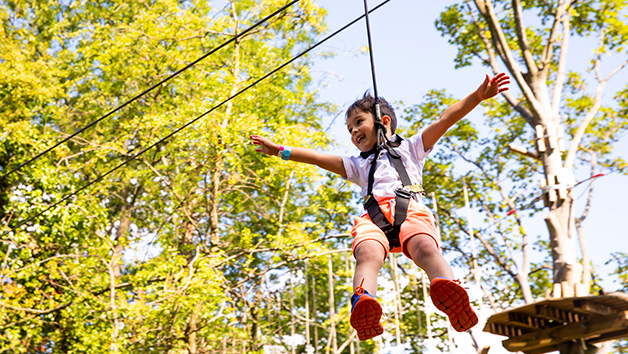 Within a 1-hour drive from Dulles, get your adrenaline pumping at Go Ape in Maryland's Rock Creek Regional Park. Soar, swing, and zip through the treetops on their exhilarating adventure courses.
The Treetop Adventure course offers a thrilling two-to-three-hour experience. Fly through the air on zip lines, swing from ropes, and navigate 45 unique obstacles. Brace yourself for the 400-foot-long zip line and dizzying 52-foot-high platforms. This adventure is ideal for older kids, as participants must be at least 10 years old and 4 feet 7 inches tall.
For a slightly tamer version, try the Treetop Discovery course. It features 19 obstacles, a 320-foot zip line, and platforms 38 feet high. The same age and weight requirements apply.
Rock Creek Regional Park offers even more adventures. Explore over 13 miles of hiking trails that lead to picturesque Lake Needwood and Lake Frank. Enjoy boating, fishing, and archery opportunities as well. Make your way to 6129 Needwood Lake Dr., Rockville, Maryland, for an unforgettable day at Go Ape. Prices range from $44.95 to $64.95.
Escape to Delaware's Trap Pond State Park for a mesmerizing journey through a forest of bald cypress trees.
Located just three hours from Dulles, this hidden gem boasts the northernmost naturally occurring stand of these unique trees, creating a captivating and picturesque landscape.
Immerse yourself in the park's ecosystem and history with staff-led pontoon tours. These hour-long tours showcase the magnificent trees that are typically found in southern swamps, offering an educational experience that dates back centuries. Tickets can be conveniently purchased on the day of the tour or reserved in advance at the boathouse.
For a more intimate adventure, explore the wetlands at your own pace. Rent a rowboat, canoe, kayak, or pedal boat during the summer months. With over 9 miles of canoe and kayak trails, there's plenty of space to navigate and discover. There's even a ramp available for small, motorized boats.
Fishing enthusiasts will be delighted by the abundance of catfish, American eel, and largemouth bass in the park's waters. Cast your line and enjoy a peaceful day on the pond.
On land, venture along the Bob Trail, a breathtaking 4.6-mile path that offers stunning views of the pond. Take advantage of the park's free bicycles during the summer and keep an eye out for the diverse birdlife, including majestic bald eagles, woodpeckers, orioles, tanagers, and warblers.
Extend your journey by planning an overnight stay at one of the park's campsites. Choose from tent sites, cabins, or yurts for a comfortable and nature-filled experience.
Before bidding the park farewell, capture a moment of beauty for the annual amateur photo contest. Don't miss your chance to contribute to the park's legacy. The contest runs until mid-August.
Plan your visit to Trap Pond State Park today. Located at 33587 Baldcypress Ln. in Laurel, Delaware, the park entrance fee is $8 per vehicle, while rental and tour prices vary.
KATIE WEDGE
(571) 517-2012
JACOBS & CO. REAL ESTATE, LLC.
12923 Fitzwater Dr. Nokesville, VA 20155
(703) 594-3800 | jacobsandco.com