Discover Virginia's Breathtaking Waterfalls: A Hiker's Paradise
Posted by Katie Wedge on Thursday, August 31, 2023 at 3:18:27 PM
By Katie Wedge / August 31, 2023
Comment
Discover Virginia's Breathtaking Waterfalls: A Hiker's Paradise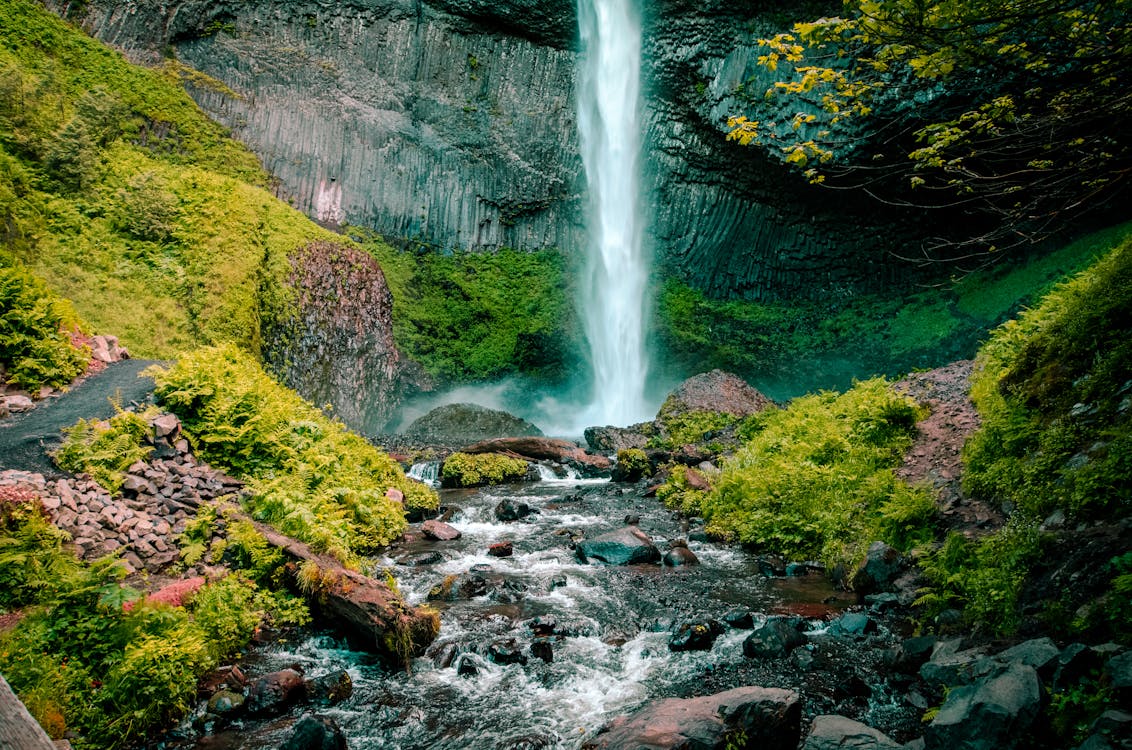 Virginia is home to an impressive array of stunning waterfalls that are sure to leave you in awe. From the majestic Crabtree Falls cascading down a mountainside to the secluded beauty of Dismal Falls hidden in the forest, there is something for everyone to enjoy. Venture into Shenandoah National Park and be captivated by the series of six waterfalls in Whiteoak Canyon, or prepare to be amazed by the power of Cascades Waterfall. Virginia is a treasure trove of natural wonders, perfect for even the most discerning waterfall enthusiasts.
#1. Scotts Run Waterfall: Unveil Nature's Wonderland
Located near McLean, Scotts Run Waterfall awaits with its tumbling waters and pristine surroundings. Explore the nearly 400-acre park as streams descend from the hills to merge with the Potomac River. Admire the rocky cascades and don't miss the ruins of the Burling Cabin, a testament to the area's history. Experience the grandeur of the Potomac River from the Stubblefield Falls Overlook, where it crashes amidst islands and boulders. Immerse yourself in nature's beauty as you traverse the park's trails and discover other river vantages.
#2. Discover the Power of Great Falls National Park
Prepare to be mesmerized by the epic falls of the Potomac River at Great Falls National Park. Witness the crashing whitewater wonder as the Potomac River surges over rugged rocks. Delve into the park's rich history, where George Washington himself commissioned a system of canals and locks to navigate the challenging Mather Gorge. After exploring the remarkable falls, take a journey back in time and explore the locks, canals, and even the ghost town of Matildaville.
#3. Experience the Majesty of Overall Run Falls
Venture to Front Royal to discover Shenandoah National Park's highest falls, Overall Run Falls. This breathtaking cataract is complemented by a panoramic vista. Embark on a 6.8-mile hike, passing Twin Falls along the way, and marvel at the water cascading 29 feet over a large boulder. As you continue, a stunning cliff awaits, offering an extensive view of Overall Run Falls as it tumbles 93 feet over a massive rock face, creating a picturesque backdrop of Page Valley, Massanutten Mountain, and the Alleghenies. This Virginia gem is a must-see destination.
#4. Indulge in the Beauty of Hazel Falls
Nestled in Shenandoah National Park's "Hazel Country," Hazel Falls is a hidden gem. Journey through hills and hollows along the Hazel River until you reach a natural rock shelter beside the falls. Enjoy a scenic stroll on old settler roads for the first 2.4 miles, then brace yourself for a steep footpath for the final 0.3-mile trek to the falls and cave. Admire the rock indentation on your right, providing a sturdy roof for the cave. Witness Hazel Falls as it gracefully slices down a slender chute into a picturesque punchbowl, creating a picture-perfect mountain scene.
#5. Embark on a mystical journey through the picturesque Whiteoak Canyon.
With numerous cascades scattered along the Whiteoak Canyon Trail, you'll be captivated by the breathtaking beauty of this natural wonder. Traverse the trail, marvel at the canyon views, and immerse yourself in the serene environment of Whiteoak Run. Don't miss the towering 86-foot Whiteoak Falls, the second highest falls in Shenandoah National Park. Count the cataracts as you make your way back and be amazed by the abundance of cascades in Whiteoak Run.
#6. Get ready for an easy hike to the enchanting Dark Hollow Falls.
Conveniently located near the Big Meadows Area of Shenandoah National Park, this trail showcases the mesmerizing beauty of Hogcamp Branch. Watch in awe as the water tumbles, crashes, and cascades down the rocks, creating a symphony of nature's power. Dark Hollow Falls, with its three-tiered descent of 70 feet, is a sight to behold. Take a moment to admire the nearby waterfall near Rose River Fire Road for an added treat.
#7. Immerse yourself in the lush surroundings of South River Falls.
As you hike along the 4.2-mile trail, take in the scenic beauty of yellow birch trees and wildflowers. From the observatory point, marvel at the majestic 83-foot South River Falls as it splits into two chutes and charges downward. For a different perspective, journey to the base of the falls and witness its impressive display. Make sure to stop by the South River Picnic Area, the starting point of this extraordinary waterfall adventure.
#8. Embark on a mesmerizing journey to Doyles River Falls.
Follow the footpath alongside the lively Doyles River and enjoy the beauty of Upper Doyles Falls, a three-tiered 30-foot waterfall.
Continue downstream, taking in the unnamed cascades until you reach the base of the more spectacular and steeper Lower Doyles Falls. Watch in awe as the 63-foot waterfall cascades over multiple tiers, creating a breathtaking spectacle. Don't miss the changing faces of this cataract, which are dependent on water flows.
#9. Experience the tranquility of White Rock Falls, a hidden gem off the Blue Ridge Parkway.
Hike through the hickory oak woods and be surrounded by the towering old-growth trees. Marvel at the narrow canyon walls as you approach the 30-foot waterfall cascading into a rocky gorge. Take a swim in the pool at the base of the falls and soak in the serene atmosphere. Don't forget to admire the quartz that gives White Rock Creek and waterfall their name.
#10. Embark on unforgettable waterfall adventures in Shenandoah National Park.
Prepare to be captivated by the beauty of nature as you explore these enchanting trails and experience the awe-inspiring power of waterfalls.
#11. Escape to the tranquil Mine Bank Creek Cascades, an enchanting slide type waterfall nestled in the Saint Marys Wilderness.
With lush valleys, rhododendron forests, and majestic rock formations, this secluded spot offers a serene and picturesque experience. The hike to the falls is an easy 2.8-mile round trip that guarantees solitude and breathtaking views.
#12. Embark on a captivating journey to Saint Mary's Waterfall, a stunning 25-foot spiller with a cascading flow and a picturesque pool.
Located within the George Washington National Forest, the 1.8-mile hike to the falls offers an easy and rewarding adventure amidst native trout and abundant wildlife. Immerse yourself in the beauty of this untouched wilderness.
#13. Experience the grandeur of Crabtree Falls, the highest waterfall in Virginia.
With its five major waterfalls and smaller cascades, this natural wonder cascades down 1,200 feet over a half-mile stretch. The 5.4-mile moderate hike takes you through picturesque landscapes, wooden stairs, and railed overlooks, offering unforgettable views and a touch of television history.
#14. Discover the ease and beauty of Statons Falls, where no hike is required.
Drive straight to this multi-stage 140-foot pourover located in the Pedlar Ranger District of the George Washington National Forest. Witness the mesmerizing zig-zag pattern in the falls as you soak in the natural beauty of this hidden gem.
#15. Immerse yourself in the scenic wonders of Lace Falls, nestled within Natural Bridge State Park.
This 50-foot waterfall is complemented by the awe-inspiring Natural Bridge, a renowned limestone span standing at an impressive 215 feet high and 90 feet across. Follow the 2-mile easy hike alongside Cascade Creek and Cedar Creek to witness the beauty of both Lace Falls and Natural Bridge.
#16. Experience the Beauty of Apple Orchard Falls
Located near Sedalia, Apple Orchard Falls offers a stunning hike to a series of cascades. With a total distance of 2.6 miles there and back, the trail is moderately difficult. The GPS coordinates for the trailhead are 37.50781, -79.52412.
#17. Discover the Magic of Stony Run Falls and Blue Suck Falls
Located in Douthat State Park near Clifton Forge, these falls offer a challenging yet rewarding 8.8-mile loop hike. Make sure to wear appropriate shoes, as the trail crosses the streams multiple times with no bridges. The GPS coordinates for the trailhead are 37.9018, -79.80463.
#18. Explore the Majesty of Falling Spring Falls
No hike is required to see Falling Spring Falls near Covington. With a height of about 200 feet, the falls are truly breathtaking. Just a short walk from the roadside pull-off, you can witness the creek diving off the bluff and cascading into the valley. Remember to respect the boundaries and not venture beyond the overlook, as it is dangerous and illegal.
#19. Witness the Power of Roaring Run Falls
Located near Eagle Rock, Roaring Run Falls is a must-see for waterfall lovers. With a 2.0-mile hike there and back, the trail is easy and offers multiple cascades along the way. Don't forget to visit the iron forge turned recreation area and the intact ore-processing furnace.
#20.Experience the captivating waterfalls of Falls Ridge Preserve in Ironto.
This .8-mile hike takes you to witness the stunning series of stair-step waterfalls created by calcium carbonate deposits. The flowing water and otherworldly rock formations make this a truly unique sight. Don't miss the main falls, where the stream spills over a tan travertine ledge into a shallow pool before continuing downstream. Upstream, you'll find more fascinating smaller waterfalls.
#21. Discover Cascade Falls near Pembroke on a 4-mile loop hike.
This impressive 60-foot cataract cascades over a stone cliff into a large pool surrounded by rock walls and ledges. Multiple viewing platforms offer different perspectives of the falls, while a dead end trail allows for an up-close experience near the top. Take in the breathtaking power and beauty of Cascade Falls, but be aware that swimming is no longer allowed per the US Forest Service.
#22. Venture to Dismal Falls near Bland for a short but intriguing adventure.
With just a .2-mile hike to reach it, everyone can see this waterfall with its broad width and 10-foot drop into a plunge pool bordered by stone terraces. Despite its name, Dismal Falls is anything but dismal and offers an ideal spot for viewing or relaxing. Nearby, Walnut Flats campground provides convenient accommodation options.
#23. Visit Chestnut Creek Falls near Galax along the New River Trail State Park for an enchanting experience amidst Virginia's longest park.
A 1.8-mile hike takes you to this wide cascade that drops over rocks at a bend in Chestnut Creek. The serene surroundings and covered shelter create an inviting atmosphere for nature enthusiasts.
#24. Explore the stunning Jones Hollow Falls in Fort Blackmore, located on a tributary of Devil's Fork.
This moderate 2.2-mile hike takes you through the Devil's Bathtub and other aquatic features, allowing you to experience the beauty of both the falls and the Devil's Bathtub in one trip. Fording Devil's Fork may be necessary, so it's best to hike during the summer. However, Jones Hollow Falls is most vibrant during late winter and spring. Don't miss the opportunity to witness the 45-foot cascade plunging into a small pool with its white frenzy. Though it may be challenging to reach due to the steep slope, it's easy to admire from a distance.
#25. Don't forget to visit Comers Creek Falls in Speedwell, accessible via a 1.2-mile round trip hike.
This easy hike in the Mount Rogers National Recreation Area offers picturesque views of Comers Creek as it cascades into a gorge filled with rhododendrons. At the .4 mile mark, you'll intersect the Appalachian Trail. To reach the actual falls, take a right onto the Appalachian Trail and continue for another .2 mile. Here, you'll find a captivating 15-foot cataract that drops in a staircase-like fashion. Extend your walk by exploring the Appalachian Trail further.
#26. Discover the beauty of Little Stony Falls in Dungannon, just a 2.4-mile round trip hike away.
Starting at Hanging Rock Recreation Area, embark on a mesmerizing journey through a valley filled with waterslides, cascades, and pools, all surrounded by stunning stone bluffs and boulder fields. Wooden footbridges guide you through this enchanting landscape, leading you to two remarkable waterfalls that flow over stone precipices. You can also opt to hike from the upper trailhead down to the falls. Be sure to stop at the viewing platform near Middle Stony Falls, offering a direct view of the beautiful curtain-type white cataract cascading 20 feet over a vertical rock face. Mist gently drifts over the dark pool, creating a tranquil atmosphere. Take some time to explore the immediate falls area for even more breathtaking views. Lastly, before reaching a footbridge over Little Stony Creek, you'll encounter Upper Falls on the left. A spur trail takes you to the base of this pourover, where the watercourse splits, creating an impressive display. One channel fans out to the right, while the other is a narrow white drop on the left. Both channels converge into a plunge pool, which then rushes downstream towards Middle Falls.
Get ready for an adventure to discover Virginia's most captivating waterfalls. With their breathtaking beauty and mesmerizing power, these natural wonders are sure to leave a lasting impression. Don't miss out on the opportunity to experience the remarkable landscapes and pristine nature that Virginia has to offer. Embark on these unforgettable adventures to witness some of Virginia's most stunning waterfalls in all their glory!
JACOBS & CO. REAL ESTATE, LLC.
12923 Fitzwater Dr. Nokesville, VA 20155
(703) 594-3800 | jacobsandco.com