Goodbye Gray, Hello…? What Color to Use Instead of Gray in 2023 According to Designers
Posted by Nora Lopez on Wednesday, April 26, 2023 at 9:49 AM
By Nora Lopez / April 26, 2023
Comment
Goodbye Gray, Hello…? What Color to Use Instead of Gray in 2023 According to Designers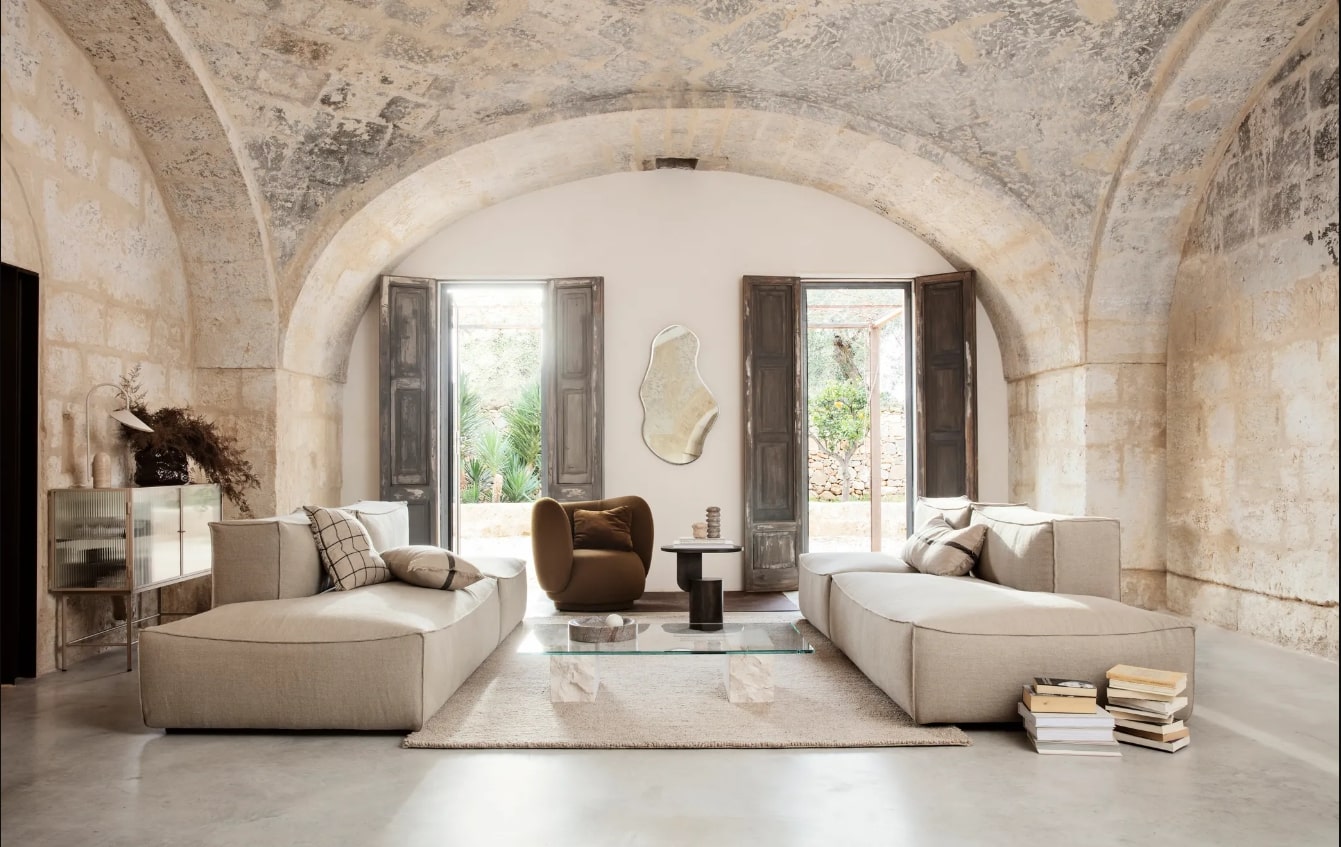 Spice Up Your Home with Beige: The Trendy Neutral You Can't Ignore
Kiss gray goodbye, folks! It's time to hop on the beige bandwagon. Why? Well, gray used to be the top pick amongst designers and decorators, but it's slowly getting replaced by the elegance of beige. Beige is a classic and simple neutral that has become a staple in the world of interior design. Choosing room colors can be tricky and overwhelming, so it's no surprise that many have turned to the reliability of a beige scheme. Don't get lost in the endless sea of color choices, stick with the timeless charm of beige.
Picking the perfect neutral color is no walk in the park. Interior designer extraordinaire, Rachel Chudley, understands the struggle all too well. According to her, the true colors of things can only be revealed when they're next to other colors. So, how do we choose the right colors for our homes? Let's find out!
Our trusted designers, decorators, and color experts spill the beans on why beige is taking over and share tips on how you can use it to create awe-inspiring interiors. Get on board with this timeless hue and bring a touch of sophistication to your space.
Move over, gray! Beige is the hot new color scheme in interior design. And it's no wonder why.
Deborah Bass, founder of Base Interior, explains that a neutral backdrop offers the perfect canvas to showcase pops of color. This is especially handy in a home office, where a neutral wall or textured finish can highlight your books and artwork. To create a harmonious balance, Bass suggests pairing subtle shades with natural, darker woods. Not only are neutrals timeless and elegant, they're also versatile enough to accommodate the diverse needs of different family members throughout the day. Don't be beige-phobic - embrace the beauty of neutral tones in your home office today!
Is Gray So Last Season in 2023?
Just like fashion trends, home decor color trends evolve over time, and it seems like cool-toned grays are no longer the go-to shade. The trend forecast predicts a rise in warmer color schemes taking over, with hues like beige, amber, and ivory leading the pack. Say goodbye to your favorite gray pieces and hello to the cozy warmth of rust and sepia tones.
Say goodbye to the reign of grey! In the West, this color has become synonymous with lackluster, drabness, and aging, which is why it's no surprise that we're all over it. Let's face it, too much grey can make you feel like all your zest and vitality has been sucked out of you. We're ready for a change from the never-ending sea of grey velvet sofas, carpets, walls, and decor that have dominated our homes for too long.
Good news, though! According to Anthony Barzilay Freund, 1stDibs' editorial director, we're shifting towards a more layered and personalized home aesthetic. That means we're embracing comforting colors that evoke nature and warmth. Not only are these colors visually captivating, but they also provide emotional comfort in a time where our homes have become our sanctuaries. So let's ditch the blah and embrace a little bit of color and comfort in our lives!
Are Gray Walls Out of Style in 2023?
The walls of our homes are often the first thing visitors notice when they enter. But what about in 2023? Will gray still be the go-to color for interior walls? According to a recent survey, it appears that gray may be on its way out.
A recent survey conducted by the National Home Decorating Authority found that many homeowners are ready for a change from the traditional gray walls. Respondents indicated that they were looking for something more vibrant and exciting to liven up their home interiors.
"We've been seeing a trend away from gray over the past few years," said Joe Smith, President of the National Home Decorating Authority. "People are looking to make bold statements with their home decor and gray just isn't cutting it anymore."
The survey also showed that people are gravitating towards more vibrant colors such as yellow, green, and blue. These colors give a room an instant pop of energy and can help create an inviting atmosphere.
In addition to color, texture is becoming increasingly important when it comes to interior design. People are looking for unique wallpapers and textures to add another layer of interest to their space. Textured wallpaper can give a room an extra dimension and can be used to create focal points or accent walls.
When asked why people are moving away from gray walls, Smith explained: "People want something that reflects their individual style and personality in their homes. Gray is a great neutral but it's not enough anymore."
So if you're ready for something new in 2023, don't be afraid to experiment with color! Whether you choose bold hues or subtle textures, adding some life into your home will definitely make it feel like new again!
HOW DO YOU DECORATE WITH BEIGE
Boring colors are gone! Don't sacrifice style for neutrality when you can create a room bursting with tone. Peek inside the expert's playbook to master the art of tonal palettes.
#1. BEIGE IN A KITCHEN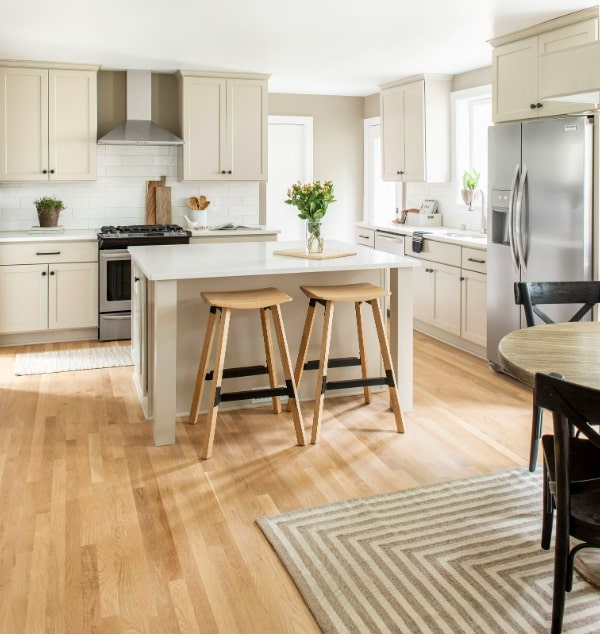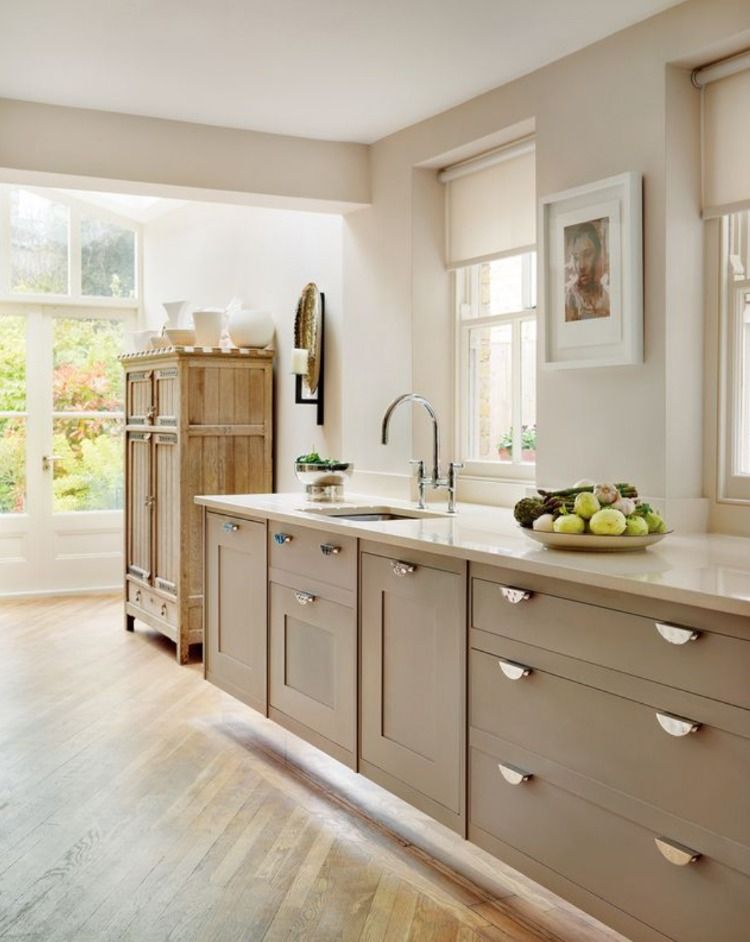 Take your kitchen design to the next level with the elegance of beige or cream. Its timeless quality will elevate the look and feel of your space without overshadowing other features, allowing them to shine. Sometimes less is more, and the subtle allure of understated forms and textures just can't be beaten.
But beige is not just a pretty face. It's also a clever choice if you're working with a smaller kitchen. Instead of going for white, which can feel stark and unwelcoming, beige will create a warm and inviting atmosphere. And let's not forget that home buyers adore cream kitchens, so you'll be adding extra value to your property. Bring on the beige!
#2. BEIGE IN A LIVING ROOM
Revamp your family space into an airy and timeless oasis with a beige living room. But hold up! Ditch the uninspired beige living room paint ideas and go for something subtle but complex. Natural textures such as stone, wood, or linen can help you anchor the neutral color scheme, so it doesn't feel uptight or overly designed. Inject a laid-back vibe that always works wonders! Tips from interior designer Tamsin Johnson.
#3. BEIGE IN A BEDROOM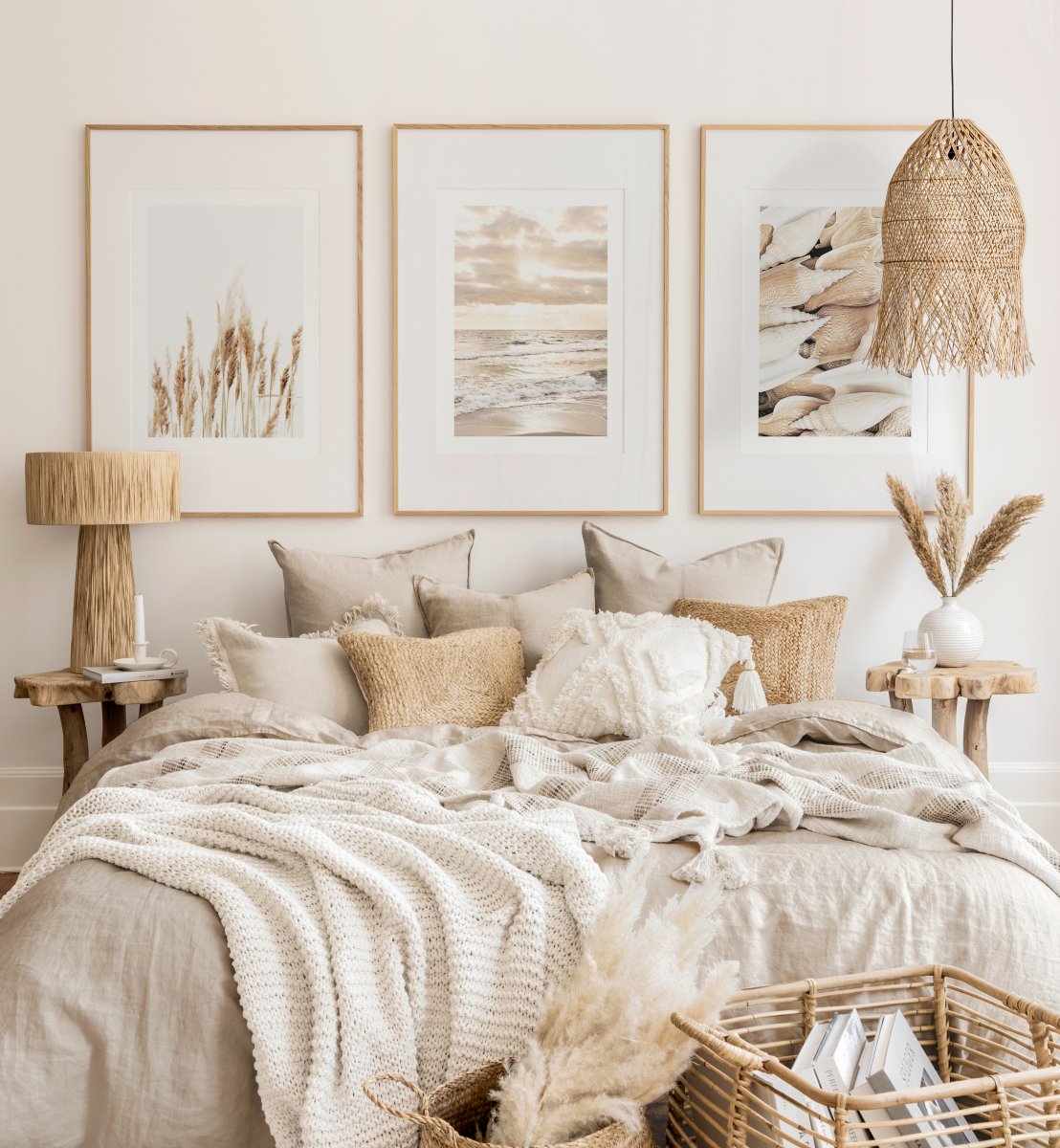 Neutral colors provide the perfect backdrop for interior design maestro James Thurstan Waterworth, allowing antiques, art, and fancy décor to sparkle. His philosophy involves starting with neutrals and layering patterned textiles, tactile surfaces, and funky furnishings to create an environment that exudes personality without overwhelming the senses.
Jessica Bennett of Alice Lane Interiors took this approach to heart when designing a beige bedroom that is far from dull. Subtle color hints and intriguing textures combine to make this room a haven of comfort and style.
When it comes to decorating a neutral space, adding pops of color can really elevate your design game. By selecting hues that you truly love and considering the layout of each room in relation to the sun, you can create a personalized oasis filled with character and charm. Don't let lackluster lighting hold you back! Embrace your creativity and let your personality shine through in every space.
#4. BEIGE IN A BATHROOM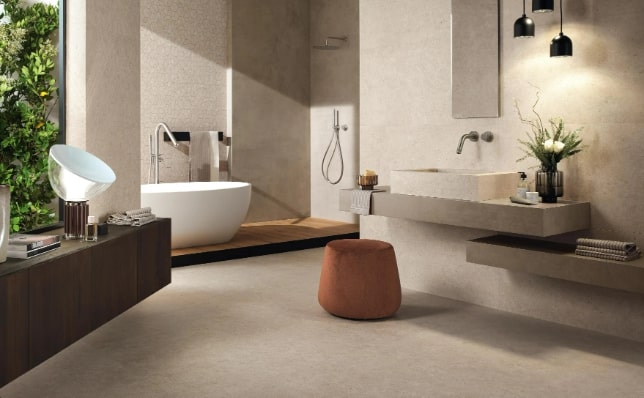 Do you want to spruce up your neutral bathroom without losing its zen vibes? According to design expert Sarah Ward of Ward & Co Interiors, introducing accent colors can be as easy as adding chic fragrances or bath oil bottles. But if you're looking for more pizzazz, try incorporating colored glass accessories that come alive when paired with your soap, towels, and art. Want to take it up a notch? Floral fixtures and reclaimed furniture can also inject pops of color and contrast into your sanctuary. Say goodbye to boring bathrooms with these tips!
#5. BEIGE IN AN ENTRYWAY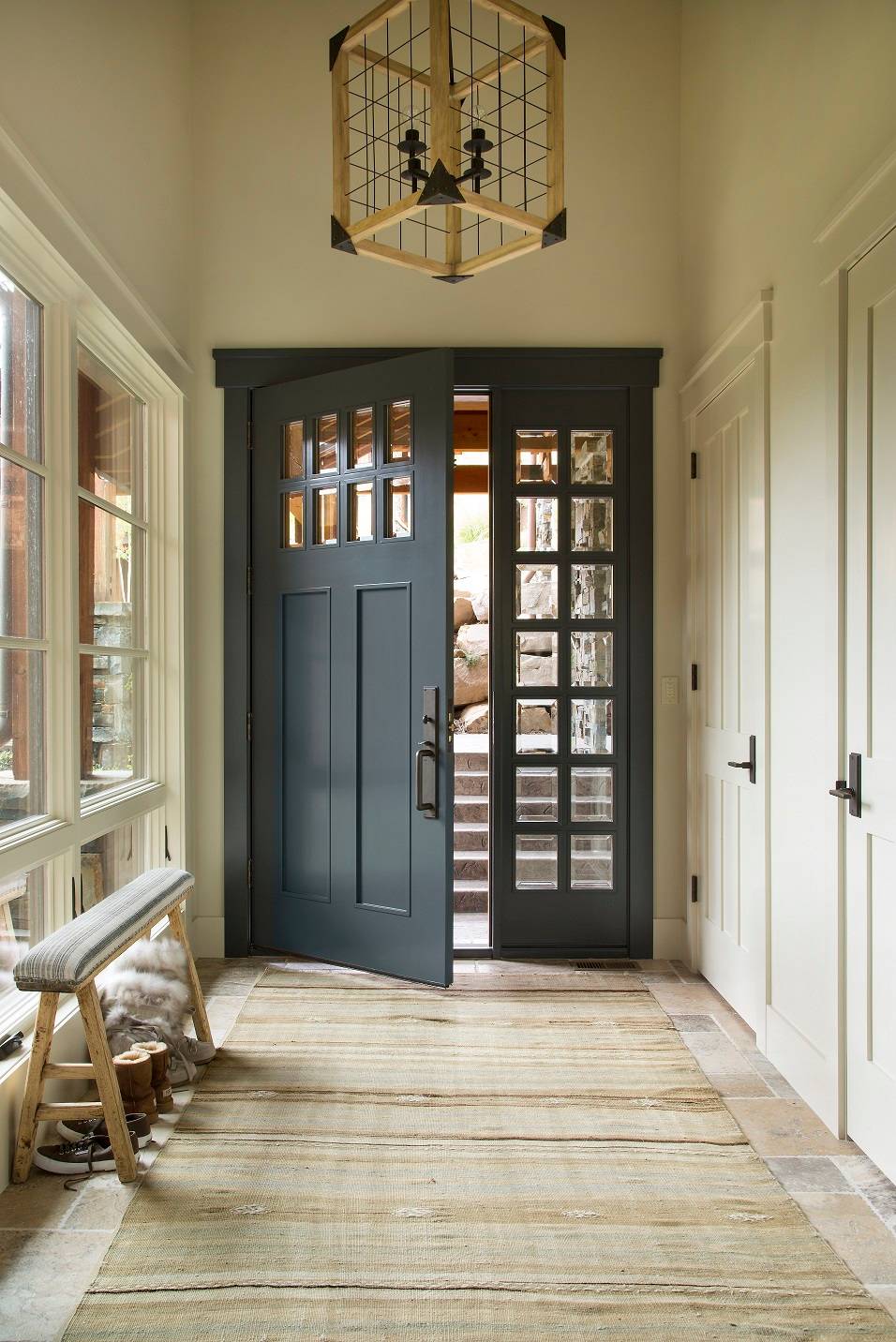 Neutral palettes can create a peaceful and serene atmosphere in any room. But don't let the lack of color fool you - you can still create an eye-catching space by layering different shades of off-whites and beige, and adding touches of caramels and black.
Designer Athena Calderone, the genius behind Eyeswoon, infuses warmth into her neutral spaces by incorporating black accents and hints of gray. Her secret? Textures. By focusing on texture, she's able to add depth and interest to an otherwise muted color scheme. Say goodbye to boring and hello to cozy chic.
Ditch the boring beige and spice things up! Playing around with different textures and finishes can level up your decor game. Create contrast by mixing glossy and matte surfaces to add depth and interest. Let your hands do the talking with an added layer of texture and tactility.
#6. BEIGE IN A LAUNDRY ROOM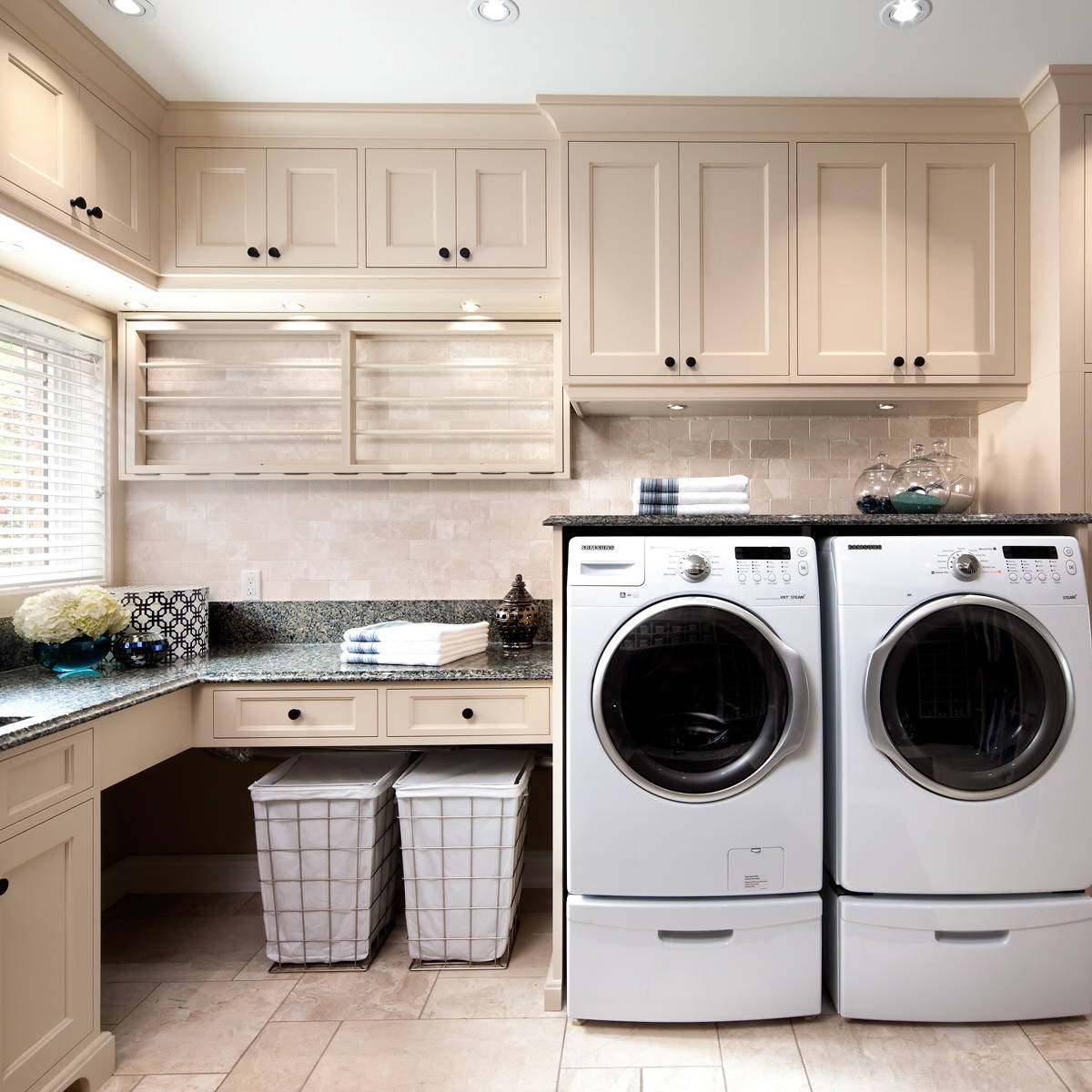 In today's world, we crave comfort and serenity in our homes more than ever. We want colors that are easy on the eyes and soothing to the soul. That's why we're seeing a growing trend towards warmer neutrals like earthy tones, and a decline in cooler, blue-toned grays.
According to Ruth Mottershead, creative director of Little Greene, this shift towards warmer neutrals is all about finding colors that provide warmth and serenity - exactly what we need in our homes right now.
And it's not just about the living room or bedroom - even the laundry room can benefit from comforting colors like beige and brown. As Justyna Korczynska, senior designer at Crown Paints, notes, these hues remind us of the great outdoors and encourage us to relax, even in a stressful space like the laundry room.
So whether you're looking to update your entire home or just a single room, consider these comforting, inviting colors for a cozy and peaceful atmosphere.
#7. BEIGE IN A DINING ROOM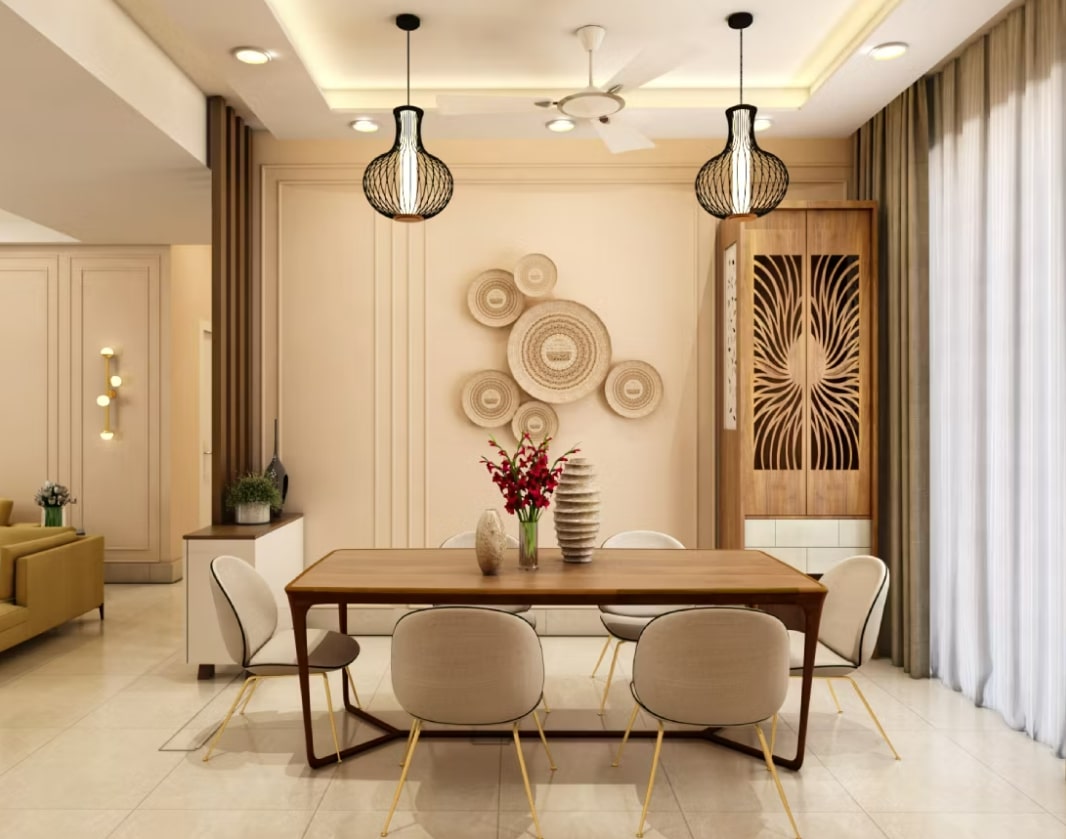 "Creating the perfect ambiance for a formal dining room is an art form, according to designer Tiffany Leigh. While beige is a classic choice, it's not the only option. To achieve a harmonious look, stick with a tonal palette of beige, dark brown, and mid-gray. But don't be afraid to add a touch of drama with a statement piece. A bold black metal or ebonized wood design can serve as the striking centerpiece that brings the whole room together."
#8. BEIGE IN A PANTRY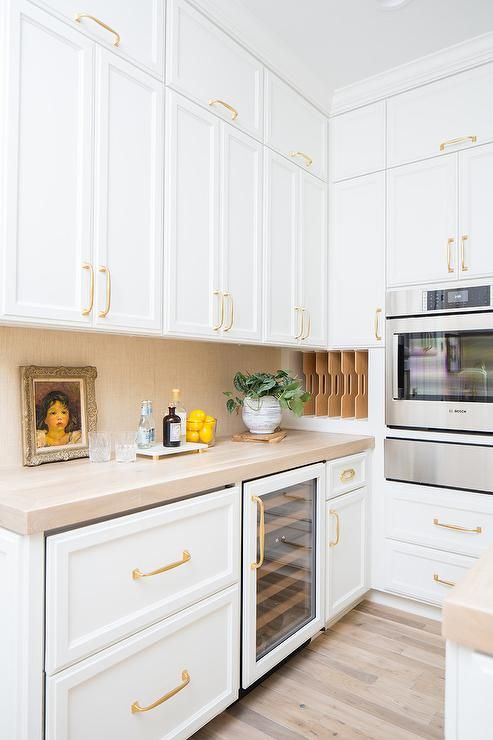 Move over the kitchen and living room, it's time for the pantry to take the design spotlight. And this year, it's all about a subtle yet stunning color scheme. But don't be fooled, selecting the perfect neutral paint is no easy feat. According to Tom Cox, co-founder of HÁM interiors, finding the right mineral balance is key. Avoid shades with overly dominant undertones (we're looking at you, gray and brown) which can clash with decorative accents. Designer Margaret Ash brings this to life with a simple beige backdrop that makes natural wood flooring pop. So, let's give the pantry the attention it deserves and make it a design masterpiece.
#9. BEIGE IN A POWDER ROOM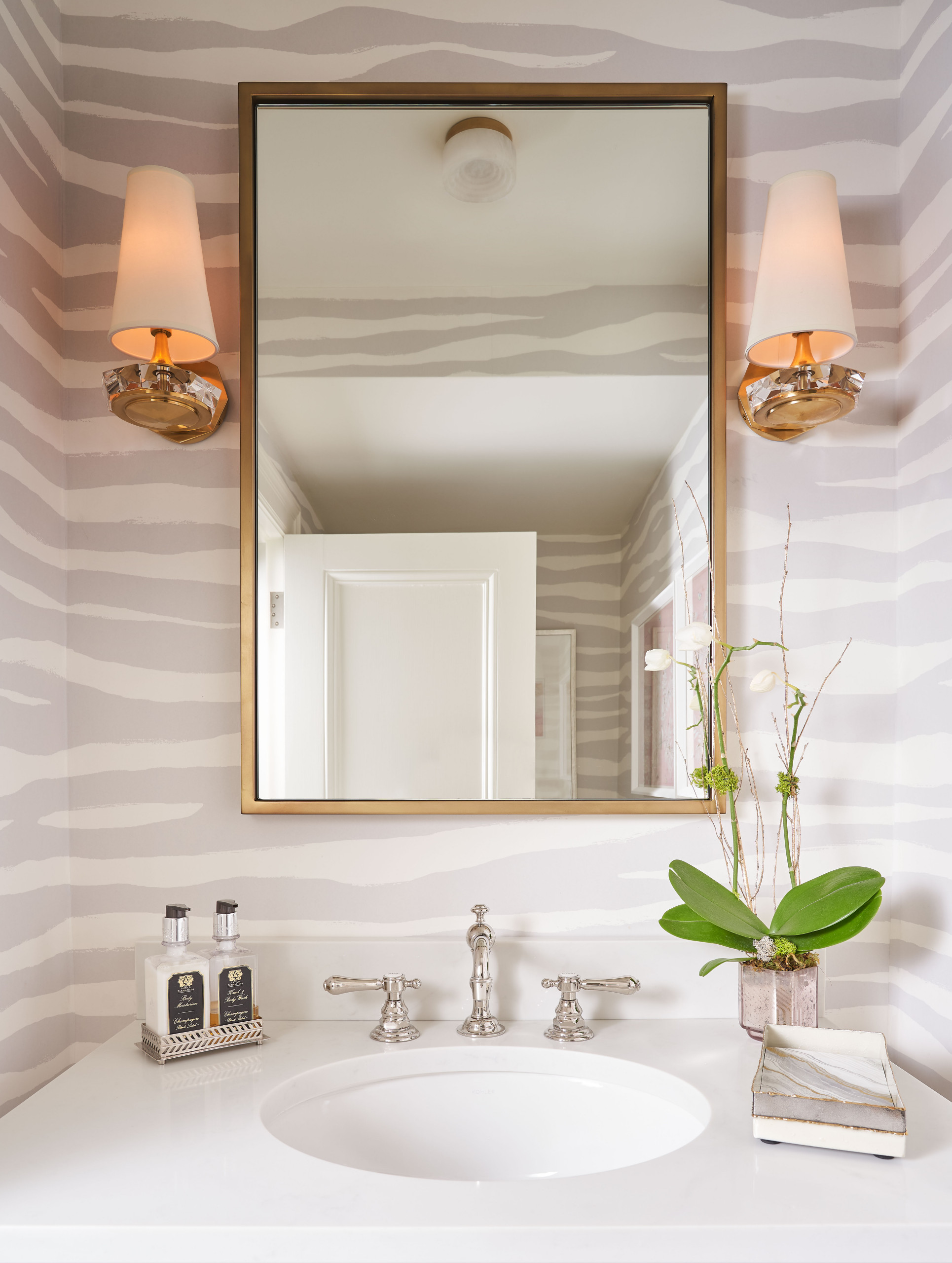 Looking to add some warmth and earthiness to your tiny powder room? Adding some paneling in beige might just do the trick! And why stop there? Pair it with some textured wallpaper in the same color palette for a truly sophisticated look. As creative director of Roselind Wilson Design, Roselind Wilson herself sings the praises of beige as an earthy pigment that brings the nurturing qualities of nature into your home. But even if beiges aren't your thing, don't worry - the beige-grey color trend offers the perfect opportunity to showcase some flashy fixtures or colorful artwork as a bold pop against a peaceful backdrop. So go forth and embrace the power of beige!
#10. BEIGE IN A SUNROOM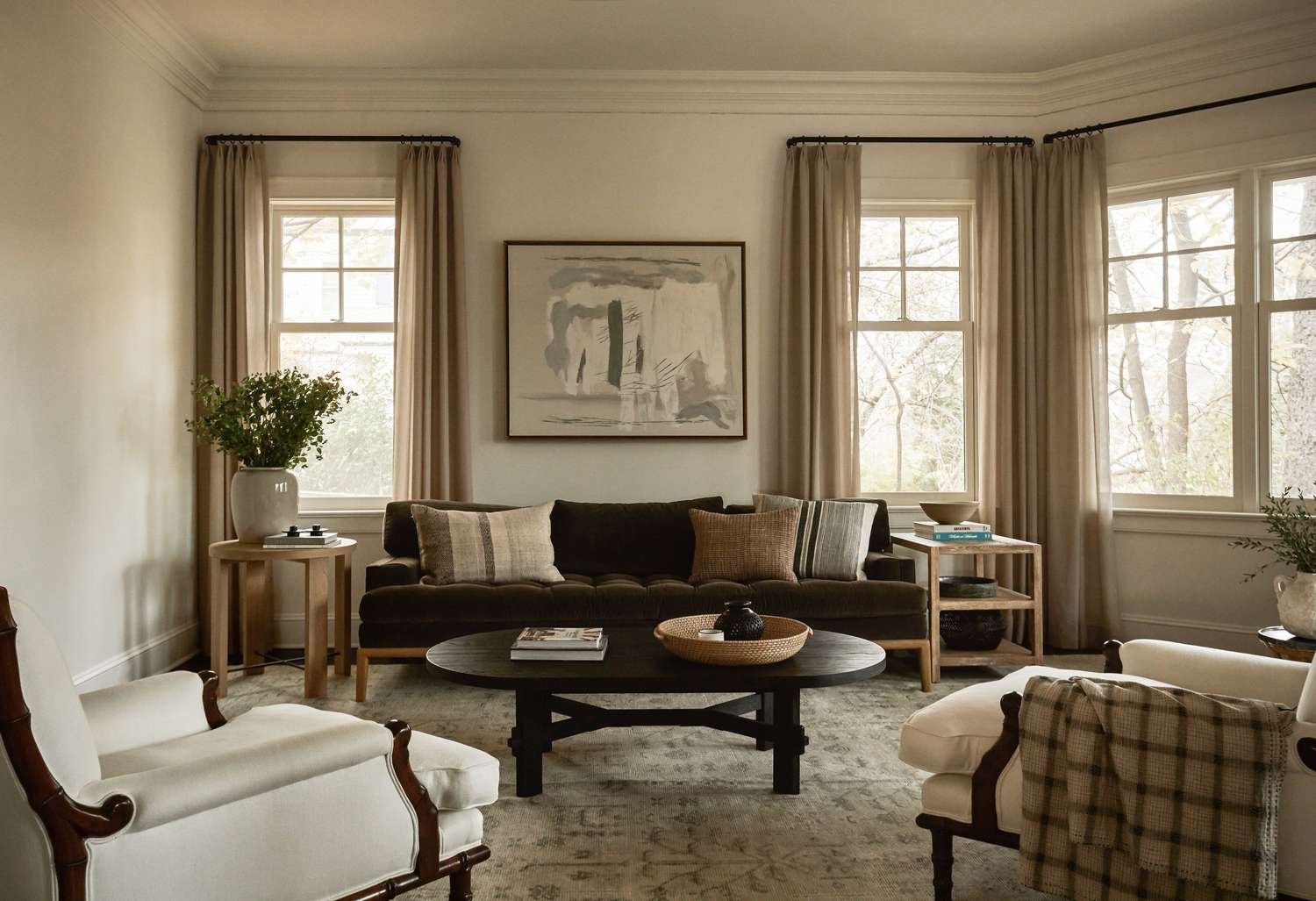 Stop playing it safe and elevate your interior design game with neutral shades. Trust us, it's not as tricky as it seems! With a bit of know-how, you can turn any room into a peaceful oasis with earthy tones like brilliant beige. Just take a cue from Indianapolis-based designer Whittney Parkinson, who transformed a drab sunroom into a stunning showpiece with a statement light fixture and a calming, pale beige palette. Bring the serenity of nature into your home with the power of neutrals.
As 2023 approaches, we will increasingly see new and exciting colours enter the world of home decor and fashion in place of gray. We have the opportunity to be bolder with our choices, innovating the home decor scene with vibrant hues of green, yellow and terra cotta intermingled with subtle nudes, sophisticated navy blues and grays. While it's not always easy to venture away from a popular color like gray, these interior designers remind us that sometimes it's necessary to take a risk by choosing something new and fresh for our homes. With each passing year, these color trends are sure to give homeowners a great sense of pride in spreading joy through their living spaces—so let's enjoy this ride!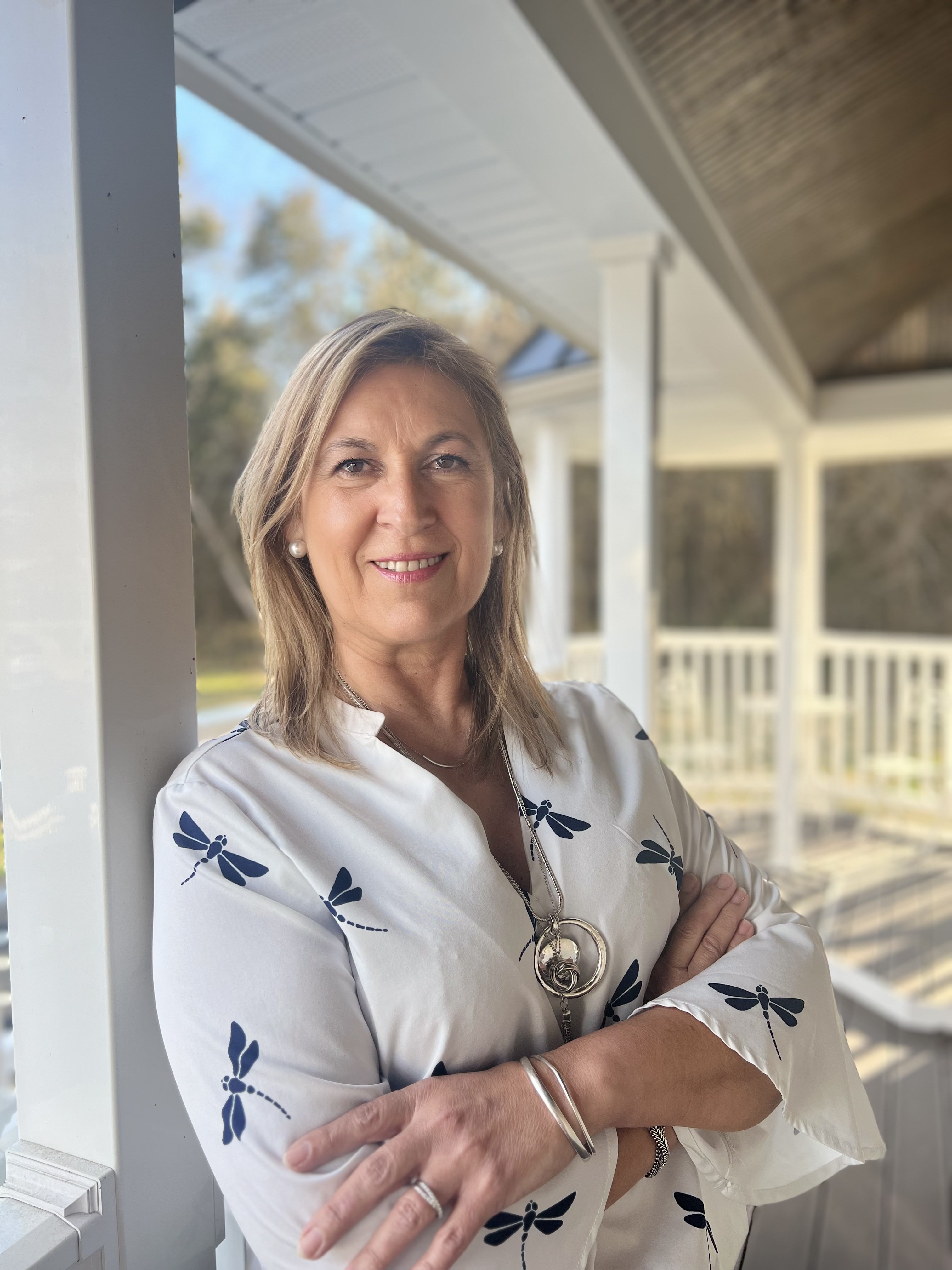 NORA LOPEZ
(571) 527-7053
JACOBS & CO. REAL ESTATE, LLC.
12923 Fitzwater Dr. Nokesville, VA 20155
(703) 594-3800 | jacobsandco.com