Must-Visit Hiking Trails in Virginia
Posted by Katie Wedge on Thursday, August 31, 2023 at 11:45:20 AM
By Katie Wedge / August 31, 2023
Comment
Must-Visit Hiking Trails in Virginia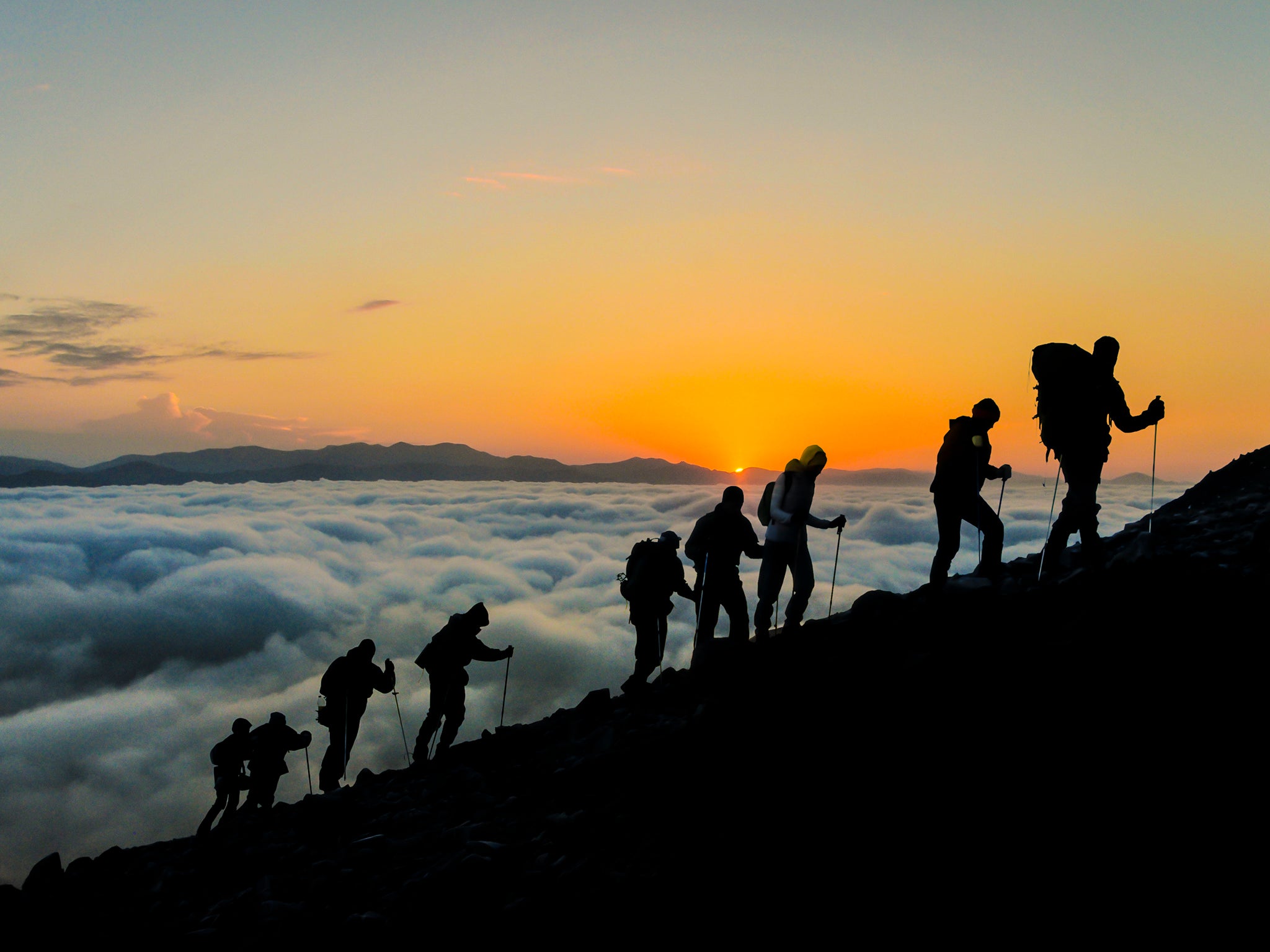 Discover the most stunning hiking trails in Virginia that deserve a spot on your bucket list. From breathtaking waterfalls to scenic overlooks, these trails will leave you in awe. Make sure to preserve the beauty of Virginia's trails by disposing of waste properly, just as you found them.
Great Falls Loop - Length: 4.6 miles | Difficulty: Moderate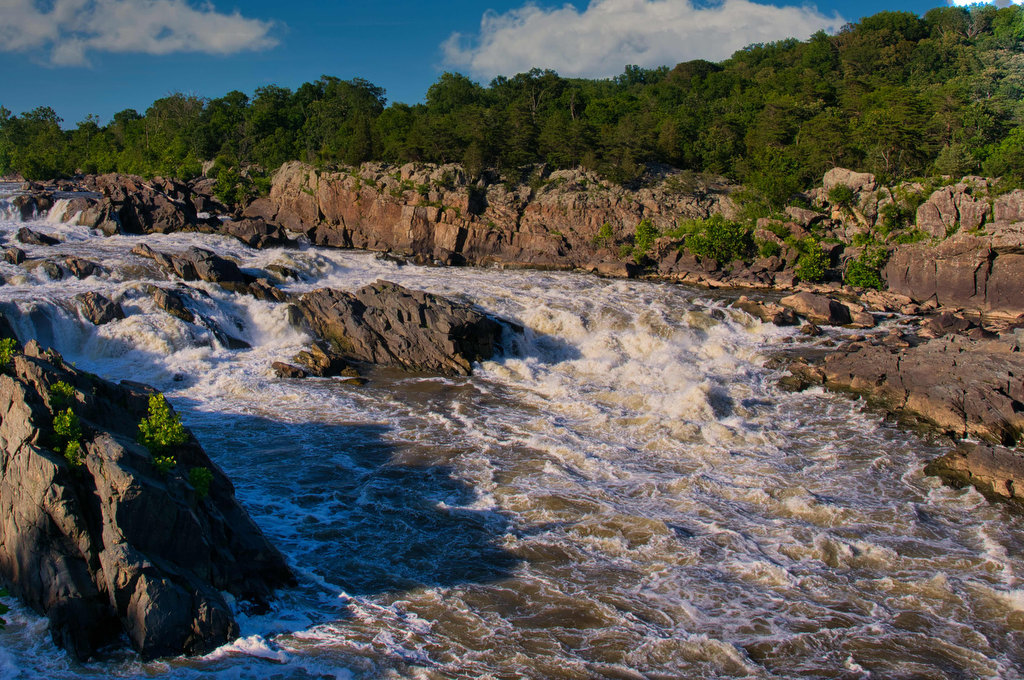 Explore the jagged rocks and incredible falls of Great Falls Park along the Potomac River. With 15 miles of trails, this maintained park offers a moderate 4.6-mile hike through diverse landscapes. Note: $20 fee per car to enter the park.
Compton Peak - Length: 2.4 miles | Difficulty: Moderate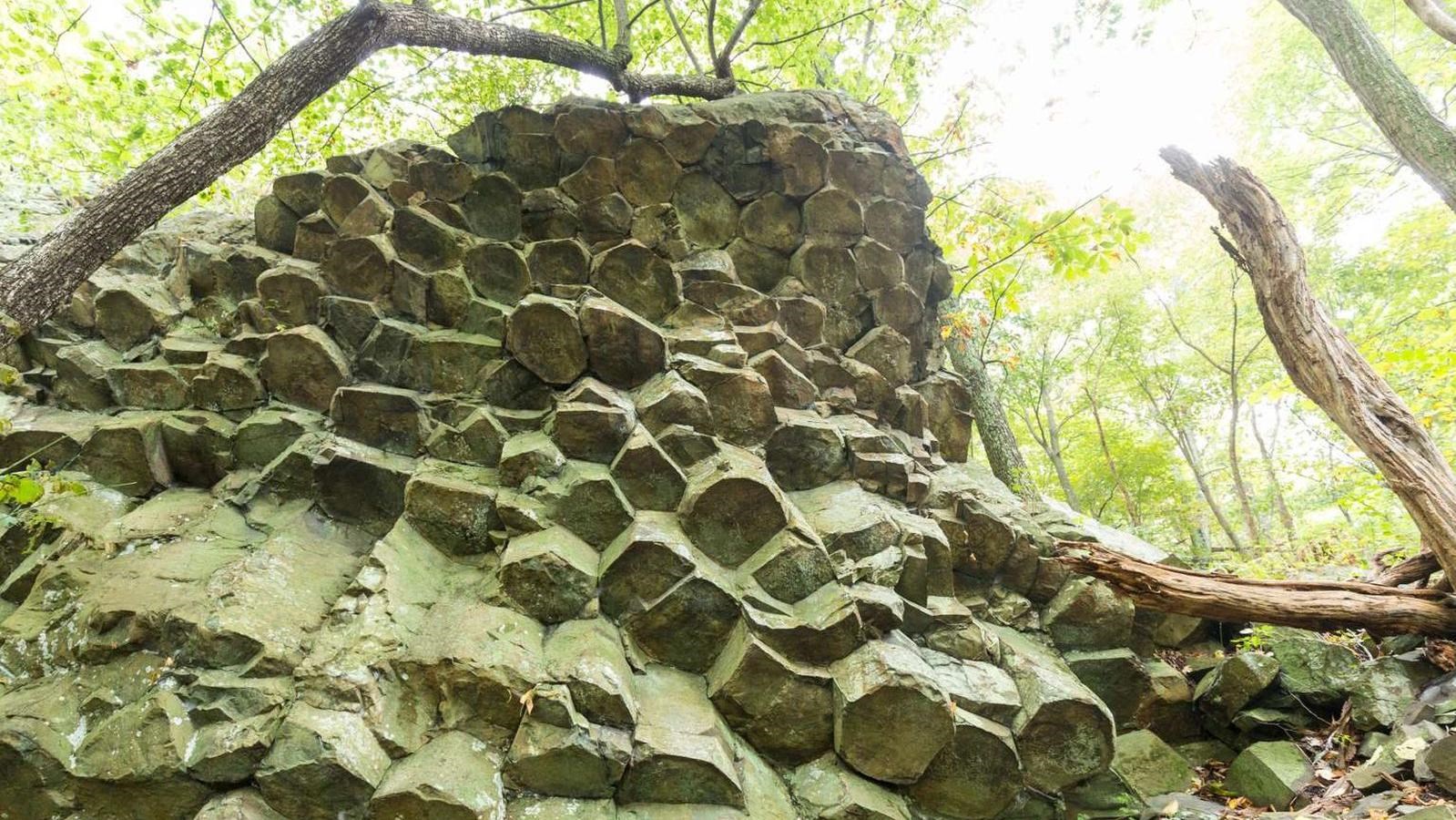 Embark on an easy hike at Compton Peak, accessed from Skyline Drive. This 2.4-mile trail offers beautiful views with just an 835-foot elevation change.
Strickler Knob - Length: 5.5 miles | Difficulty: Hard
For experienced hikers seeking a challenge, Strickler Knob in George Washington National Forest is a must. Enjoy rock scrambling and breathtaking 360-degree views, but keep in mind this trail is not maintained and not suitable for dogs or young children.
Mary's Rock - Length: 2.9 - 3.7 miles | Difficulty: Moderate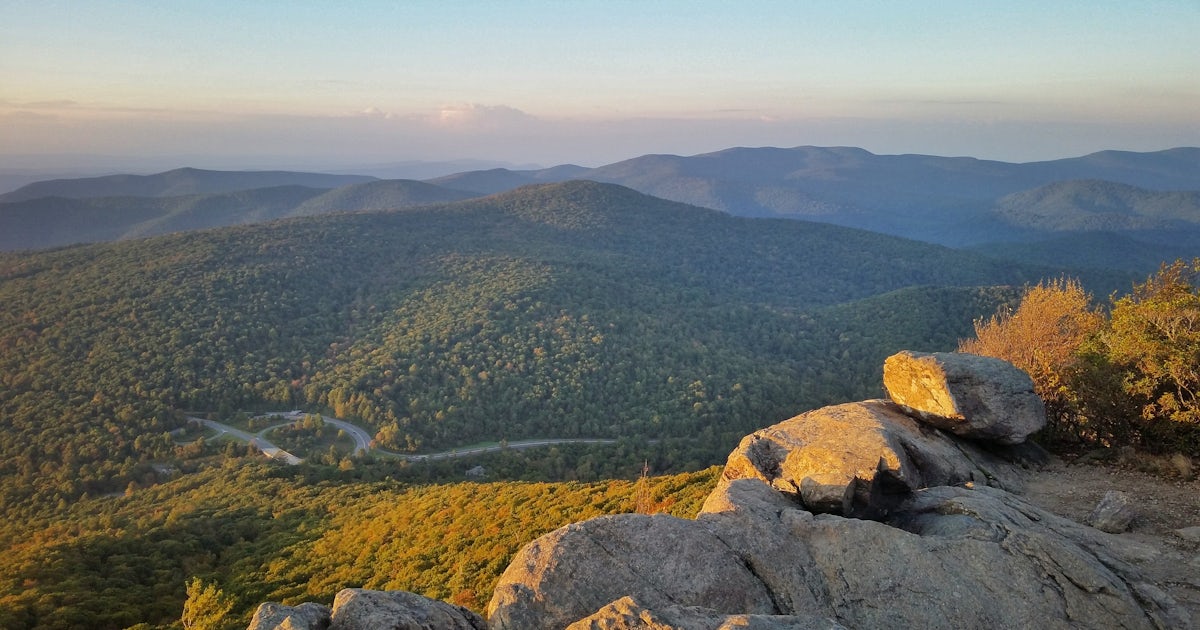 Reach the summit of Mary's Rock, located in Shenandoah National Park, for outstanding views. Choose between two trails, both considered moderately difficult, and prepare for a rewarding adventure.
Stony Man Trail - Length: 1.6 miles | Difficulty: Easy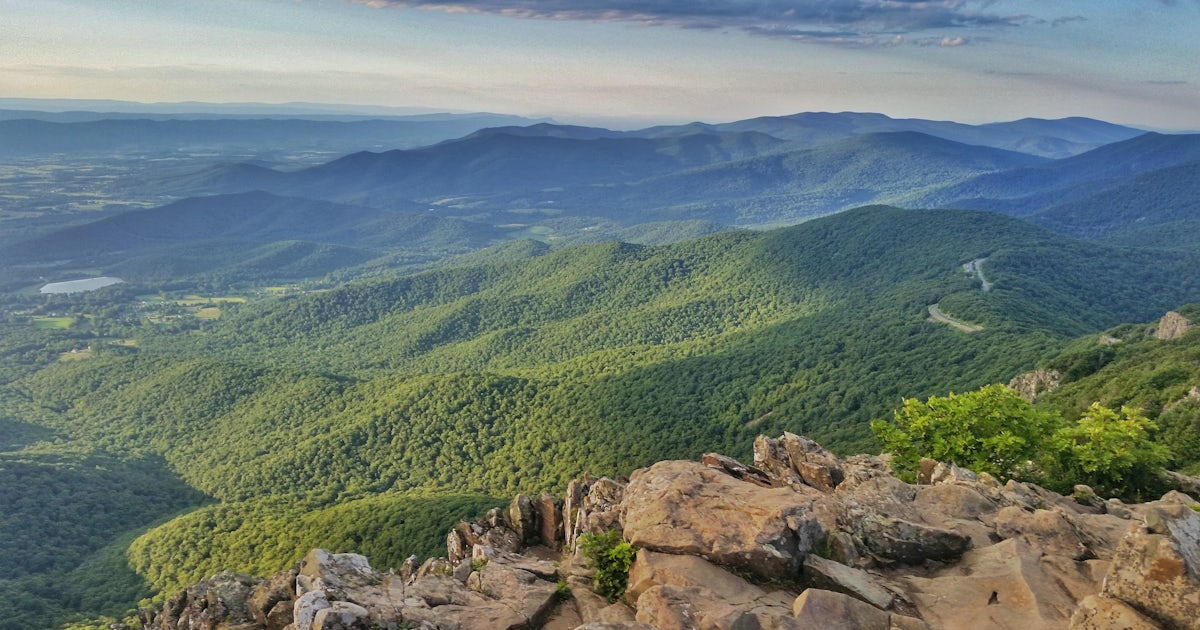 For incredible views and an easy hike, try Stony Man Trail in Shenandoah National Park. This 1.6-mile circuit is perfect for enjoying wildflowers in the spring and summer.
Old Rag Mountain - Length: 9.2 miles | Difficulty: Hard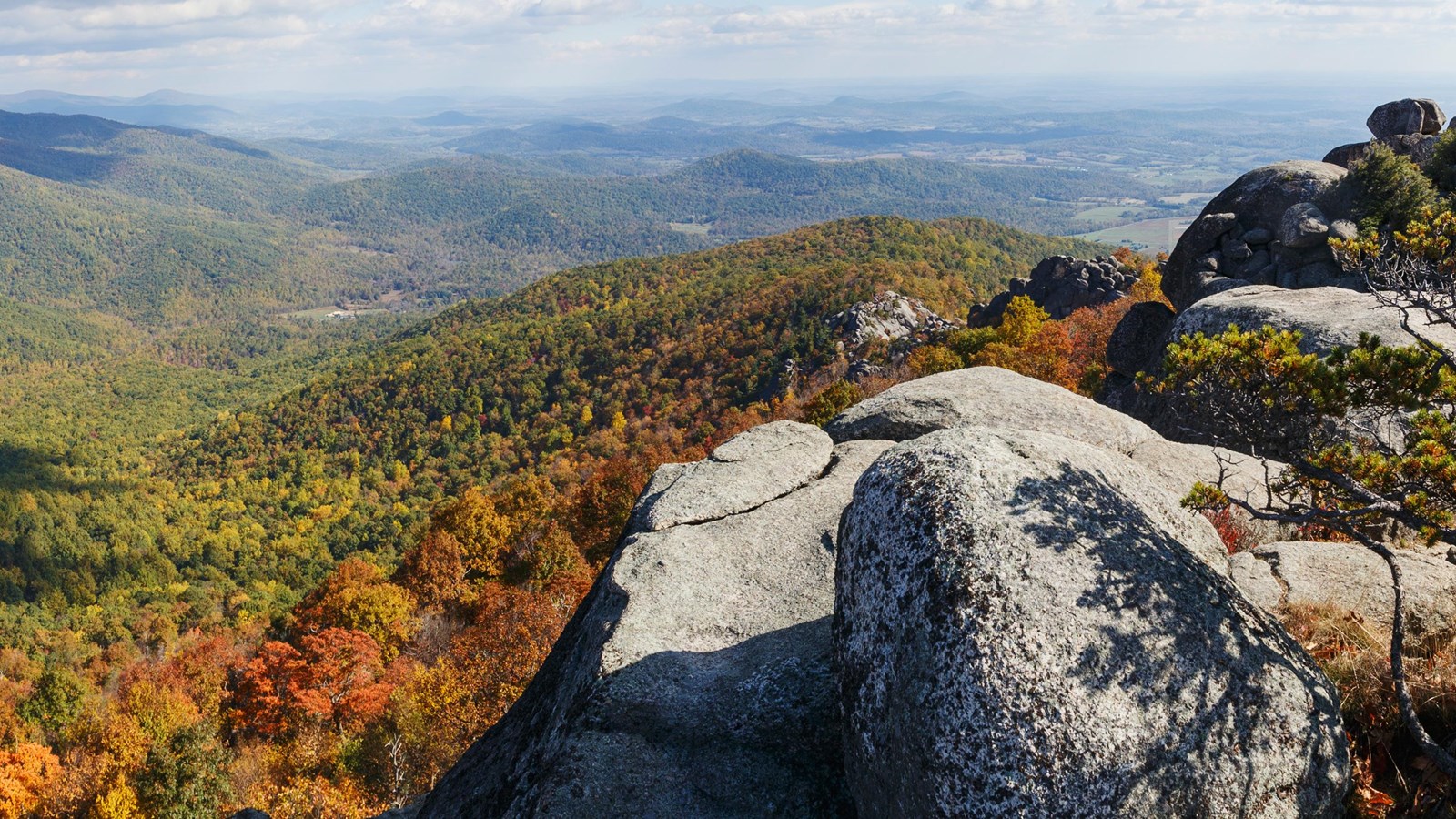 Considered one of Shenandoah National Park's most popular hikes, Old Rag Mountain offers a strenuous 8.8-mile climb and rock scramble. Be prepared with plenty of water, layers of clothing, and hiking partners. Note: No pets allowed on Ridge Trail.
Whiteoak Canyon Falls - Length: 2 - 7.3 miles | Difficulty: Easy - Hard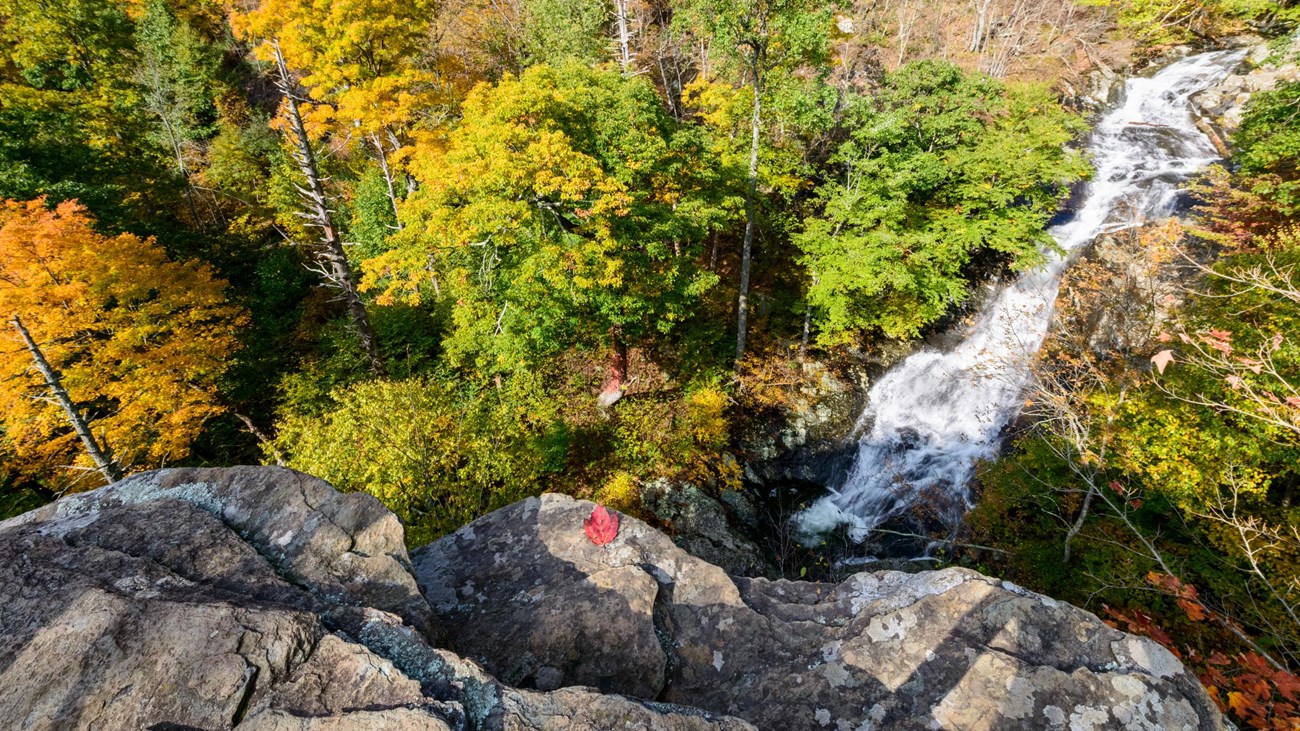 Indulge in the beauty of Whiteoak Canyon, known for its six majestic waterfalls. Choose from various hiking options, each offering its own level of difficulty and unique perspectives on the falls.
Hawksbill Mountain - Length: 4.6 miles | Difficulty: Moderate
Reach the highest peak in Shenandoah National Park, Hawksbill Mountain, for breathtaking views at 4,050 feet. With varying trail options, you can choose the level of difficulty that suits you best.
Dark Hollow Falls - Length: 1.4 miles | Difficulty: Moderate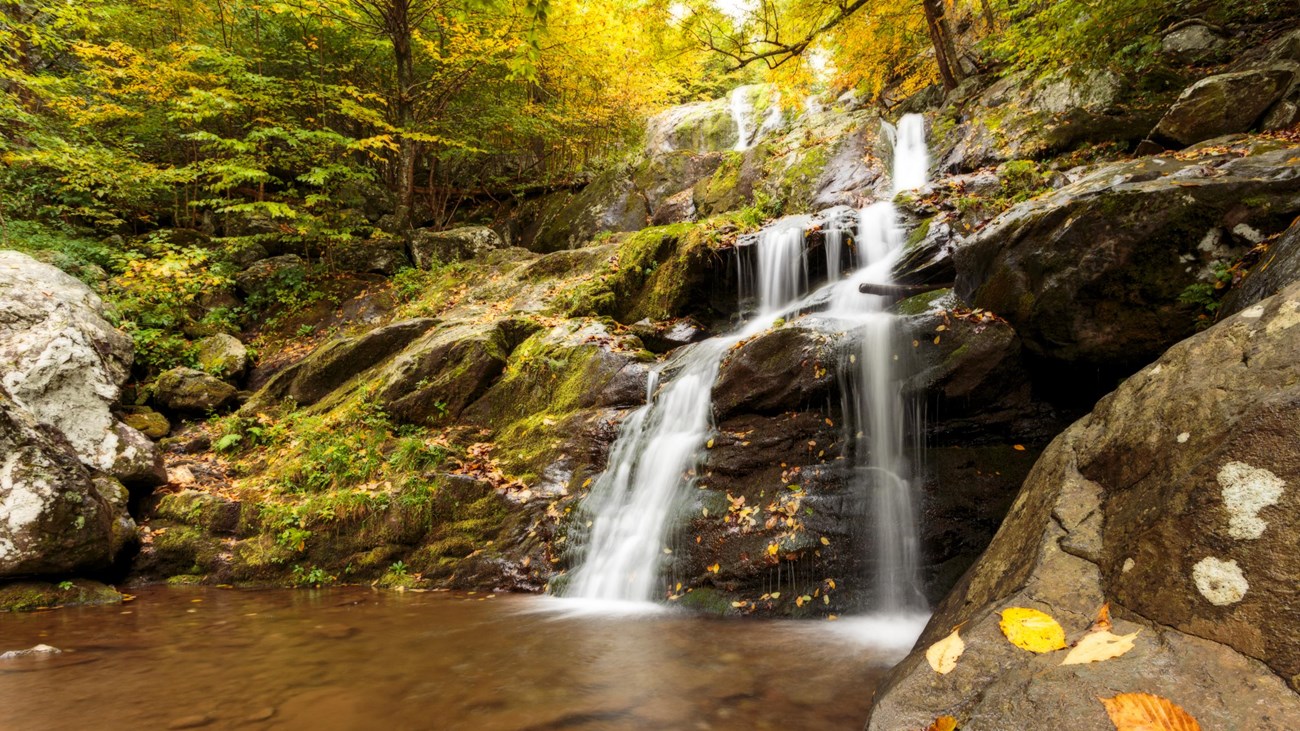 Located just off Skyline Drive, Dark Hollow Falls is a convenient yet stunning waterfall hike. Capture the beauty of the 70-foot falls on this 1.4-mile trail.
North River Gorge Trail - Length: 4.6 miles | Difficulty: Moderate
Experience the serenity of the North River Gorge Trail as you meander along a stream and cross it nine times. This easy day hike is perfect for low-water conditions.
Explore Crabtree Falls: A Wonderful Waterfall Adventure!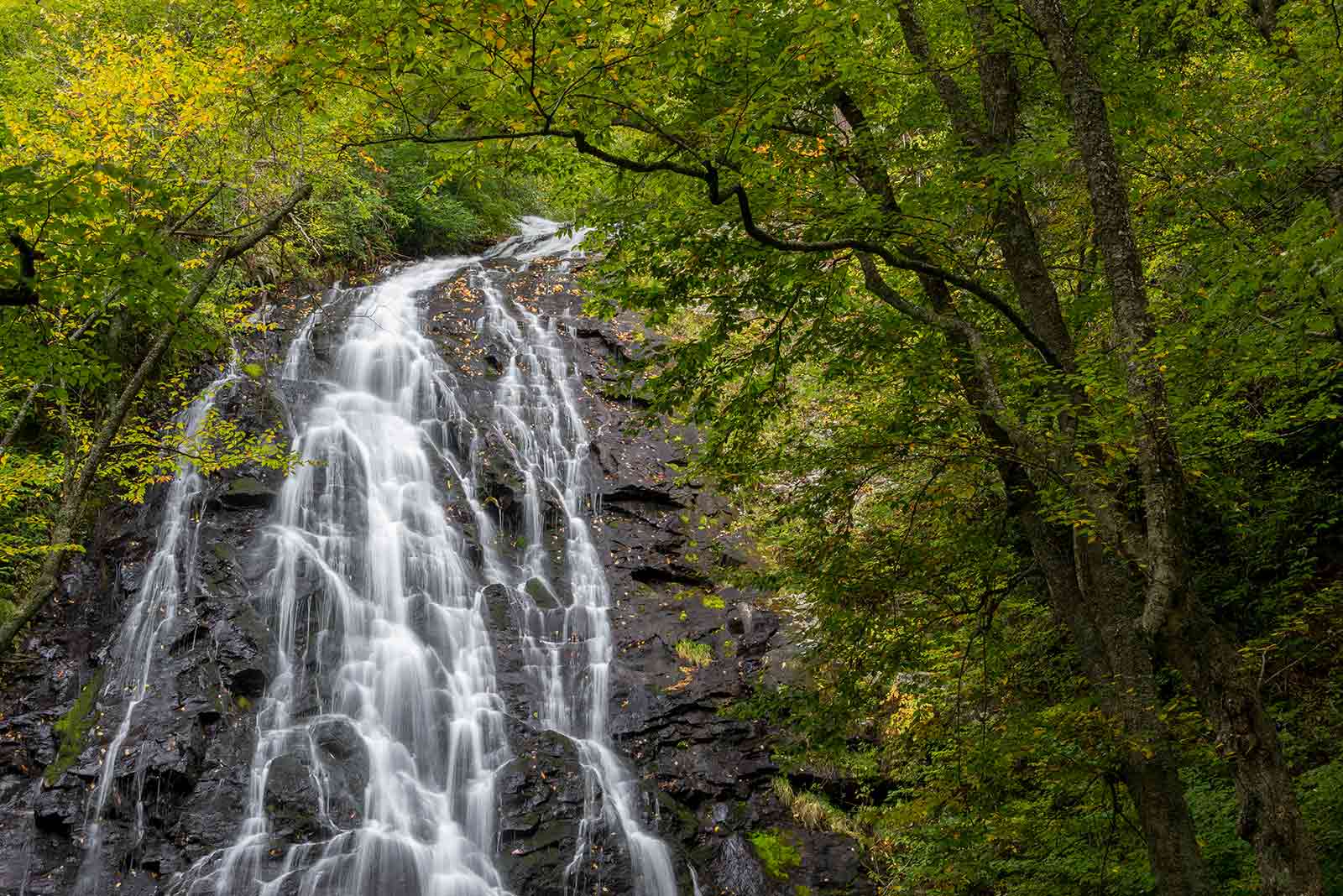 If you're a fan of waterfalls, look no further than Crabtree Falls. You'll be amazed to find the lower falls just a short walk from the parking lot! And if you continue on, you'll be rewarded with four more stunning overlooks along a moderate trail. In total, you'll witness an impressive 1,200 feet of cascades - the highest vertical-drop cascade east of the Mississippi River. Don't miss out on this natural wonder. Access the trail at 11581 Crabtree Falls Highway in Montebello. Download the Trail Map for an unforgettable hike.
Reach New Heights at Spy Rock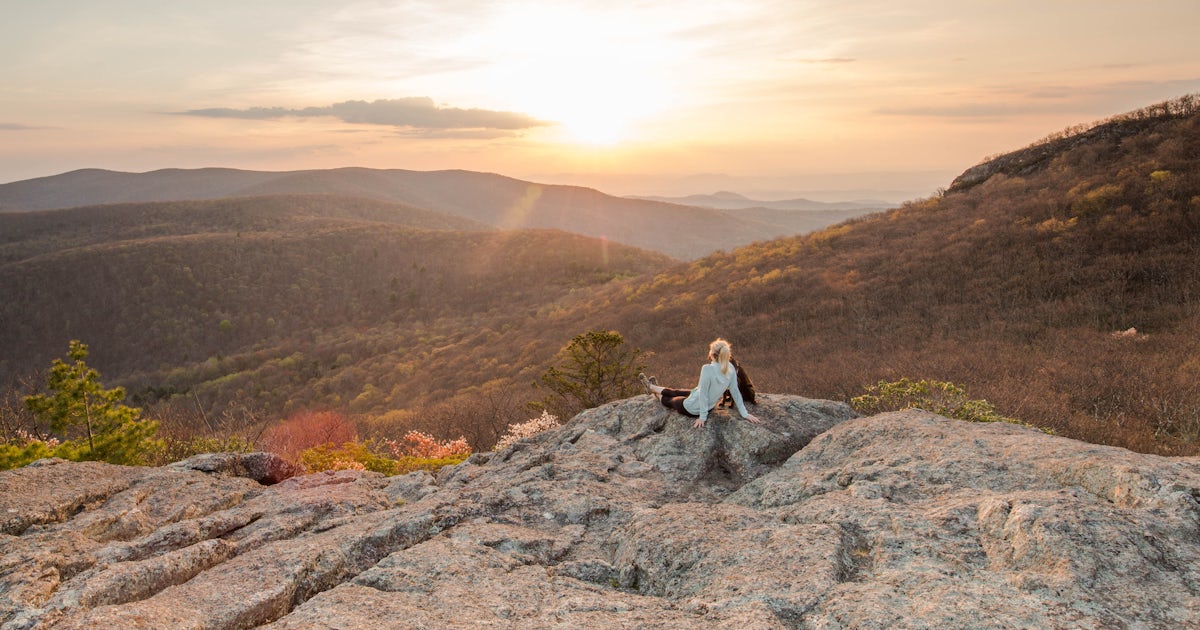 Get ready for breathtaking views! Begin your journey at the Montebello Fish Hatchery and embark on a moderately strenuous climb of two miles to the AT and then onwards to Spy Rock. Once you reach the top, prepare to be amazed by the 360-degree panoramic views from the rock outcrop. It's a payoff like no other.
Conquer Blue Suck Falls Trail: A Thrilling Challenge!
For thrill-seekers and waterfall enthusiasts, the Blue Suck Falls Trail at Douthat State Park is calling your name. This challenging five-mile trail not only leads you to a magnificent waterfall, but also offers stunning ridge top views and overlooks. Download the Trail Map to begin your adventure and be prepared to be amazed.
Unleash the Adventurer Within: Sharp Top Mountain Awaits!
Are you ready for a challenging and rewarding hike? Look no further than Sharp Top Mountain. As part of the Peaks of Otter, this 1.5-mile trail offers the best 360-degree views you can imagine. With an ascent of 1,340 feet, it's a strenuous journey from the camp store to the summit. But the views are well worth it. Get ready to conquer Sharp Top Mountain.
Discover the Beauty of High Bridge Trail: An Easy Path to Serenity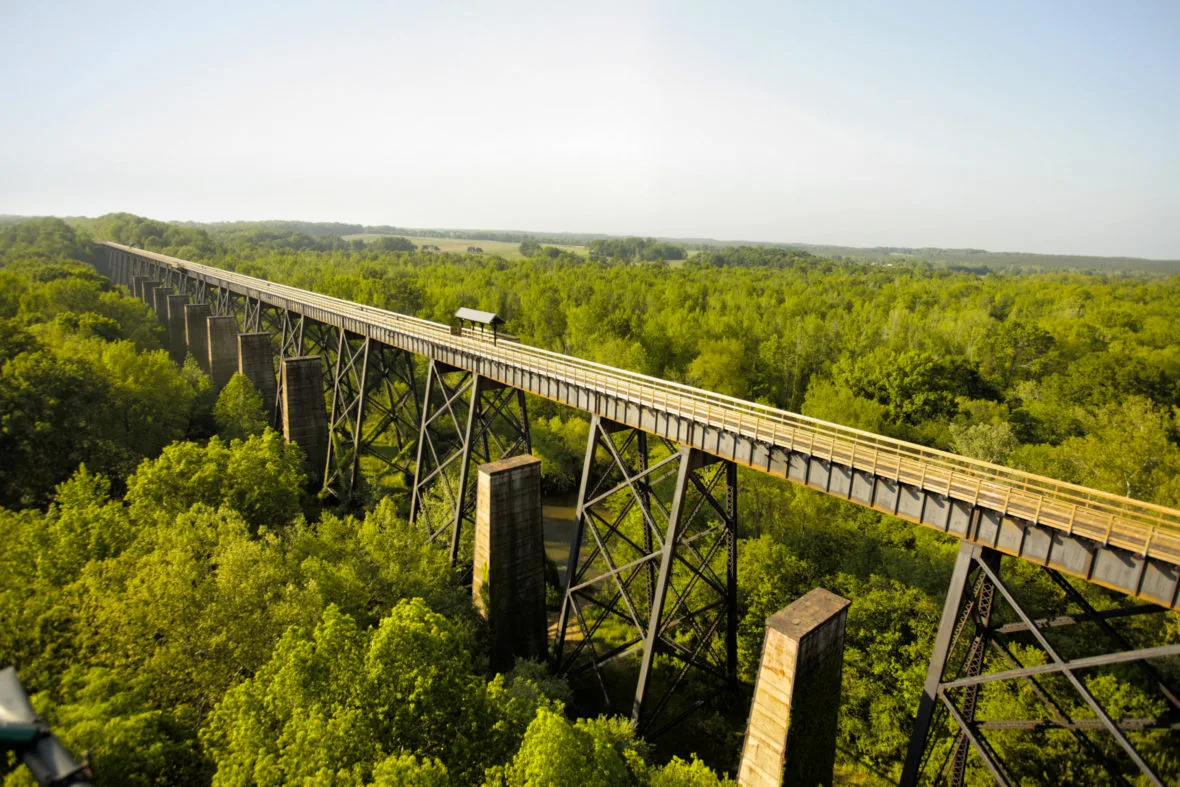 Looking for a peaceful and family-friendly trail? Head over to High Bridge Trail State Park and experience the newly reopened "high bridge." This 31-mile trail offers a flat and easy path, perfect for hiking and biking. With its stunning views of the treetops and the Appomattox River, it's a must-visit destination for nature lovers. Access the trail at multiple locations including Farmville. Download the Trail Map to start your adventure.
Witness the Magic of McAfee Knob: A Photographer's Dream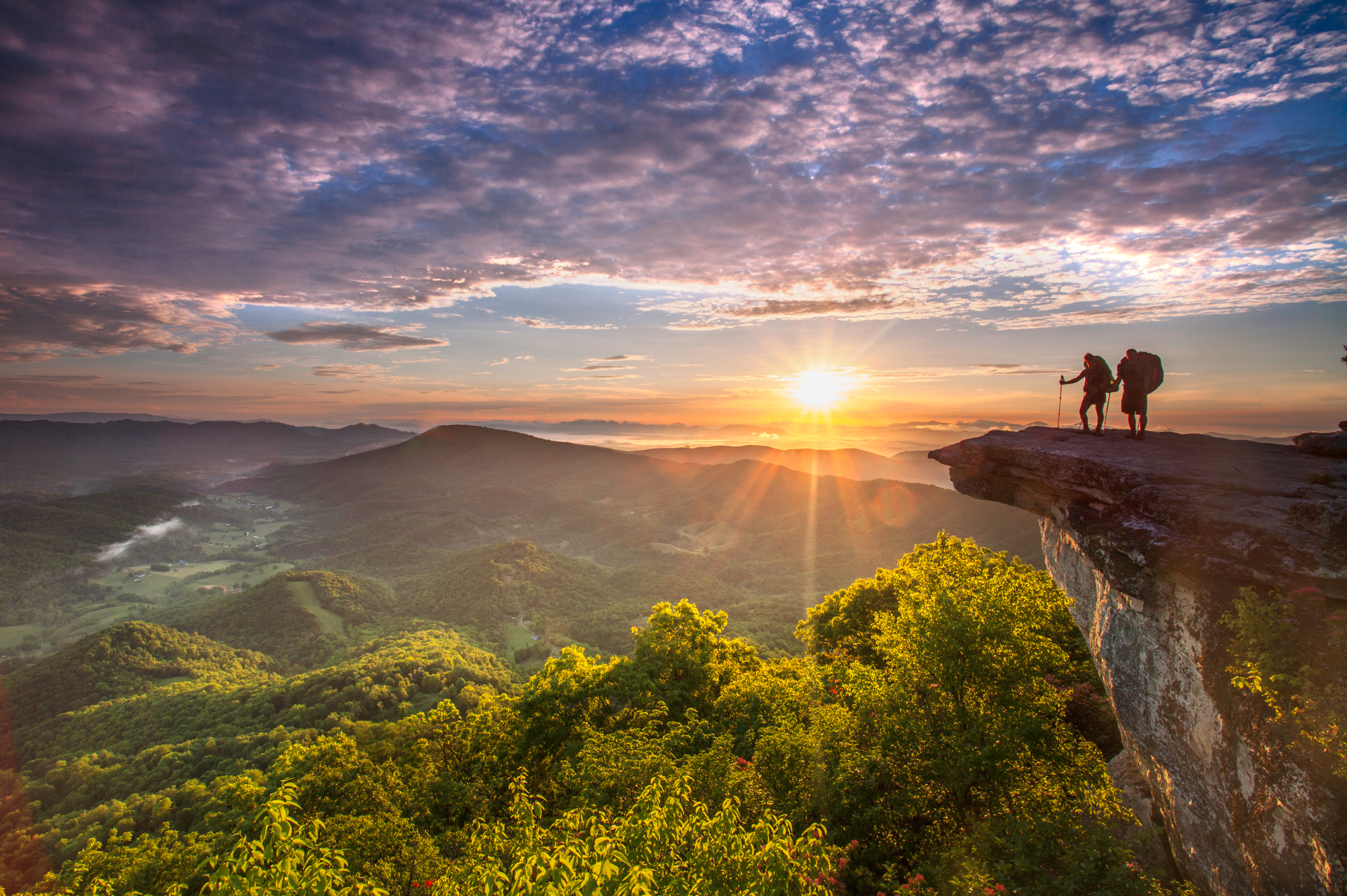 Get your camera ready for the most photographed site along the Appalachian Trail - McAfee Knob. This strenuous 8.2-mile hike will take you to the edge of a rocky mountain, providing stunning panoramic views of the surrounding valleys and mountains. With its stone steps and breathtaking scenery, McAfee Knob is a true gem waiting to be discovered.
Conquer Dragon's Tooth: A Hiker's Paradise with Majestic Views
For a hike filled with awe-inspiring views, set your sights on Dragon's Tooth. This 4.6-mile out-and-back trail overlooks the Roanoke Valley and offers stunning vistas from its aptly named jagged rock. Access the trail via route 311 and prepare to be amazed by the beauty that awaits you. A parking lot is available for your convenience.
Delight in the Beauty of Cascade Falls National Recreation Trail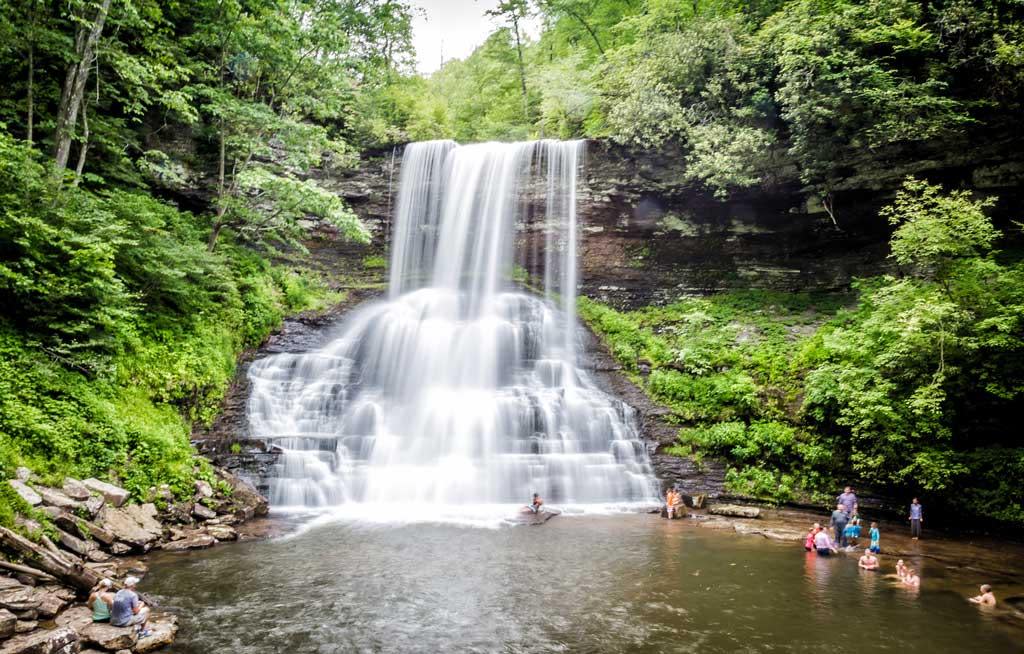 Immerse yourself in the beauty of Cascades Trail within Jefferson National Forest. This 3.8-mile trail will take you on a scenic journey along a shaded mountain creek, leading you to a majestic 66-foot waterfall. With its moderate difficulty level, this trail offers a perfect balance of challenge and natural beauty.
Embark on an Epic Adventure: Dogwood Glen Trail at Philpott Lake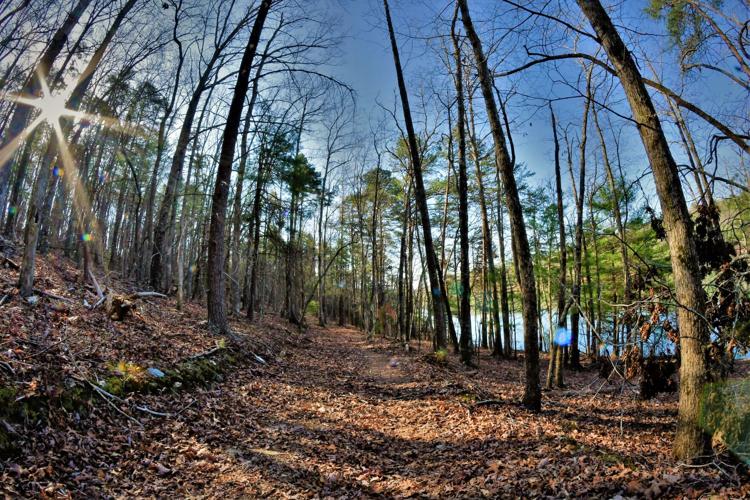 Philpott Lake is a true natural gem, and Dogwood Glen Trail allows you to explore its beauty. This nine-mile out-and-back multi-use trail offers a mix of moderate to strenuous terrain, as well as breathtaking views of the lake. Access the trail from Salthouse Branch Park or Philpott Dam and embark on an unforgettable adventure.
Seek an Enchanting Treasure: Fairystone State Park Awaits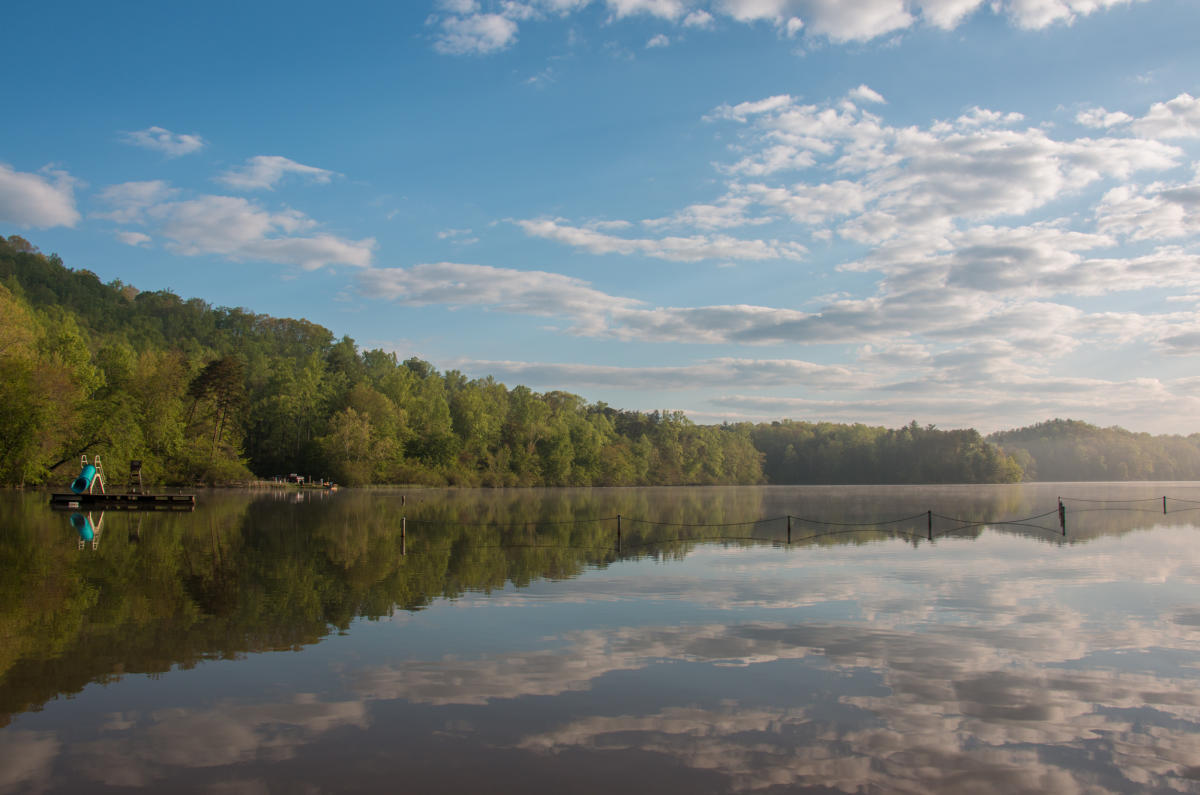 Prepare for a magical experience at Fairystone State Park. As you hike the Little Mountain Trail System or the Stuarts Knob Trail System, keep an eye out for rare rock crystals known as fairy stones - some even shaped like crosses. With trails ranging from easy to difficult, and a variety of lengths, Fairystone State Park has something for everyone.
Conquer the Challenge of Rock Castle Gorge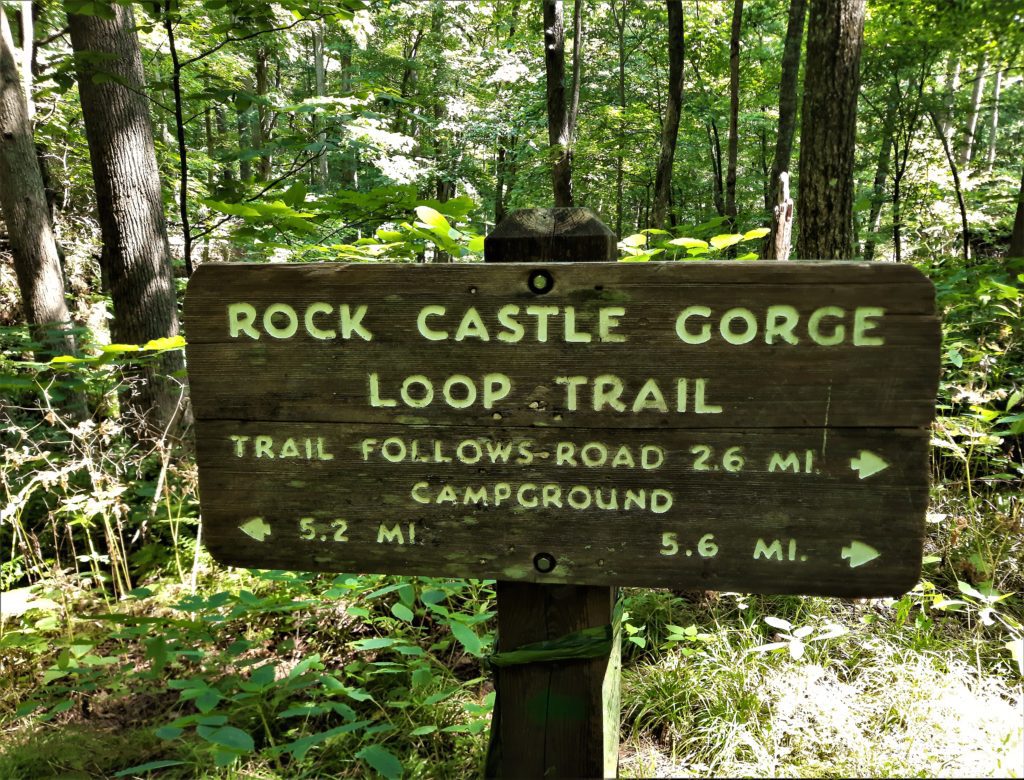 Rock Castle Gorge offers a hiking experience like no other. Accessed from the Blue Ridge Parkway, this challenging 10.4-mile trail takes you on a breathtaking journey through a National Recreation Area. With a descent and climb of varying elevations, you'll
HUMPBACK ROCKS: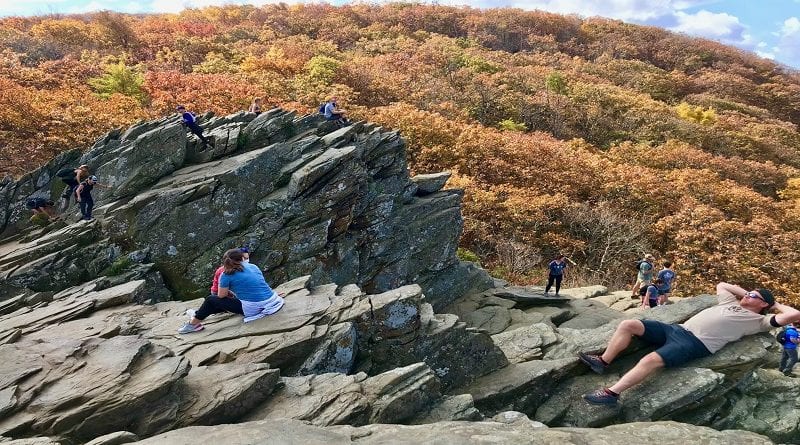 Discover the breathtaking view from Humpback Rocks in Nelson County. Only 1 mile long, this moderate hike is worth every step!
BUFFALO MOUNTAIN NATURAL AREA PRESERVE:
Experience panoramic views of Floyd County and beyond at Buffalo Mountain Natural Area Preserve. With a moderate difficulty level, this 2.2-mile trail will reward you with stunning vistas.
NEW RIVER TRAIL STATE PARK:
Embark on a scenic adventure along the New River with New River Trail State Park. This easy 57-mile trail passes through four counties and offers a wide pathway for bikers, walkers, and equestrians to enjoy.
MOUNT ROGERS:
Conquer the highest point in Virginia at Mount Rogers. This challenging 12.4-mile hike begins at Elk Garden Gap and treats you to breathtaking sights along the white-blazed AT trail.
MOLLY'S KNOB: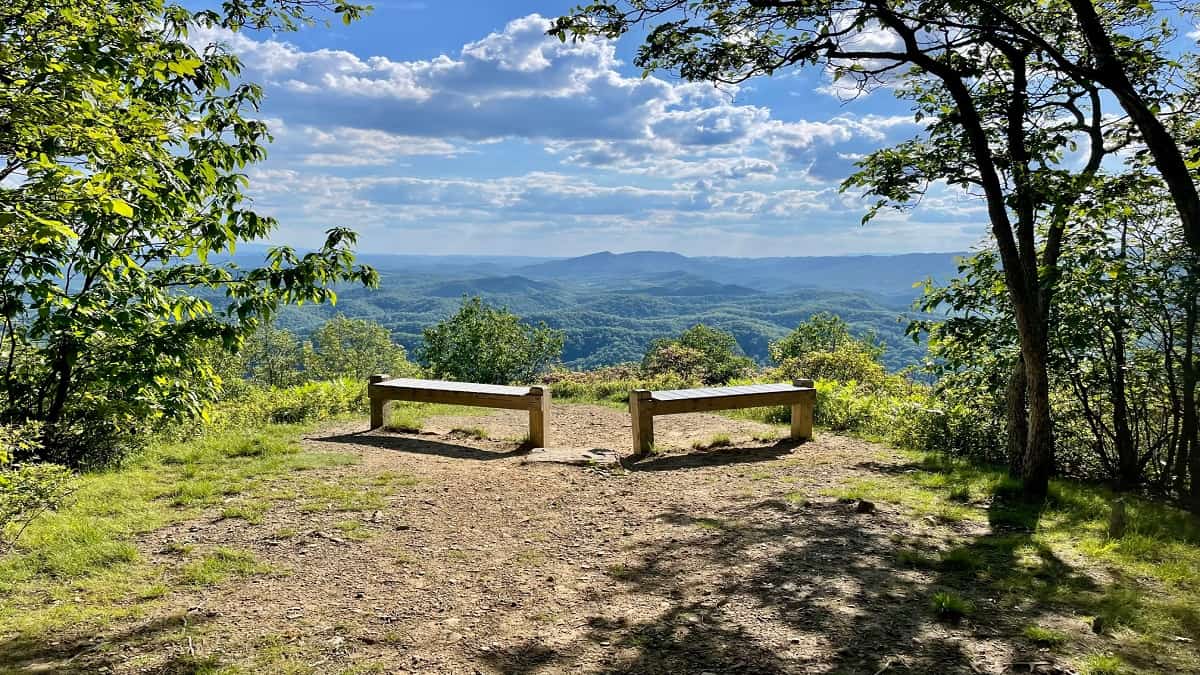 Seek the summit at Molly's Knob in Hungry Mother State Park. This moderate 3.4-mile trail may be narrow and steep, but the reward of reaching the park's highest point at 3,270 feet is worth the effort.
VIRGINIA CREEPER TRAIL:
Explore the 34.3-mile Virginia Creeper Trail, a converted rails-to-trails route suitable for hikers, bikers, and horseback riders. With multiple access points, this moderate trail offers something for everyone.
THE CHANNELS NATURAL AREA PRESERVE TRAIL: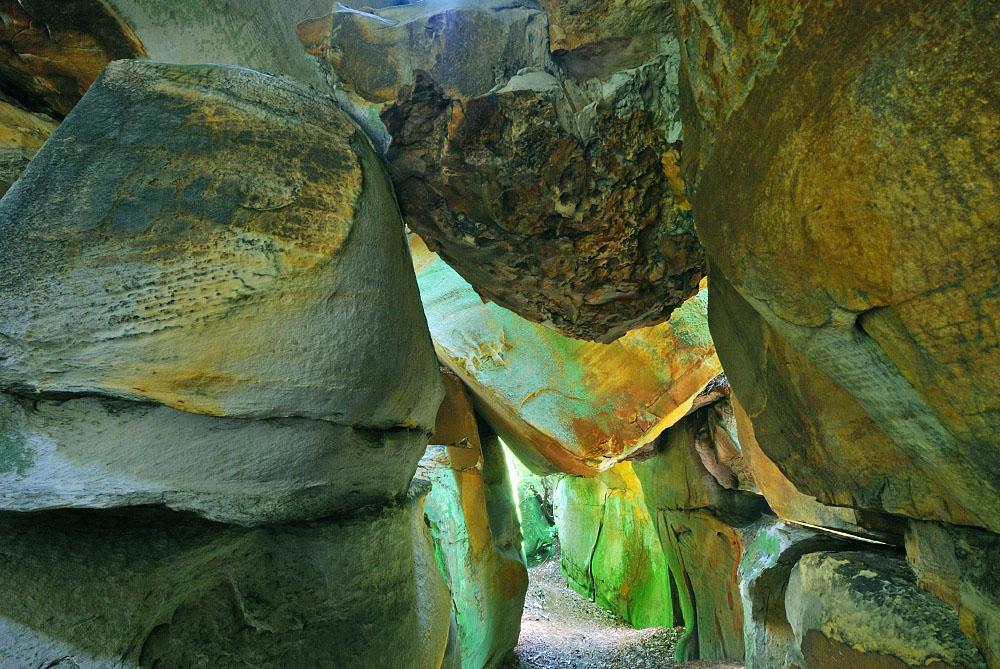 Witness the impressive sandstone outcroppings at the Channels Natural Area Preserve. This moderate 5.5-mile trek will lead you to stunning rock formations.
BREAKS INTERSTATE PARK: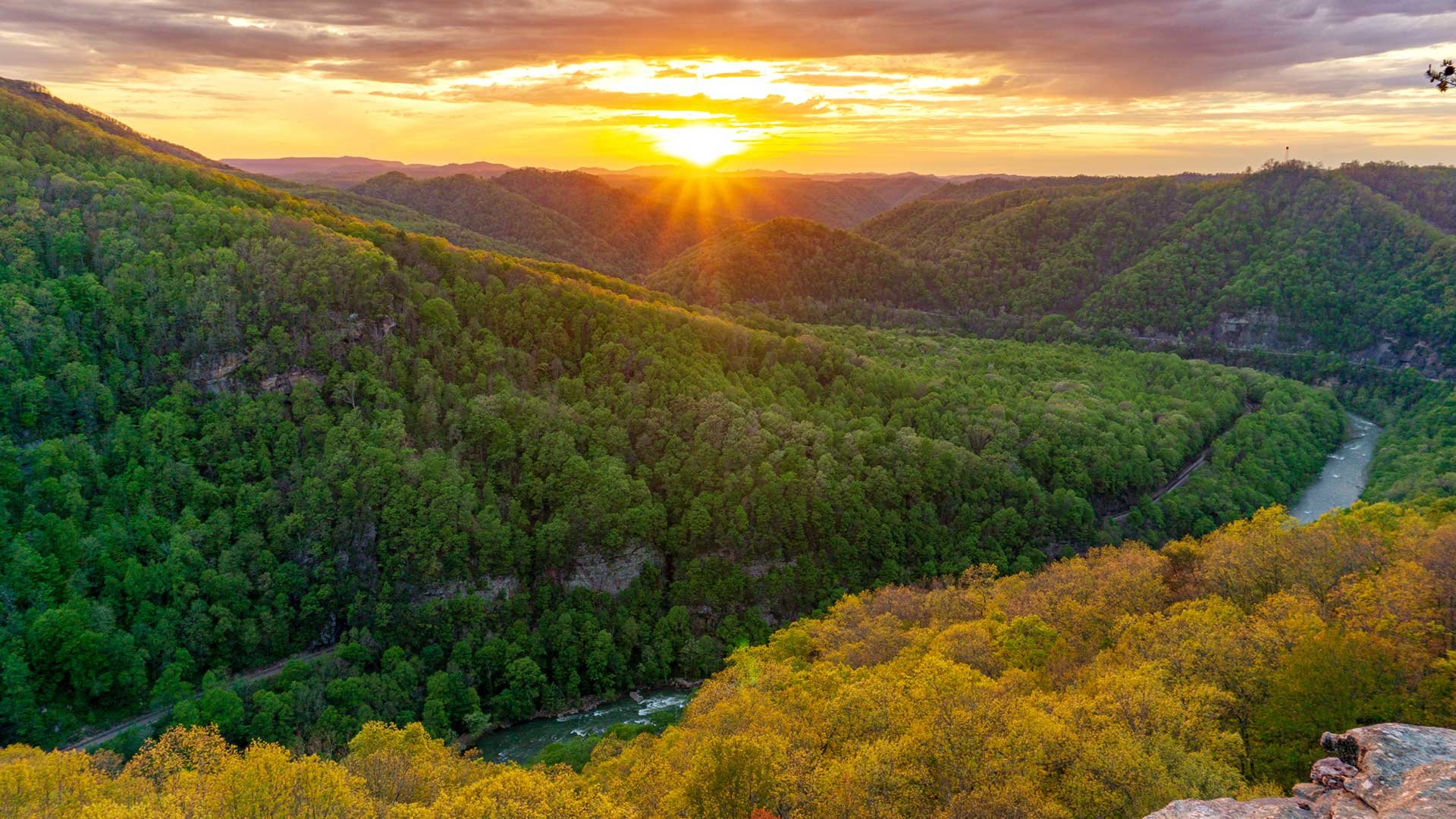 Embark on a customizable hiking journey at Breaks Interstate Park on the Virginia/Kentucky border. With 25 miles of trails ranging in difficulty, you can tailor your hike to your liking. Don't miss the breathtaking views along the half-mile Overlook Trail, but stay cautious on this challenging terrain.
Plan your adventures and explore the beauty of Virginia's hiking trails. Download the trail maps for each destination and embark on unforgettable journeys.
KATIE WEDGE
(571) 517-2012
JACOBS & CO. REAL ESTATE, LLC.
12923 Fitzwater Dr. Nokesville, VA 20155
(703) 594-3800 | jacobsandco.com