Pitch a Tent at These 16 Beautiful Campgrounds Across Virginia
Posted by Katie Wedge on Thursday, August 31, 2023 at 12:18:11 PM
By Katie Wedge / August 31, 2023
Comment
Pitch a Tent at These 16 Beautiful Campgrounds Across Virginia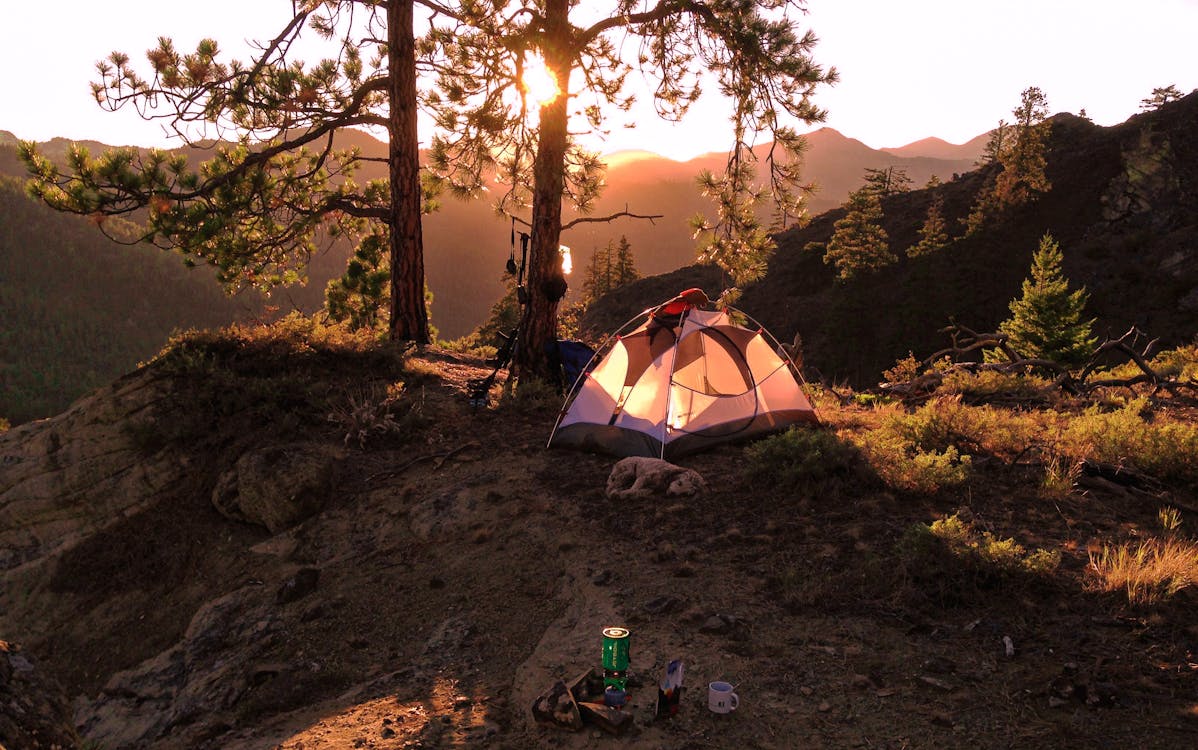 mmerse yourself in nature's wonders at these 16 amazing camping spots in Virginia. Experience the breathtaking night sky filled with stars and the soothing symphony of chirping crickets. From rugged primitive camping to luxurious getaways, these campsites offer unforgettable connections with the Virginia outdoors. Whether you're a wine enthusiast, seeking an escape from the city, or planning a weekend adventure with your furry friend, these locations provide scenic stays in some of Virginia's most interesting areas.
#1. Experience the Untouched Wonder of False Cape State Park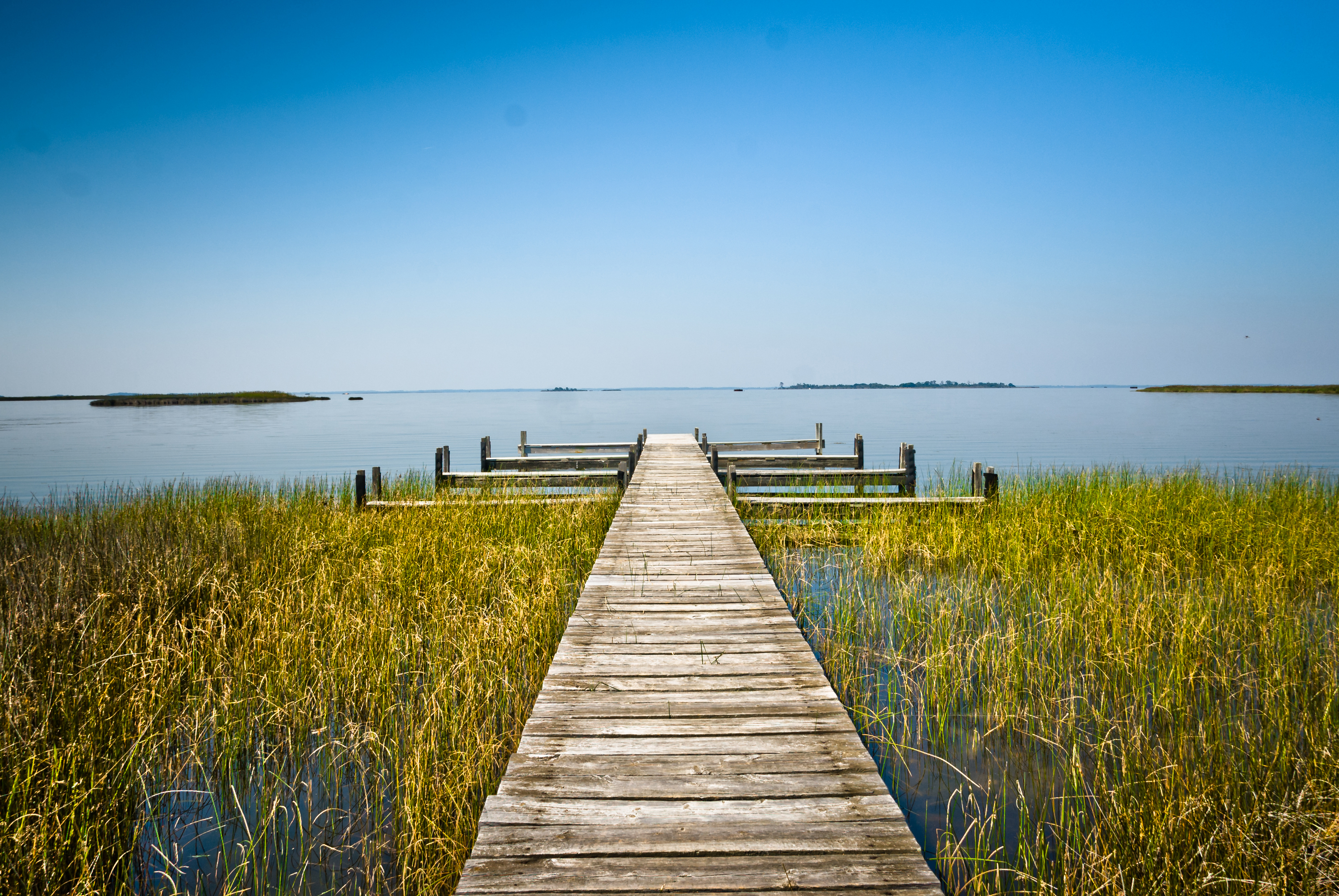 Escape to the underdeveloped beauty of False Cape State Park in Virginia Beach. Connect with the rugged coastline through primitive camping, where you'll find no showers, electricity, or stall bathrooms. Indulge in a variety of activities including guided kayak trips, biking trails, and six miles of pristine beachfront for swimming and sunbathing. Please note that access to the campgrounds is only possible by foot, bicycle, or boat. Pets are allowed, but make sure to plan accordingly as access trails do not permit pets. Reserve your spot ahead of time and prepare for a challenging but rewarding camping experience.
#2. Embrace Adventure at New River Trail State Park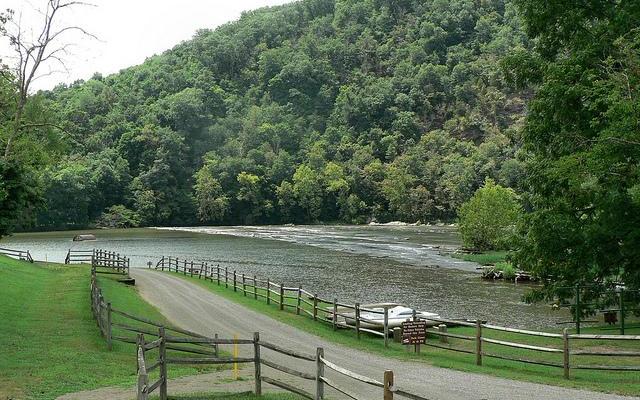 New River Trail State Park offers a plethora of outdoor activities to keep you busy during the day. Explore the park's hiking, biking, fishing, and horseback riding trails before settling into the campground. With a range of campsites catering to different levels of experience, you can choose between primitive sites or those with fire pits, lantern posts, and picnic tables. If you don't have your own equipment, worry not – you can even rent canoes and bikes. Keep in mind that some sites are truly rugged with no frills, allowing you to fully immerse yourself in the natural surroundings. With multiple entrances along the 39-mile span of the park, make sure to find the closest entrance point.
#3. Uncover Stunning Views at Grayson Highlands State Park Camping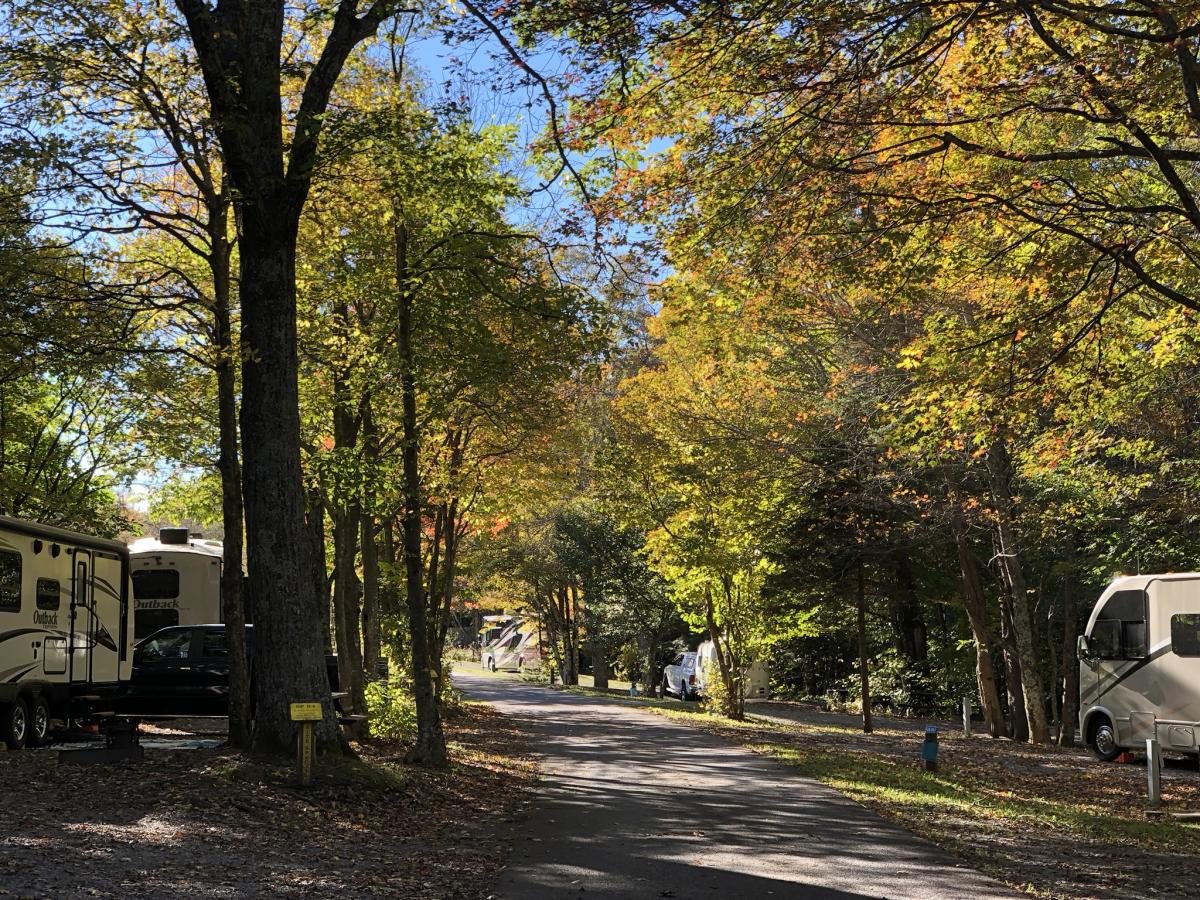 Grayson Highlands State Park Campground offers more than just beautiful views. As the gateway to Mount Rogers, the highest peak in Virginia, and the Appalachian Trail, this campground is a dream for hikers, bikers, and horseback riders. Keep an eye out for the park's unique wildlife, as the region is home to wild ponies. While the sites have power, please note that there is no water from November to March, and no bathrooms or showers available. Be prepared to rough it while enjoying the beauty of this camping experience.
#4. Embark on a Backcountry Adventure in Shenandoah National Park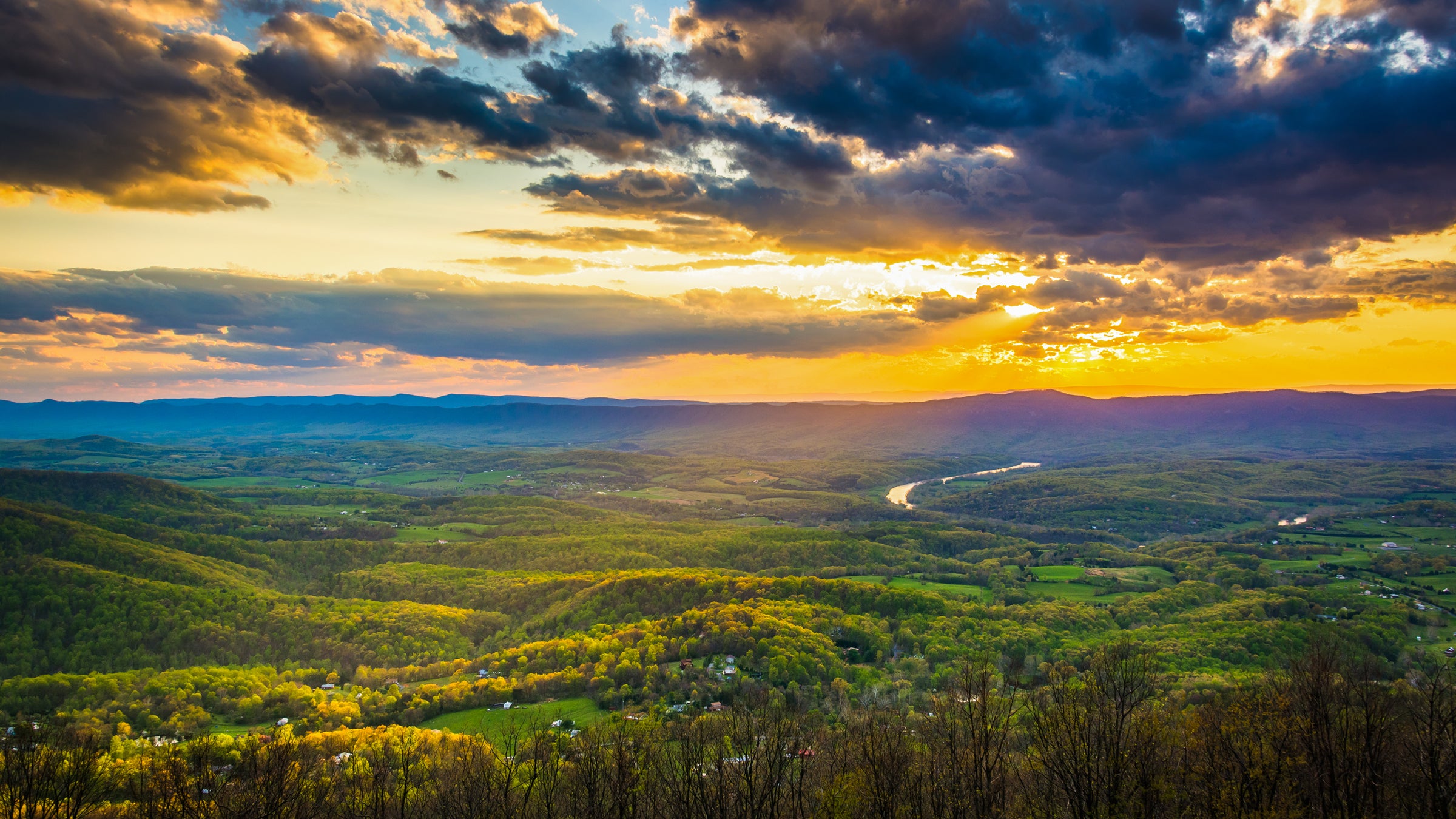 For the ultimate outdoor enthusiast, backcountry camping along the Appalachian Trail in Shenandoah National Park is a must. Discover Virginia's breathtaking scenery and wildlife as you sleep under the stars. However, backcountry camping is not for beginners. It requires experience, survival skills, and the right tools and supplies. Prioritize safety and ensure you are familiar with the risks and rules before planning your trip to the park.
#5. Immerse Yourself in History at Christopher Run Campground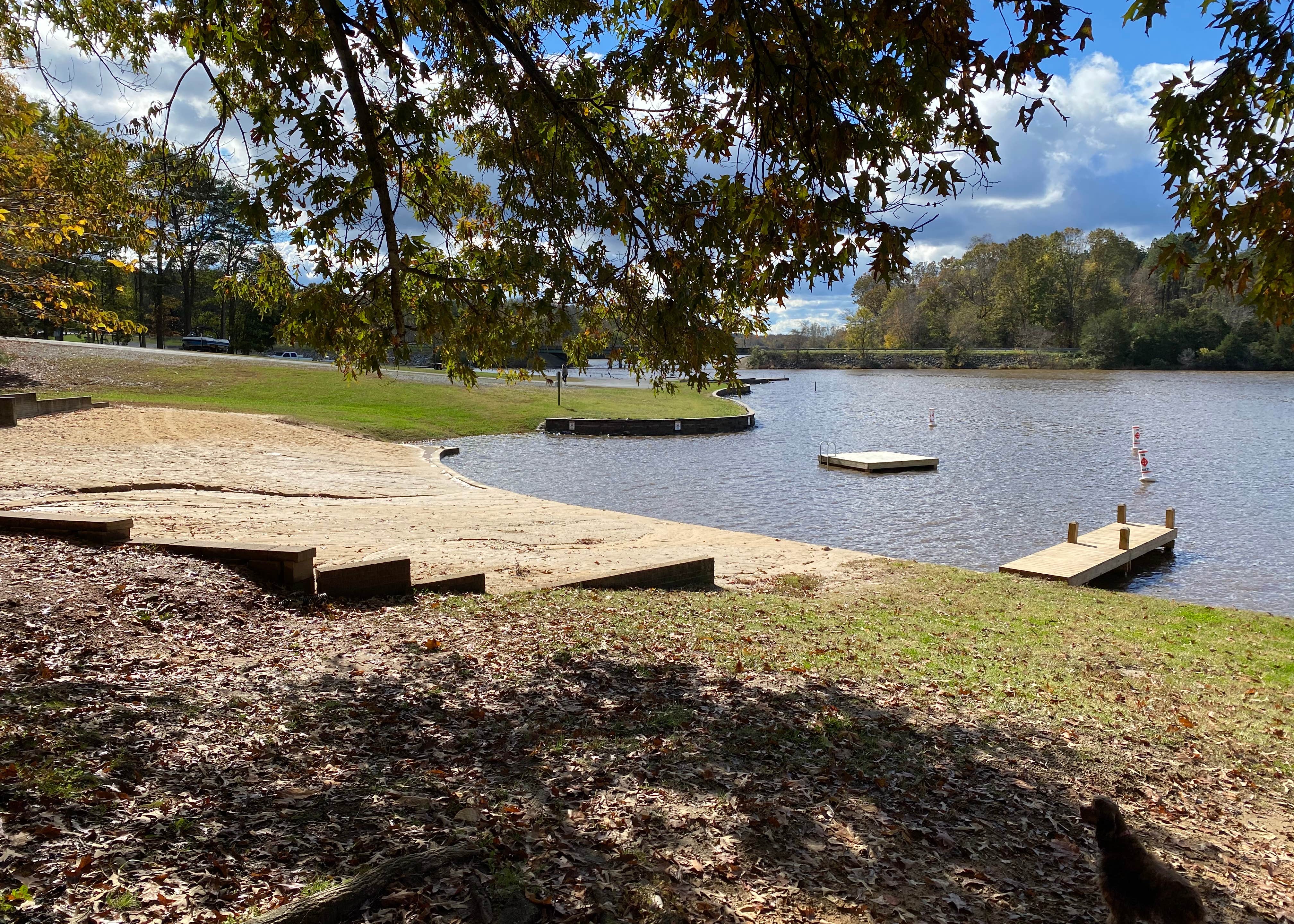 Experience history alongside your camping adventure at Christopher Run Campground. Located beside Lake Anna in Louisa County, this campground offers over 200 sites, many with water and electric hookups. Enjoy various water activities including canoeing, rowboating, and paddle boating. The campground also provides amenities for kids such as volleyball and basketball courts, horseshoes, shuffleboard, and a playground. Plus, with historic sites including Montpelier, James Madison Museum, Monticello, Ash Lawn, and Shenandoah National Park just an hour away, you'll have plenty of opportunities to explore the area's rich history.
#6. Discover Virginia's rich history and natural beauty at Chickahominy Riverfront Park.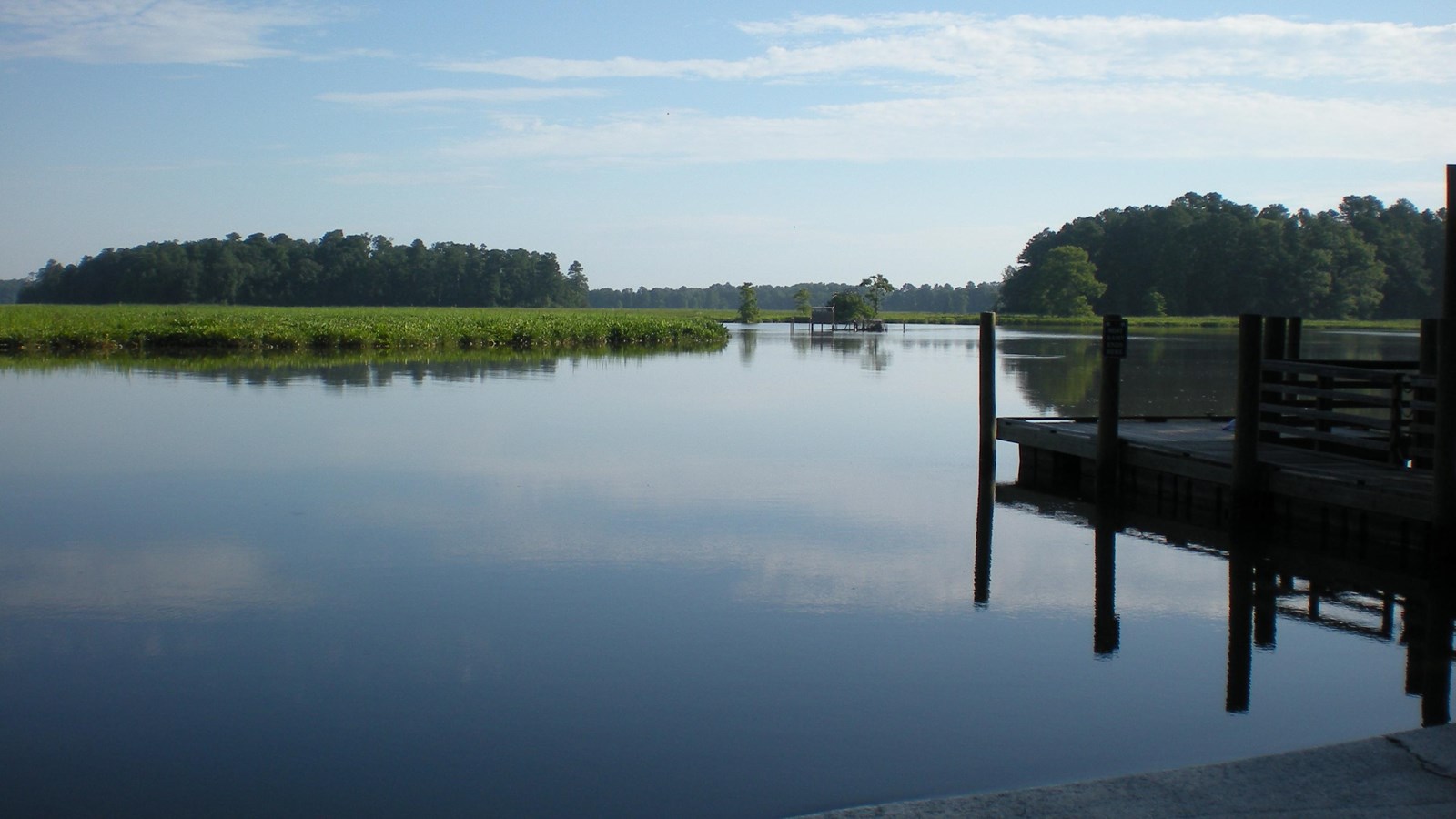 Campers can enjoy 140 acres of stunning riverfront campgrounds with 160 campsites available. From fishing and kayaking to swimming and hiking, there are endless activities to enjoy. Plus, the park is conveniently located just 20-40 minutes away from historic Jamestown, Yorktown, and Williamsburg. Immerse yourself in American history while surrounded by the beauty of the Chickahominy River.
#7. Experience the best of Virginia's history at Douthat State Park.
This National Register of Historic Places site offers plenty of activities for history buffs within an hour's drive. Explore Bath County with its famous Warm Springs Baths or visit the rich Civil War history of Natural Bridge in nearby Lexington. Don't miss the chance to see Virginia's oldest standing covered bridge, Humpback Bridge. Enjoy a camping experience like no other while diving into the fascinating history of Virginia.
#8. Unwind and indulge in nature at Camp Karma Campground.
Situated between Roanoke and Lynchburg, this upscale yet primitive campground gives you the perfect back-to-nature experience. With 37 campsites available, you can relax by Goose Creek or head to the nearby Smith Mountain Lake for more water sports options. Camp Karma also offers Wi-Fi access for added convenience. And for wine enthusiasts, the Bedford Wine Trail is just a short drive away, featuring wineries like Peaks of Otter Winery and breweries such as Apocalypse Ale Works.
#9. Escape to the Misty Mountain Camp Resort and indulge in a variety of activities.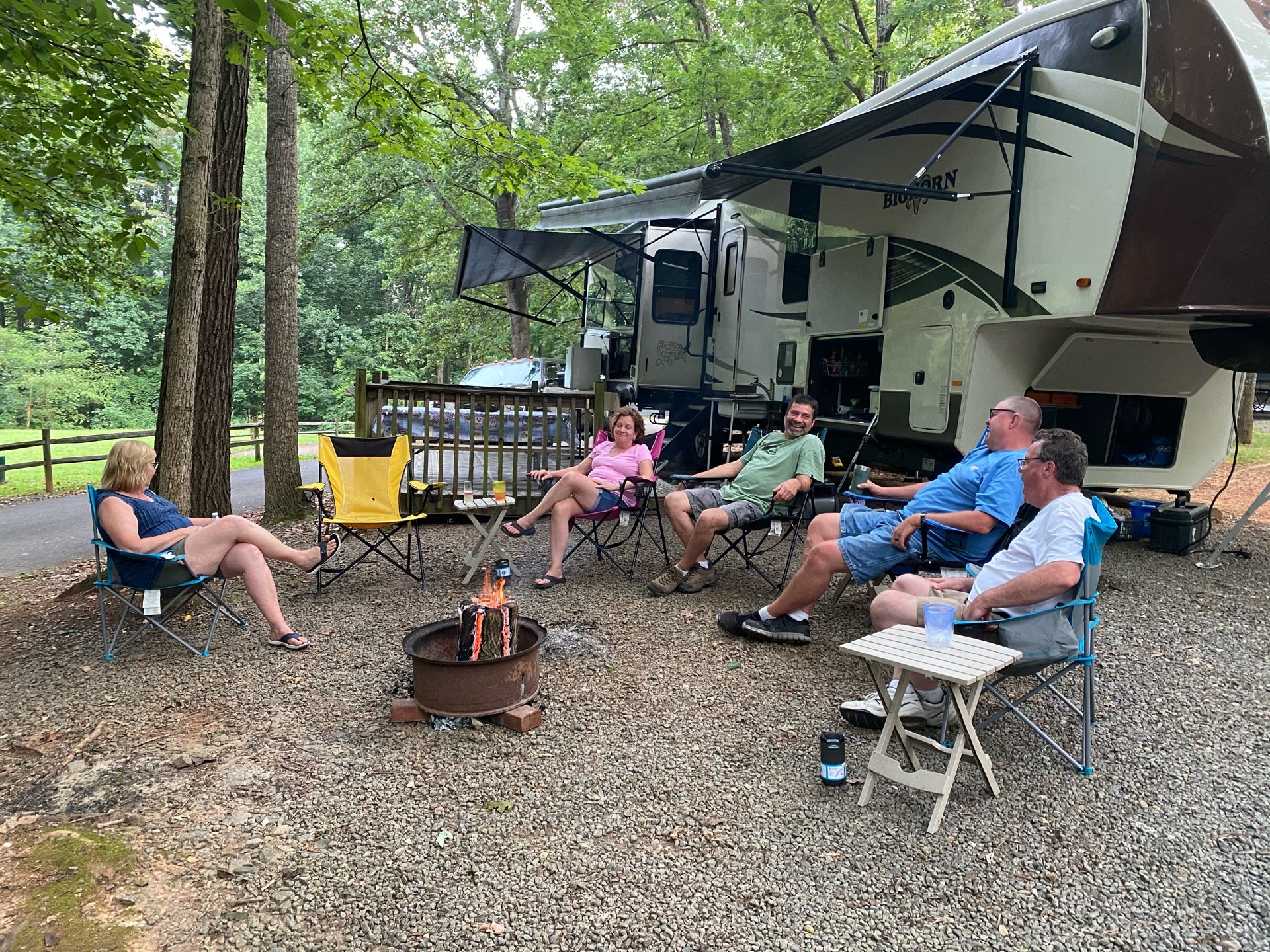 Whether you want to swim in the outdoor pool, fish in the camp's pond, or play a game of pool, there's something for everyone. The resort features a range of campsite options, from primitive tent locations to cabins, ensuring your comfort during your stay. And with over 30 wineries and vineyards on the Monticello Wine Trail nearby, including Barboursville Vineyards and Veritas Vineyard & Winery, you can savor the best of Virginia's wine country.
#10. Immerse yourself in the beauty of Shenandoah National Park at Big Meadows Campground.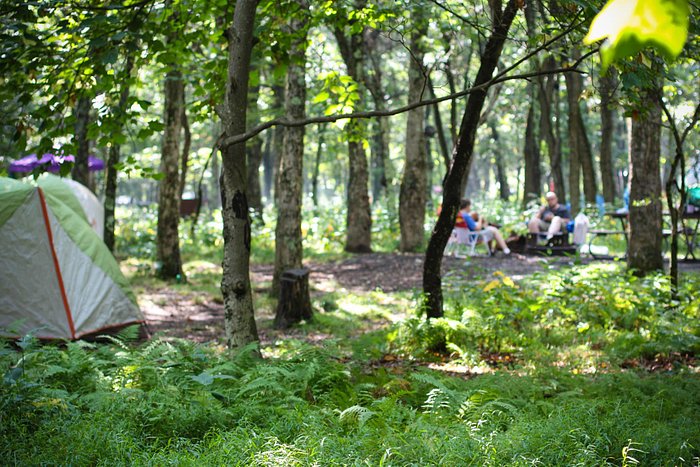 This campground is perfectly situated near major facilities and popular hiking trails, providing a convenient base for exploring the park. Enjoy the stunning scenery, wildlife, and three waterfalls within walking distance. Nearby, you can also explore the Shenandoah Valley Wine Trail, with wineries and breweries like DuCard Vineyards and Hopkins Ordinary Ale Works waiting to be discovered.
#11. Experience the great outdoors just outside Richmond at Pocahontas State Park.
With electric and water hookups, picnic tables, and grills, the campsites offer all the amenities you need. Enjoy the park's outdoor pool, restrooms with showers, and laundry facilities. During the summer months, you can rent various watercraft to explore the park's pond. Take advantage of swimming, fishing, and boating, all included for overnight campers. And don't forget to bring your furry friends along, as pets are welcome for a small fee. Just a short drive from the city, Pocahontas State Park offers a refreshing escape into nature.
#12. Experience the Best Camping in Virginia Beach at First Landing State Park
Escape to the beauty of the Chesapeake Bay at First Landing State Park. Located just outside Virginia Beach, this park offers a paradise for boating and swimming enthusiasts. Immerse yourself in the rich nature and history of the Chesapeake through educational programs. Our campsites offer water and electric hookups, convenient restroom and shower facilities, and picturesque picnic sites for enjoyable meals with your group. With over 3,000 acres of land, including 19 miles of biking and hiking trails and 1.5 miles of Atlantic coastline, First Landing State Park is a must-visit destination. Discover rare plants, abundant wildlife, and breathtaking scenery around every corner. Plus, bring your furry friend along for the adventure!
#13. Fun-Filled Family Camping at Lake Fairfax Park Campground in Reston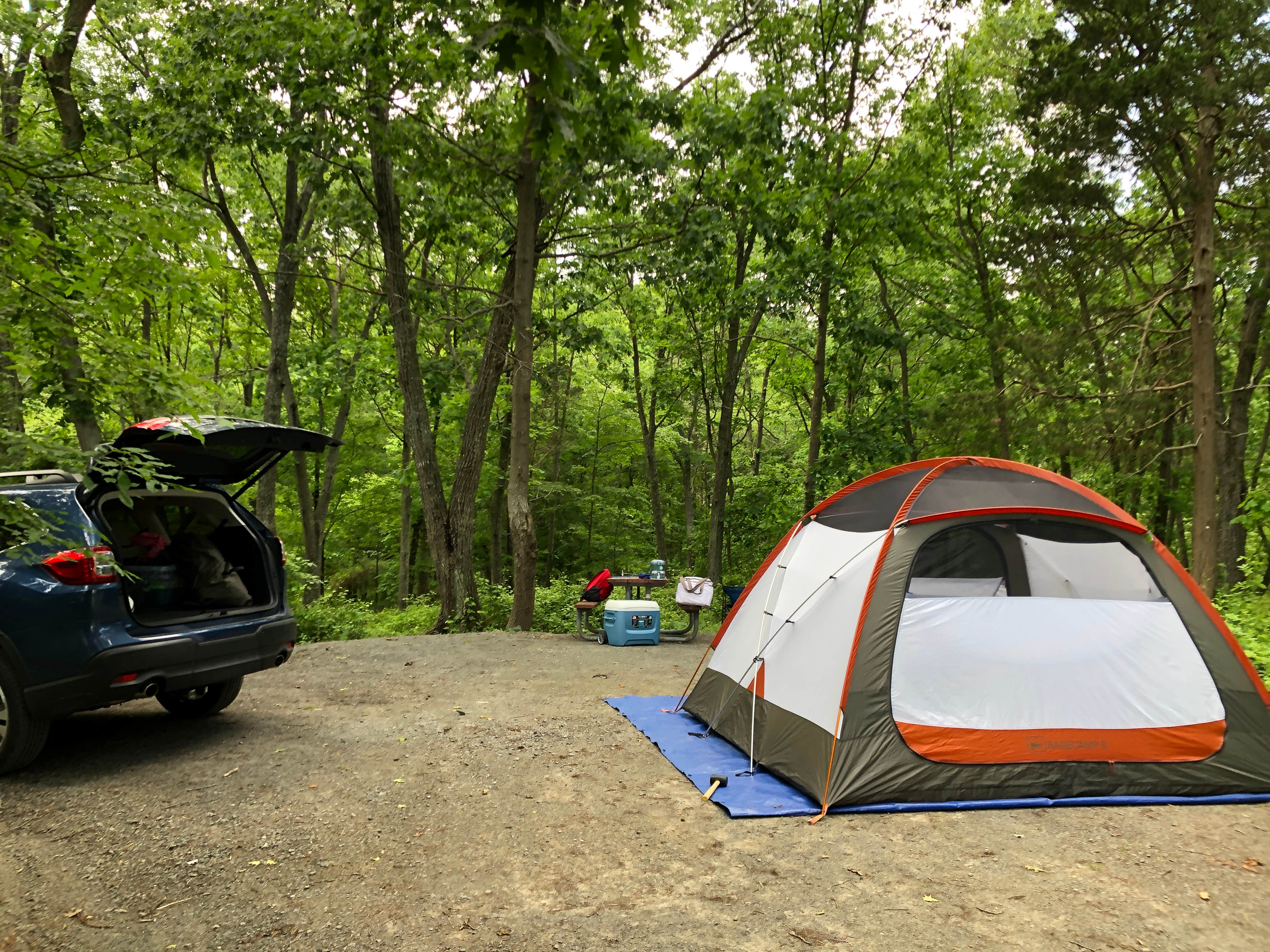 For a memorable family camping experience, visit Lake Fairfax Park Campground in Reston, Northern Virginia. Perfect for kids, our campground offers a range of entertainment options, including the Western-themed Water Mine Family Swimmin' Hole, complete with exciting slides and flumes. Enjoy paddleboat rentals and fishing in the 18-acre lake. This popular campground outside of metropolitan D.C. tends to book up quickly, so we recommend making reservations in advance.
#14.

Explore the beauty of nature with your furry friends at Crabtree Falls Campground in Tyro
Experience the highest cascading waterfall east of the Mississippi just a short hike away from your campsite. Whether you prefer tent, RV, or cabin camping, we have options for everyone. Amenities such as a heated bathhouse, washer and dryer, and recreation room ensure a comfortable stay. Be sure to bring your pet's rabies vaccination records when visiting.
#15. Unwind and Enjoy Outdoor Activities at Horseshoe Flats Campground in Scottsville
Escape the hustle and bustle of daily life and bring your pets for a fun-filled vacation at Horseshoe Flats Campground in Scottsville. From tubing and swimming to canoeing and fishing, this campground offers a range of outdoor activities. Embrace the "roughing it" experience while still being close to civilization. The campsite has fire pits for cookouts, and the bathrooms provide hot water for showers. Please note that pets are not allowed in the water or on the beaches.
#16. Explore the Beautiful John H. Kerr Reservoir at North Bend Park & Campgrounds in Boydton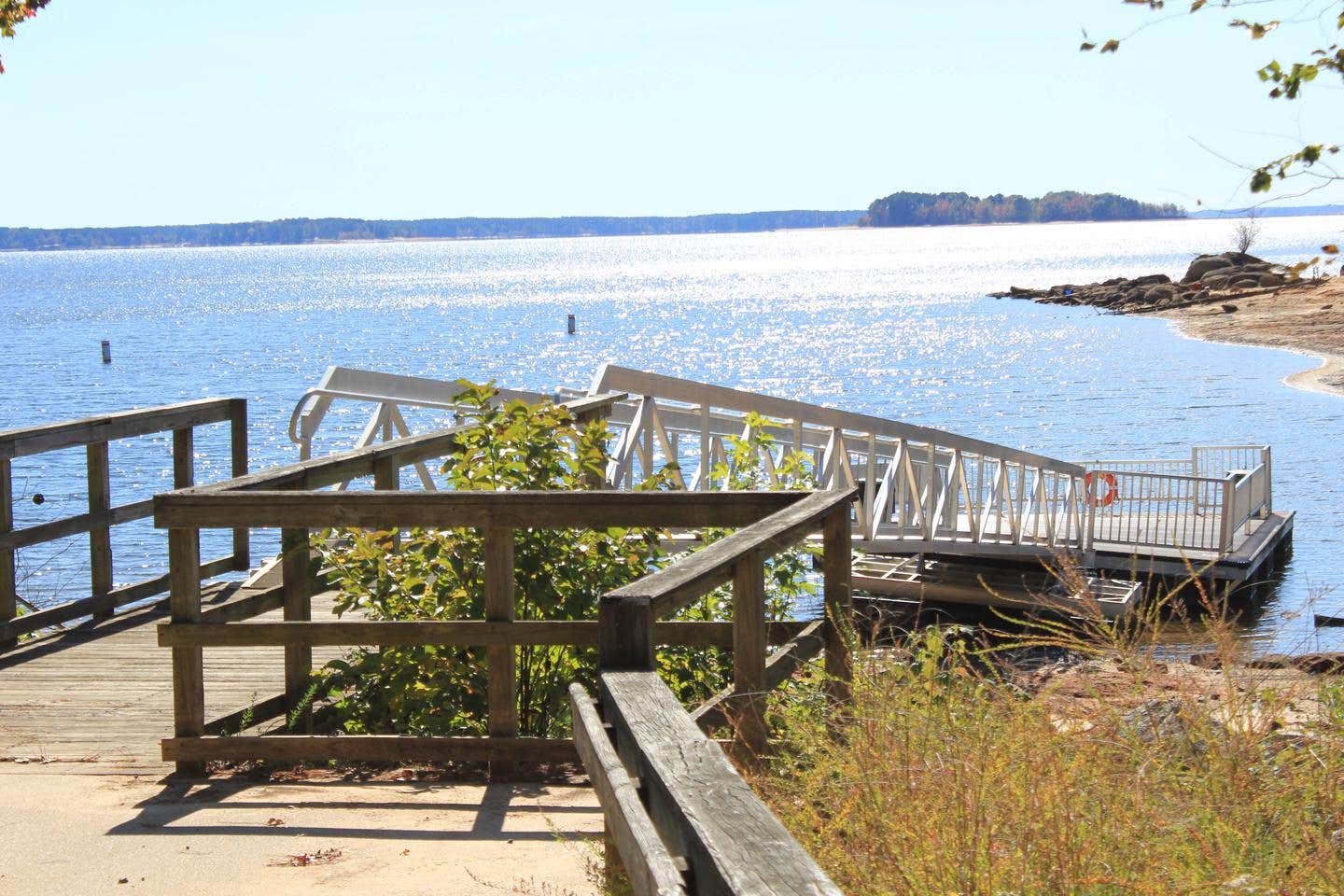 Discover the stunning John H. Kerr Reservoir at North Bend Park & Campgrounds in Boydton. With 800 miles of shoreline to explore, this campground offers a picturesque setting for your camping trip. Choose from 249 primitive or electric/water hookup sites near the lake. Bathhouses with hot showers and toilets ensure a comfortable stay. Biking and pet-friendly walking trails provide opportunities for adventure, while public picnic areas with grills are perfect for an evening barbecue. Although pets are not allowed on the beaches, they are welcome on the campground's trails.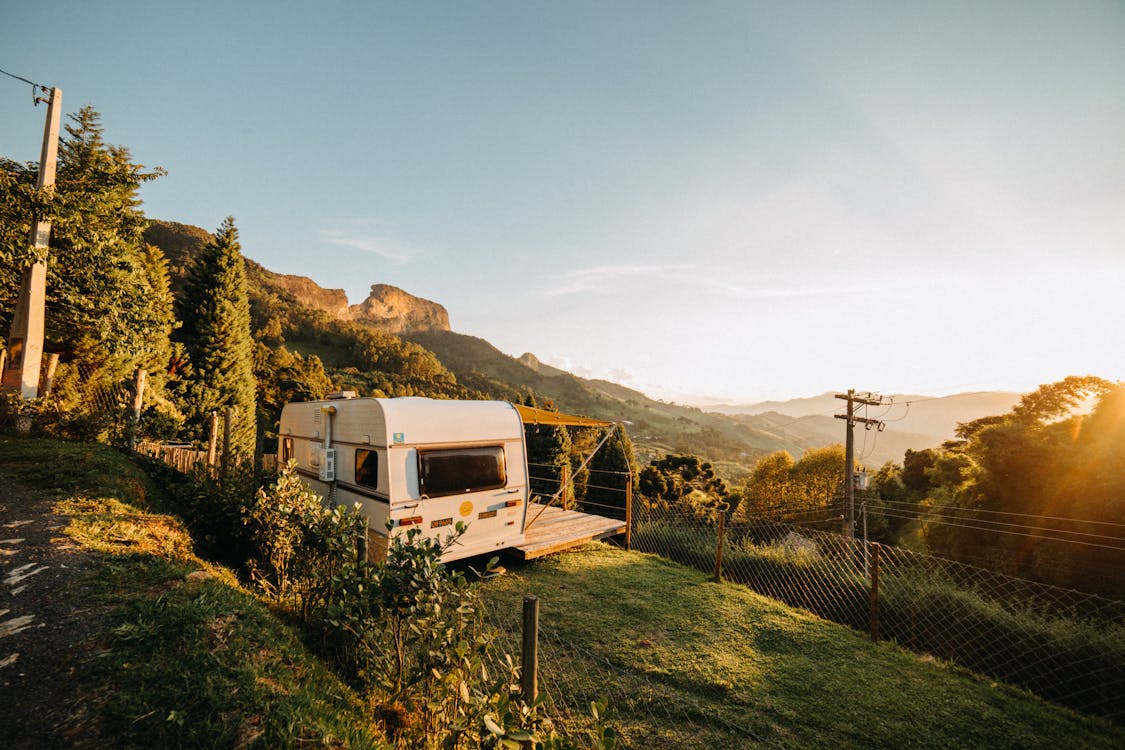 Experience Virginia's Best Campsites
Virginia is home to countless campsites waiting to be discovered. We want to know your favorite spots! Let us know where you love to set up camp and suggest our next destination.
KATIE WEDGE
(571) 517-2012
katie.jacobsandco.com
JACOBS & CO. REAL ESTATE, LLC.
12923 Fitzwater Dr. Nokesville, VA 20155
(703) 594-3800 | jacobsandco.com