The Best Summer Getaways Near DC That You Can't Afford to Miss!
Posted by Katie Wedge on Thursday, June 1, 2023 at 1:55:19 PM
By Katie Wedge / June 1, 2023
Comment
The Best Summer Getaways Near DC That You Can't Afford to Miss!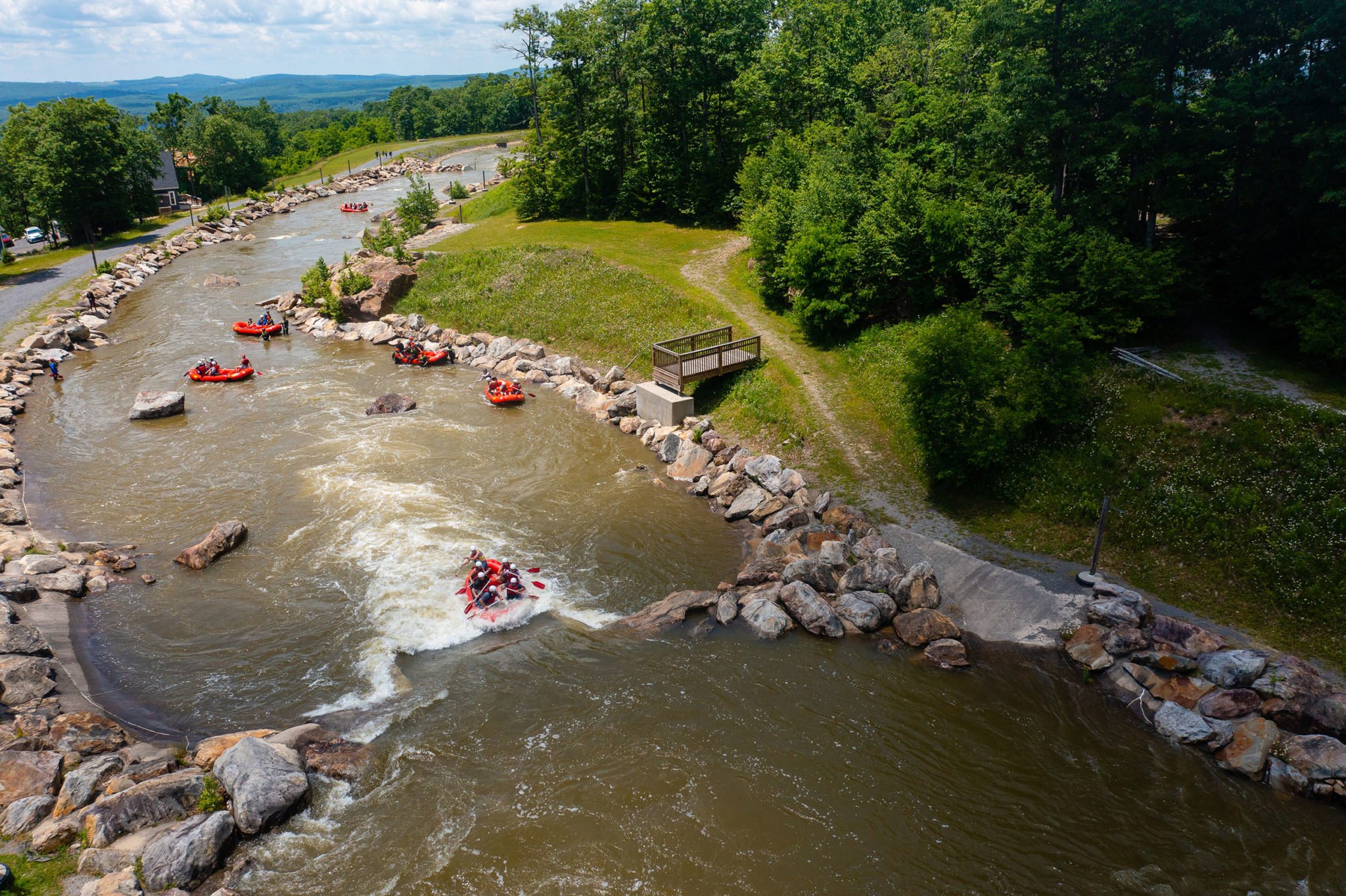 The summer season is finally here and for many of us that means some much needed time away from home. Whether you're looking for a weekend escape or an epic, weeks-long adventure, the DC area has plenty to offer. From picturesque coastal beaches and serene mountain hikes to bustling city attractions, there's something here for everyone! Let this be your ultimate guide to summer getaways and adventures near DC - with tips on where to go (from charming villages to wild attractions), what activities await you when you arrive (soaring ziplines, snorkeling expeditions and kayak tours!) and how best prepare yourself for the journey ahead. Get ready - it's time to start exploring!
Summer Lake Escapes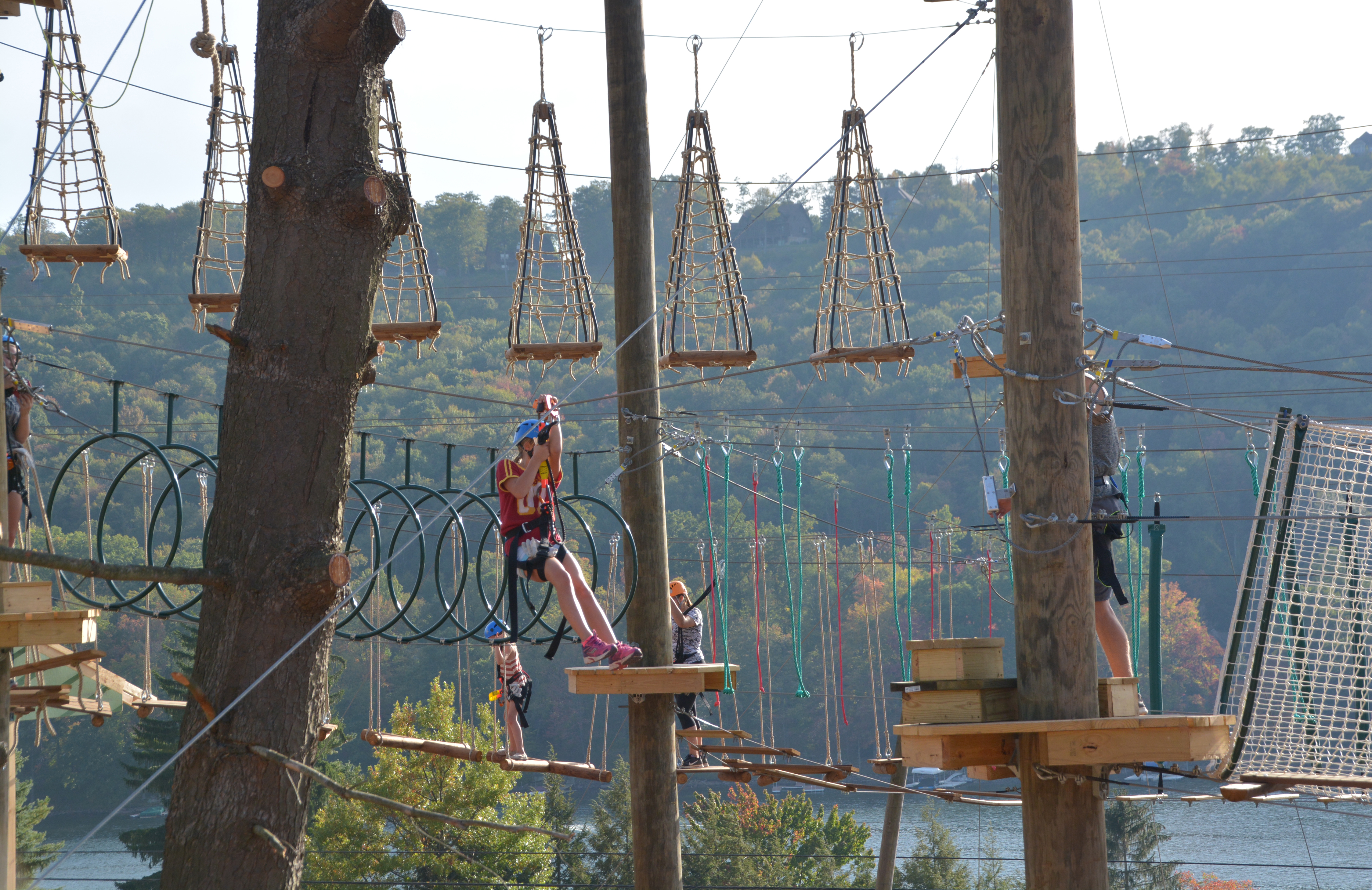 DEEP CREEK LAKE
Get ready to dive into the great outdoors at Maryland's biggest water body - Deep Creek Lake! With 3,900 acres of sandy beaches and lush forests, it's everything you need for a refreshing escape from the hustle and bustle of city life. Just a three-hour drive from DC, it's the perfect destination for paddle enthusiasts and powerboat junkies alike. Escape to Wisp Resort in McHenry for lakeside adventures right outside your front door! With 169 rooms ranging from cozy queens to luxurious Cali-king suites, it's the perfect destination for any traveler. Looking for a more rustic retreat? Check out Blue Moon Rising - a dog-friendly getaway tucked away in the woods with 14 charming cabins. Equipped with open kitchens, outdoor showers, and Wi-Fi, it's the perfect balance of nature and convenience. And don't forget the three community fire pits and hiking trails right at your fingertips.
Deep Creek Lake State Park is the ultimate destination for boating enthusiasts. Take your pick from a variety of watercraft available for rent at Wisp Resort's kiosk, conveniently located on the park's public beach. Choose from kayaks, canoes, paddleboards, and beach chairs to make your adventure complete.
But why stop there? Wisp Resort takes paddling to the next level with their 1,700-foot recirculating whitewater course at the top of the mountain. Experience gentler rapids than nearby Youghiogheny River while taking in breathtaking views of the mountain and the lake. Guides are on hand to help you navigate the rock-lined loop with ease. And if you're feeling up for it, take the ski chairlift for a scenic ride to get to the course. This is a paddling experience you won't want to miss!
Looking for a foodie adventure? Swing by Firefly Farms Market for a Maryland-made, cheese-filled extravaganza! With meat, cheese, and crackers straight from the farm, your taste buds will thank you. Plus, their cafe serves up cheffy sandwiches that will leave you drooling. Feeling thirsty? Head over to West Virginia's Mountain State Brewing Company in McHenry. They've got cold beers and flatbread pizzas to satisfy your cravings. And, if you're lucky, you can catch live music on their back patio during the summer.
If you're looking for a sweet treat with a view, Lakeside Creamery is the perfect spot. Grab a cone and enjoy the scenery. And if you're in the mood to customize your own dessert? Head over to Deep Creek Donuts where you can pick your own glaze and toppings. Yum! Book your stay today!
Places to Go Paddling
Ready to make a splash? Take the plunge and explore the beauty of our region's waterways on a kayak or paddleboard! Need some inspiration? Check out these three amazing ideas for your next paddling adventure. Get ready to see the world from a whole new perspective!
1. SPOOKY SHIPWRECKS
Pack your bags and get ready to soak up some sun and adventure! How about channeling your inner pirate while paddling through the spooky Ghost Fleet at Mallows Bay? Explore a collection of almost 100 sunken ships dating back to the Revolutionary War and keep an eye out for a bald eagle or two. For just $29 an hour, you can rent a kayak from Atlantic Kayaks and embark on a thrilling journey like no other. Don't miss out on this unique experience!
2. HISTORIC WATERWAY
Paddle away from the daily grind on an enchanting two-hour kayaking tour of C&O Canal, guided by Potomac Paddlesports ($75). Marvel at the impressive kingfishers and elegant herons resting on the serene canal shores as you depart from Pennyfield Lock in Potomac. Our knowledgeable guides will fill you in on the canal's fascinating history as you glide through the shimmering waters. Come join us for a refreshing break and a glimpse of nature's finest inhabitants!
3. MOONLIGHT PADDLE
Experience the magic of the full moon in Annapolis with Capital SUP's monthly tour! For just $50, hop on a paddleboard at Nautilus Point and enjoy a serene sunset and a guided exploration of Back Creek under the twinkling stars. Time slots may vary depending on the season, but the adventure is guaranteed to be unforgettable. Don't miss out on this unique opportunity to celebrate the full moon on the water!
Starry Glamping
SHENANDOAH VALLEY
Nestled by Shenandoah National Park lies Page Valley, Virginia - a dreamy cluster of small towns like Luray, Stanley, and Shenandoah. A mere two-hour drive from DC, these quaint, countryside getaways offer a perfect base-camp for those looking to explore the great outdoors. So, get in the car and hit the road for a memorable adventure between Blue Ridge and Massanutten mountains!
Looking for a luxurious yet nature-inspired getaway? Check out Spacious Skies Shenandoah Views in Luray, where you can stay in one of their four canvas yurts equipped with private bathrooms, picnic tables, and fire pits. Don't forget to bring your own linens or add on the option for $30 a night. If you really want to take it up a notch, head over to Shenandoah Yurt in Stanley, featuring three bedrooms, a hot tub on the deck, and a stunning skylight in the domed ceiling. Yurt camping just got a whole lot fancier.
Got hiking fever? Shenandoah National Park has over 500 miles of trails to satisfy your cravings! One standout is Marys Rock Summit, part of the iconic Appalachian Trail. At the summit, you'll be rewarded with panoramic views of lush valley and the mighty Massanutten Mountain. Two pathways will take you to the peak: the moderate 2.9-mile out-and-back trek, starting at the Meadow Spring parking area, or the more challenging 3.7-mile round trip from the Panorama lot. Which one will you choose? Pack your boots and get ready for some jaw-dropping scenery!
Are you curious about the geological wonders of Shenandoah National Park? You're in luck - Earthcaching hikes offer an exciting treasure hunt experience using GPS technology to uncover hidden landforms. Download the Geocaching app and visit the National Park Service website for more information on these self-guided adventures. For a more leisurely way to explore the beauty of the park, why not join a guided horseback ride with Jordan Hollow Stables in Stanley? With three rides offered per day (booking required), their beginner-friendly tutorial will have you galloping through breathtaking vistas in no time.
Get fueled up and ready to explore at the charming Hawksbill Diner, a down-home country kitchen located in beautiful Stanley, or snag a savory biscuit sandwich to go from the Broad Porch Coffee Co. in Luray. If you're a craft beer enthusiast, don't miss out on trying Hawksbill Brewing Co.'s hyperlocal brew, made using hops harvested right in Luray. While the bar doesn't serve food, you can bring a mouth-watering deli sandwich from West Main Market or a hot and tasty pizza from Il Vesuvio. And for a picture-perfect evening, why not visit Wisteria Vineyard in Stanley, where you can savor a refreshing sangria and snack on delightful charcuterie boards while strolling with your furry friend along the gorgeous grapevine trails? This is the ultimate must-visit destination for foodies and wine lovers alike!
Relaxing Getaways
Unwinding outdoors doesn't have to be a high-intensity sport. Let us show you three serene ways to bask in nature's glory.
1. UNWIND IN A HOT-SPRING POOL
Looking for some rest and relaxation? Look no further than the Omni Homestead Resort in Hot Springs, Virginia! Get ready to take a dip in the pristine 99.7-degree spring-water pools - just four hours away from DC. Treat yourself to a 50-minute soak ($25) in the rejuvenated Warm Spring Pools, housed in bathhouses equipped with open skylights for maximum exposure to the environment. For those eager to access the Octagon - an outdoor geothermal pool - consider booking a stay at the Allegheny Mountain resort or snagging a $75 day pass. So why wait? Take a break and dip in today!
2. GO BIRDING IN A CITY ESCAPE
Calling all bird enthusiasts! Don't forget your binoculars for a morning stroll at DC's Kenilworth Park & Aquatic Gardens, every Tuesday at 8:30 am. Accompanied by a seasoned birding pro, you'll explore the lush marsh and lily ponds while searching for warblers, kingfishers, hawks, and other feathered friends. Get ready to flap your wings and discover the wonders of nature.
3. FIND PEACE AMONG PLANTS
Experience the rejuvenating power of nature with DC Forest Bathing! Our expert guides will lead you on a two-to-three-hour journey through the breathtaking parks, gardens, and woods of the area. Immerse yourself in the calming practice of forest bathing and tune in to your senses as you become more mindful of the world around you. Join us for an unforgettable adventure in the heart of nature!
Summer Glamping Spots
Get ready to embrace the great outdoors in style! These luxury campsites offer the perfect combination of nature and comfort. Say goodbye to roughing it in the wilderness and hello to a posh camping experience.
1. YURTS
Escape to Savage River Lodge, a cozy retreat nestled amongst 700 acres of lush woods in Western Maryland. Take your pick from eight luxurious yurts, complete with king-sized beds and heated floors for maximum comfort. Wake up to the sweet aroma of freshly baked muffins and a refreshing glass of orange juice, delivered right to your doorstep every day. Book your stay now and experience the ultimate rustic getaway.
2. TENT
Unleash the serenity of nature and luxury of home at Firefly Glamping Tent by Cozy in Canvas, nestled near Harrisonburg, Virginia. Step into a world of comfort and indulgence as you unveil the treasure trove of a king-sized bed and a well-equipped kitchenette inside the tent. The outdoor oasis, adorned with a stock-tank pool and an outdoor shower, ensures a rejuvenating escape from the mundane. But wait, there's more - the chic outhouse, with a top-of-the-line composting toilet, adds to the charm of this idyllic getaway. Pack your bags and head to Firefly Glamping Tent to relish the fusion of adventure and luxury.
3. TIPIS
Experience glamping like never before at Sandy River Outdoor Adventures in Virginia's Prince Edward County. Stay in one of our six lavish tipis complete with air conditioning, kitchenettes, and a cozy fire pit for a night under the stars. Plus, for those who love adventure, enjoy exclusive discounts on exciting activities like mountain biking and ziplining. And don't forget to start your day off right with some delicious farm-fresh eggs. Book your tipi getaway now!
4. PODS
Looking for a unique outdoor getaway without venturing too far? Cherry Hill Park in College Park has got you covered with their cozy wood-paneled "pods". These mini-homes can accommodate two to four people and some even welcome furry friends. Come glamp in style and comfort just a stone's throw away from home!
National Park Adventures
NEW RIVER GORGE
Get ready to experience the newest national park in the U.S. - the New River Gorge in West Virginia! Just a five-hour drive from DC, this park is the perfect destination for the adventurous souls out there. With over 700,000 acres of breathtaking scenery surrounding the New River, you'll never be bored. And when it's time to rest and relax, Ace Adventure Resort has got you covered with 50 cabins featuring air conditioning, kitchens, private fire pits, and even outdoor hot tubs for a little stargazing. Prefer something a little more unique? Country Road Cabins in Hico offers glamping tents, yurts for your furry friends, and even a treehouse! So what are you waiting for? Book your trip to the New River Gorge today.
Experience an ecosystem as diverse as the Appalachian peaks, rivers, and forests at the park and preserve. Don't miss out on a thrilling day of rafting or climbing to explore the region's famous rapids and climbing terrain! Adventures on the Gorge and Ace Adventure Resort offer exciting whitewater tours on the New River, including family-friendly inflatable boat journeys. For those brave enough to scale a cliffside, Blue Ridge Mountain Guides offer half- and full-day climbing expeditions for all levels. Get your gear at the Canyon Rim Visitor Center and begin your epic adventure now!
Don't miss out on the photogenic New River Gorge Bridge on your next park visit! Bridge Walk offers a guided stroll on a catwalk under the bridge for an up-close view, with safety cables to put even the most fearful minds at ease. For a stunning vista, the Endless Wall Trail, a two-mile hike, leads to the Diamond Point overlook. Access the trail at the Fern Creek Trailhead, but be quick to park as spots fill up fast! Alternatively, try out the nearby Nuttal Trailhead parking area. Get ready for an adventure-filled day!
Rise and shine with a hearty breakfast at Swiftwater General Store, nestled in picturesque Lansing. Their small yet scrumptious menu boasts pancake platters, biscuits smothered in gravy, and pepperoni rolls - a must-try West Virginia delicacy. Once you've fueled up, head over to the funky taproom of Freefolk Brewery in nearby Fayetteville. There, you can savor Greek platters, sip on some tasty brews, and groove to live tunes. For a truly unique dining experience, take a trip to Smokey's - a treetop restaurant embedded in the breathtaking gorge. Come Memorial Day weekend, the restaurant and patio will be back in action for both breakfast and dinner service. Don't miss out on these hidden gems in the Mountain State!
Learn the Ropes
Before your next outdoor adventure, level up your skills! Join experienced recreationists in this series of classes and master how to navigate river rapids, mountain slabs, or camping under the stars with confidence and safety. Don't let a lack of know-how hold you back from your next daring escapade. Enroll now!
1. KAYAKING
Ready to dive into the world of kayaking and conquer rough waters? Calleva River School can get you prepped and confident with beginner, intermediate, and advanced classes that last two to four hours. Learn to roll, navigate drops, and ride a current like a pro with expert instructors and gear that keeps you afloat. Prices start at only $85, so there's no excuse for skipping this adventure of a lifetime!
2. CLIMBING
Ready to climb to new heights? Join East Outdoor's beginner course! You'll tackle one of the country's oldest climbing areas in Carderock, MD. First, you'll master essential belay techniques and crucial safety practices. Then, it's time to hit the rocks for a supervised climb! For seasoned climbers, we have drop-in climbs all around the region.
All this for an unbeatable price of just $145. Don't miss out on this opportunity to conquer the great outdoors!
3. CAMPING
From hanging your precious food items out of reach from bears to building temporary shelters, you'll be a wilderness pro in no time after attending one of their courses. But why stop there? Take things up a notch by earning your wilderness first aid certification, co hosted with the National Outdoor Leadership School. Prices start at a mere $20, so there's no excuse not to add some adventure to your life. Don't just survive in nature, thrive in it with REI.
Adventure Parks Within an Hour of DC
Looking for an adrenaline rush? Why not soar through the treetops on a zipline or navigate a ropes course hidden amidst the foliage? Get your heart racing with these awe-inspiring aerial adventures.
1. DAY OR NIGHT FLIGHT
Get ready to monkey around in the treetops at Go Ape in Springfield! Swing into action on their ropes course, boasting 70 daring obstacles. Daytime explorers can embark on a one-hour journey, but thrill-seekers can take their adventure to the next level with a night-time trespass. Traverse wobbly ladders and Tarzan swings under the enchanting fairy lights. Come on, let's go ape!
2. SWISS INSPIRATION
Get ready to experience a dose of adrenaline in Montgomery County's very own Adventure Park at Sandy Spring Friends School! With 16 obstacle courses available, each of which has its own color coding to match its level of difficulty, you're sure to satisfy that itch for adventure. So gather your courage and test your skills on the park's rolling log bridges and swinging rope walls - but don't forget, you've only got three hours to conquer it all!
3. THE LONG ZIPLINE
Unleash your inner adventurer at Terrapin Adventures in Savage, MD! Take your pick from our epic roster of thrilling activities: a climbing tower rigged with nets and logs, a hair-raising high swing, a challenging ropes course, and an exhilarating 330-foot zipline. Don't worry about getting lost - our expert guides are stationed all around the park to lend a hand. Get ready for a heart-pounding experience like no other!
Hiking With a View
NELSON COUNTY, VIRGINIA
Explore Virginia's scenic Nelson County! Nestled between the majestic Blue Ridge Mountains and two national forests, it's the perfect destination for outdoor enthusiasts. This central-Virginia gem offers an array of charming towns, refreshing hikes, and to top it all off, it's located in the heart of Virginia's craft-beverage region. After a long day of exploring the great outdoors, kick back and enjoy a refreshing drink while taking in the stunning views. Only three hours from DC, you won't regret taking a trip to Nelson County.
Furry friends are welcome at Indigo House, the pawsome bed-and-breakfast in Afton, with themed rooms inspired by national parks and a communal fire pit to roast marshmallows under the stars. And if your pooch needs a little pampering, no worries, they've got you covered with cozy dog beds, bowls, and treats. Meanwhile, Wintergreen Resort is a mountain oasis, offering accommodations in the lodge or private homes. Take your pick and take advantage of the spa, pickleball courts, and indoor and outdoor pools. Plus, fuel up every morning with a breakfast made from local ingredients - yum!
Ready to explore stunning waterfalls and scenic overlooks? Head to Crabtree Falls, one of the tallest cascades in the eastern US. With just a moderate 2.7-mile round trip hike from the dedicated parking area off State Highway 56 near Montebello, you'll experience nature's majesty up close. If you prefer a shorter hike, try the Upper Shamokin Falls Trail at Wintergreen - less than a mile round trip gets you to another picturesque waterfall.
For breathtaking views of the lush valley, check out Humpback Rocks - an overlook of dramatic stone formations. It's just a steep two-mile out-and-back hike starting at the parking area near milepost 6 of the Blue Ridge Parkway. Looking for something more relaxed and family-friendly? The Rockfish trail is perfect for a leisurely stroll. Don't miss out on these natural wonders - start planning your adventure today!
Looking for a cozy spot to grab a bite in Nellysford? Look no further than Basic Necessities! This charming cafe is serving up delightful quiche and sandwiches for lunch, plus some seriously Mediterranean-inspired dishes during Saturday dinner. And don't forget to stock up on goodies like fresh bread and goat's-milk cheese for your next adventure.
And if you're in Roseland, swing by Devils Backbone Brewing Company for some seriously delicious local lagers, IPAs, and ciders. You can even indulge in some burgers and barbecue while you're there. Cheers to that!
Hiking With Your Dog
Going on a hike with your furry companion? Don't fret, just take some cues from Molly Hoeg, owner of Happy Hikers, on how to keep your pup safe and sound on the trails.
1. SCOPE OUT PATHS IN ADVANCE
Looking for the perfect hiking spot for you and your furry friend? Look no further than AllTrails.com. With the ability to filter by difficulty and distance, finding the right fit for your pup has never been easier. One hiking enthusiast, Hoeg, swears by the platform for her active terrier/schnauzer, Pawdrick. Their favorites include Maryland's Catoctin Mountain Park and Virginia's Great Falls Park. Don't waste any more time on lackluster hikes - let AllTrails.com guide you and your pup to adventure!
2. INVEST IN A DOG FIRST-AID KIT
Pets can be unpredictable creatures, but that's part of why we love them. However, when accidents happen, it's important to be prepared. Make sure to invest in a first-aid kit specifically designed for your furry friends. Say bye-bye to human bandages and hello to fur-friendly ones! Don't forget to also equip yourself with tools to easily remove pesky ticks. And for those moments when you need a little extra guidance, Hoeg recommends checking out the Pet First Aid app. With step-by-step instructions for various emergencies, you'll feel like a pro in no time. Happy pet parenting!
3. BEAT THE HEAT
Hot weather blues got you and your pup down? Try swapping those long hikes for a refreshing dip in the water. But if hiking is still a must, keep your furry friend cool with a nifty cooling vest - just dip it in cold water and voila! No more overheating.
More Treks Worth the Drive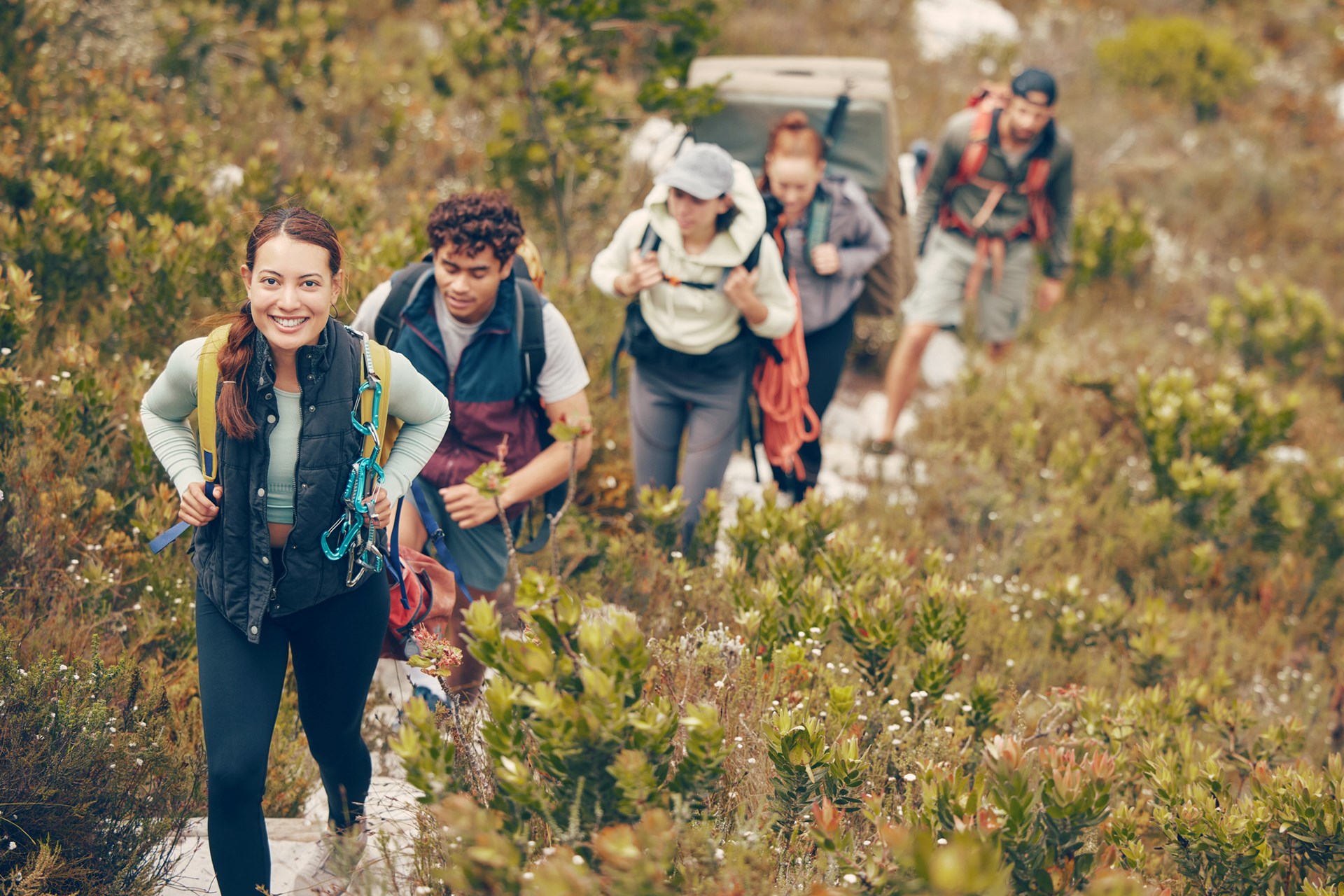 Make sure you have the ultimate post-hike reward in mind: a cold, refreshing drink. Our trails are strategically located near breweries and vineyards, so that you can easily continue your relaxation and fun after an invigorating trek. It's the perfect pairing for the adventure seeker who loves to unwind with a drink.
1. ROCKS, HOPS, AND HARD SELTZER
Unleash Your Inner Explorer: Tackle The Appalachian Trail's Thrilling Terrain
Fulfill your thirst for adventure by heading to Bluemont, Virginia, and conquering part of the Appalachian Trail's challenging "roller-coaster section." Trek through the rugged Bear's Den Trail (approximately two miles round-trip), and brace yourself for a breathtaking view at the summit.
Quench Your Thirst and Relax After Your Hike
To reward yourself after you conquer your hike, head over to Bear Chase Brewing, just half a mile from the trail parking lot. Kick back and unwind in their comfy Adirondack chairs while enjoying a range of craft beers and hard seltzers made with their home-grown hops and fruits.
2. WINERY WALK
Get Ready to Hike and Sip in Maryland: Sugarloaf Mountain has 16 miles of scenic trails and breathtaking summit views. Plan to arrive early for this top-rated destination, and beat the rush of fellow adventurers.
After your hike, head to the Sugarloaf Mountain Vineyard for a refreshing sip. Enjoy a refreshing glass of sangria on their cozy patio or try a Bordeaux-inspired flight sure to tantalize your taste buds. It's just a short drive from the trailhead, making it a no-brainer post-hike destination that's a sweet treat for your senses.
3. STROLL, THEN SIP
Discover the Serene Outdoors: Embark on a blissful hike in Rachel Carson Conservation Park, Maryland, through enchanting meadows and lush woodland. With over six miles of interconnected trails to choose from, your adventure awaits!
Savor the Flavors: Take a break and quench your thirst at Elder Pine Brewing and Blending Company, right at the park entrance. With a choice of up to 19 refreshing beers on tap, you can head over to the picturesque pine grove, lighted up with delightful string lights. Claim a picnic table and indulge in a well-deserved drink under the stars.
Breezy Beach Pedal
ASSATEAGUE AND CHINCOTEAGUE
Follow the lead of the untamed ponies on Assateague and Chincoteague and explore the gorgeous islands of Virginia's Eastern Shore. Take leisurely bike rides and catch the spectacular sunset while paddling, creating the perfect combination of relaxation and outdoor adventure just three hours away from DC. Don't let this opportunity trot off!
Want to explore Virginia's Assateague Island hassle-free? Stay in Chincoteague and enjoy the ultimate getaway experience! Nautical Key West Cottages, now open after expanding with 38 NEW vibrantly colored homes, each equipped with a bayfront porch, access to a private beach and pool, and a kayak launch. And if you're a pony-lover, Refuge Inn is your go-to spot featuring a corral with ponies, plus a variety of room options. Both accommodations offer bike rentals for a fun ride around the area.
Escape the thrill-seeking mentality and immerse yourself in the beauty of nature on foot or two wheels. Visit the Bike Depot to rent bikes and cross the channel to Chincoteague National Wildlife Refuge, a 14,000-acre sanctuary on Assateague Island. Explore the tranquil walking paths and paved biking trails, beginning with the 3.2-mile Wildlife Loop (no cars before 3 pm). Opt for the Swan Cove Trail for a relaxing sandy beach experience or venture toward Woodland Trail for a chance to catch a glimpse of wild horses. Leave the pavement behind and explore less than a mile of unpaved tracks on your bike. Walk the Bivalve Trail through the forest to Tom's Cove beach and check out the candy cane-striped Assateague Lighthouse. Survey the land and then hop on a Chincoteague native's Barnacle Bill's Wild Pony Boat Tours to learn about local history and wildlife. Departing from Curtis Merritt Harbor four times a day, it's the perfect adventure.
Kick back and enjoy a margarita while taking in the sun-kissed beach and a collection of charming wooden tables. As the sun sets, head to AJ's on the Creek for a mouthwatering dining experience, indulging in juicy steak or savory seafood scampi. And don't forget to satisfy your sweet tooth with a scoop of Island Creamery's housemade ice cream, available in divine flavors like salted-caramel pretzel and Snickers cheesecake. The perfect blend of sun, sand, and culinary delight awaits you.
Biking Jaunts Closer to DC
Check out these three trail recommendations that will get your blood pumping and your adrenaline surging!
1. WINERIES AND BBQ
A scenic bike ride that doubles as a mini adventure? Look no further than the Washington and Old Dominion Trail. This trail spans a whopping 45 miles through Northern Virginia's charming countryside, filled with majestic train stations, locally-made wine, and glistening creeks. Don't want to commit to the full ride? No worries. The handy on-and-off ramps let you customize the length to suit your needs. For those looking for a challenge, biking the 25-mile stretch from Green Lizard Cycling and Coffee in Herndon to Purcellville for lunch at Monk's BBQ is the perfect healthy 50-mile round trip. Plus, if you don't have your own wheels, the cycling shop rents them out. What are you waiting for? Hop on your bike and hit the trail for a day of adventure, nature, and food.
2. FLORA AND FAUNA
Get ready for a pleasant ride in White Plains, Maryland with the 13-mile Indian Head Trail. This family-friendly trail is mostly flat and paved, perfect for younger bikers. As you pass through the Mattawoman Creek stream valley, keep your eyes peeled for majestic eagles, vibrant wildflowers, and elegant egrets. Wildlife and waterfowl are aplenty in this prized area. Don't forget to bring snacks and water on your journey! There aren't many stops along the way and remember, it's not a loop - so turn back when you're ready to head home. Happy trails!
3. TASTE OF MOUNTAIN BIKING
Ready to ditch the boring roads and tackle some rough terrain? Say no more! Just an hour away from Elkridge, Maryland lies Rockburn Branch Regional Park - a massive wooded area spanning 415 acres with 7.4 miles of trails perfect for beginners. Get your kicks navigating over rolling mounds, curvy banks, and thrilling tracks in the all-levels skills park. And guess what? There's more! The adjoining Patapsco Valley State Park is a treasure trove of paths just waiting to be discovered. Adventure awaits!
Fun Seafood Explorations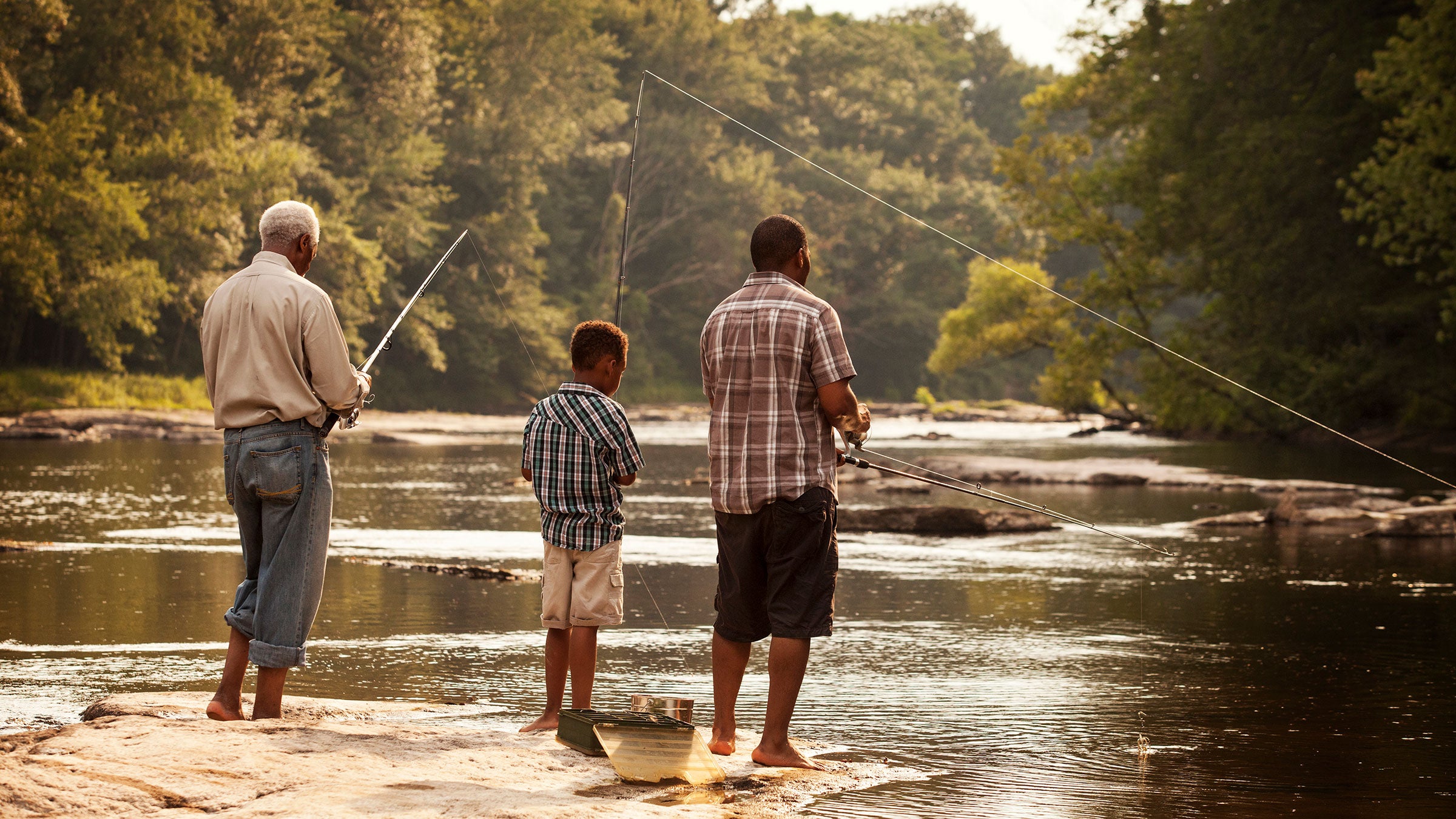 Spice up your meals with catch-and-cook adventures in the Mid-Atlantic! Transform your dining experience into a thrilling escapade.
1. FISH
Join the Matchcoat Sojourners on a captivating tour in Cambridge, Maryland! Learn from a certified Chesapeake Bay Storyteller on the art of shoreline fishing. These tips have been shared through generations of watermen and will leave you hooked (pun intended)!
And what's a fishing trip without fresh food and wine? Take your catch and fry it up alongside a delectable wine tasting from Crow Vineyards, an esteemed Eastern Shore winery. All this for only $150 per person! Don't miss out on this unforgettable experience.
2. OYSTERS
Embark on a luxurious tour of Pleasure House Oysters in Lynnhaven, Virginia - a must-do experience for seafood enthusiasts! Hop aboard a cruise and head over to a picturesque oyster farm off Virginia Beach, where you'll witness a shucking tutorial on a table set up in the water. Grab your boots and wade into the knee-deep water to pluck out some freshly harvested oysters, which pair perfectly with scrumptious seafood tapas and beverages of your choice.
All of this can be yours for just $154 per person - a small price to pay for an unforgettable culinary adventure. Don't miss out on this opportunity to indulge in some of the freshest seafood Virginia has to offer!
3. CRABS
Looking for a natural day trip that will have you reeling with excitement? Look no further than Natural Light Charters in Stevensville, Maryland! Departing at 6 am, a bay boat captained by a father/son team will take you on an unforgettable journey to trotline for blue crabs in the Chesapeake Bay. The number of crabs caught varies by trip, ranging from just a few to a bountiful bushel. Once you've wrangled your catch, you can either steam them on site or take them home to cook later. And with a cost of $750 for six people, this experience is worth every penny. Don't miss out on this one-of-a-kind adventure!
As you can see, Washington DC is surrounded by plenty of opportunity for fun and relaxation. Whether you take a day trip to Hackensack River County Park for tubing or want to plan your own camping expedition in Shenandoah National park, the options in and around DC are endless. Fairfax County offers a variety of lodging options as well as plenty of outdoor activities like golf and songbird watching. For a unique experience, you could try visiting White's Ferry, where visitors can enjoy beautiful views of the surrounding landscape while taking a ferry across the Potomac River. There's no shortage of things to do near DC this summer, so come out and enjoy all the region has to offer!
KATIE WEDGE
(571) 517-2012
katie.jacobsandco.com
JACOBS & CO. REAL ESTATE, LLC.
12923 Fitzwater Dr. Nokesville, VA 20155
(703) 594-3800 | jacobsandco.com